Blogs - Refs
Japanesian: Turenscape (Kongjian Yu) - MVRDV Architecture / WATER CUBE / yeosu expo 2012 Korea - /////////// ArcStreet ////////// ARCHITECTURE ART DESIGN FASHION MUSIC & CO /////////////////////////////////////////// Jeudi 7 janvier 2010 4 07 /01 /Jan /2010 22:25 images: Luxigon pour MVRDV Le pouvoir et la beauté des oceans mis en exergue par la proposition de l'agence d'architecture MVRDV pour l'exposition de 2012.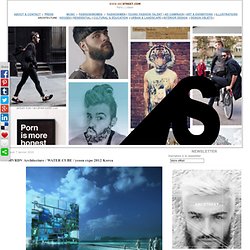 Comme s'il s'agissait de l'extraction d'un bloc d'ocean pour l'offrir aux visiteur de la yeosu expo 2012 en Korée. Cool Infographics - Blog. HitRECordJoe. We're going to be making a Music Video for the song "You Got All You Need" - come & play along with the song in the great outdoors!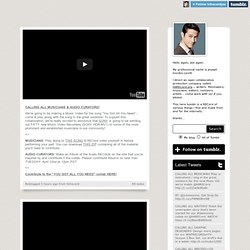 To support this collaboration, we're really excited to announce that SONY is going to be sending out FIFTY new Music Video Recorders (SONY HDR-MV1) to some of the more prominent and established musicians in our community! MUSICIANS: Play along to THIS SONG & RECord video yourself in Nature performing your part. You can download THIS ZIP containing all of the material you'll need to contribute. AUDIO CURATORS: Make an Album of the Audio RECords on the site that you're inspired by and contribute it the collab. Please contribute Albums no later than TUESDAY, April 22nd at 12pm PST. HitRECord.
Magazine webdesign et blog collaboratif - Blog Du Webdesign. Milk | Le Journal Graphic - Feed the graphic inside. (NDLR) ArchDaily | Broadcasting Architecture Worldwide. Le blog deco, Décoration intérieur, mobilier et objet design. TENDANCES GRAPHIQUES. Publiz – Inspiration graphique et publicité créative. /////////// USTI MAG ////////// a blog about architecture art de. Blog déco design, décoration et design avant tout! Coop Himmelb(l)au. FFFFOUND!
Zaha Hadid Architects. BIG | Bjarke Ingels Group. Dezeen architecture and design magazine. Subjectivity. At the moment it comes out of my mouth, I know I've said something that I neither whole heartedly believe in nor fully understand.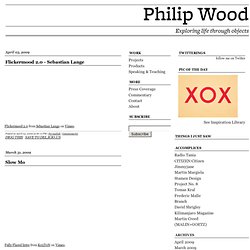 "Blurring the boundaries between art and design", I say. It sounds just so exciting. I'd love to go and blur some of those boundaries. In fact, I envision it as something like the dismantling of the Berlin wall, a sort of righteous attack on the artifice of the old guard that had been left standing by our own complacency. Fubiz™ Architecture and Design | Profiles. Underwater Nude Series. Blog de tendances graphisme et inspiration : webdesign, graphisme, illustration, photographie, motion graphics, art, packaging, animation...
Green design will save the world | Inhabitat. TrendsNow - Future Trends Magazine. Greg Lynn FORM. Asymptote Architecture. JEAN NOUVEL - ATELIERS. ARATA ISOZAKI. Toyo Ito & Associates, Architects. Behance Network :: Gallery. Geek Art – Art, Design & Lightsabers.
---