Spatial Art
Liam gillick. 2012-"From 199A-199B", Hessel Museum of Art, New York 2011 -Sit on the machine, Galerie Micheline Szwajcer, Antwerp -Sit in the machine, Air de Paris, Paris -A syntax of dependency, with Lawrence Weiner, M HKA, Antwerp -A game of War Structure, IMMA, Dublin 2010 - One long walk...two short piers, KAH, Bonn - Corporate Everything, Centre d'art de Fribourg - Multipied Resistance Screened, Château La Coste, Provence 2009 - MCA Exhibition, 2009 - MCA Collection Exhibition, 2009 - MAK Wien - House of Art, Budweis, 2009 - German Pavilion, Biennale di Venezia 2009 53.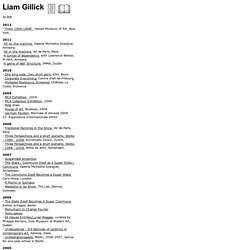 Esposizione Internazionale d'Arte 2008 - Fractional Factories in the Snow, Air de Paris, Paris. - Three Perspectives and a short scenario, Works : 1988 - 2008, Kunsthalle Zürich, Zurich. - Three Perspectives and a short scenario, Works : 1988 - 2008, Witte de With, Rotterdam. Gilles Deleuze. Gilles Deleuze (French: [ʒil dəløz]; 18 January 1925 – 4 November 1995) was a French philosopher who, from the early 1960s until his death, wrote influentially on philosophy, literature, film, and fine art.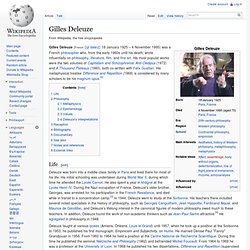 His most popular works were the two volumes of Capitalism and Schizophrenia: Anti-Oedipus (1972) and A Thousand Plateaus (1980), both co-written with Félix Guattari. His metaphysical treatise Difference and Repetition (1968) is considered by many scholars to be his magnum opus.[2] Feelings_are_facts.jpg (JPEG Imagen, 650x433 pixels) Reference Manager Support & Services. *.cgi importar reference manager.
---