Seeds
The Whole Grains Council
Organic Seeds from High Mowing Organic Seeds - Organic Vegetable, Flower, Herb and Cover Crop Seeds, including Heirloom Varieties
Seed Producers Database Survey OSA is in the process of evaluating, and potentially upgrading, our Seed Producers Database. Whether you've used this online tool before or not, please take two minutes to answer this short survey to help us determine the value of this database. Now Hiring: Operations Manager Organic Seed Alliance is seeking an Operations Manager to work from our Port Townsend, WA, office.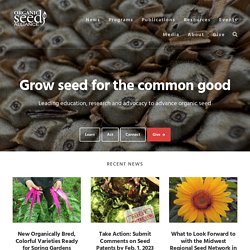 Organic Seeds & Supplies - Johnny's Selected Seeds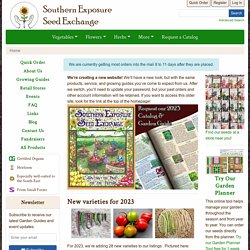 Try Our Garden Planner Could you use help with garden planning? Our simple, powerful online tool helps manage your garden throughout the season and from year to year. You can order SESE seeds directly from the planner. Try it free for one month >> We donate 30% of sales of Virginia Heritage Seed Collection and Rainbow Starters Mix to the Piedmont Environmental Council and Buy Fresh, Buy Local.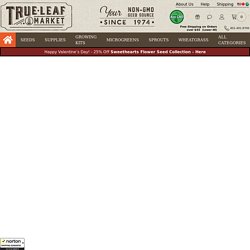 thank you so much! Pleasure to support you, happy to do so, hope to in the future as well. It was great to read all that info on each seed, and tips on planting, collecting seed, etc. Made it easier to make my seed choices.
Organic Heirloom Seeds Tobacco Peppers Herbs Tropicals Pest Eden EONS URL www.eonseed.com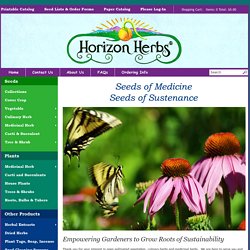 Empowering Gardeners to Grow Roots of Sustainability Thank you for your interest in open pollinated vegetables, culinary herbs and medicinal herbs. We are here to serve you and to nurture nature. Please use the navigation at the left (click) to access the full range of our seeds, plants, books, and other cool stuff.
Amishland Heirloom Seed Home
Natural Gardening Company, Certified Organic Seeds and Certified Organic Plants. Tomatoes are our specialty.
The Natural Gardening Company was started in 1986 out of the belief that gardens and landscapes should be models of environmental integrity. We established the first certified organic nursery in the United States, and we proudly offered a comprehensive selection of certified organic seeds and certified organic seedlings for vegetables, culinary herbs, and flowers. By virtue of our unique and careful product selection, we are leaders in the field. Today our specialties are certified organic plants (vegetable, herb, and flower seedlings), certified organic seeds, and drip irrigation supplies.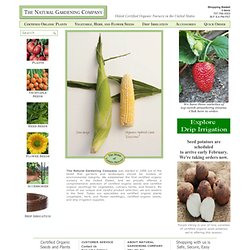 Fork & Bottle: Seed Sources - Organic, Biodynamic, Heirloom & Heritage Seed Sources
Native Seeds/SEARCH The NS/S Seedbank houses (for future generations) the seeds of crops and wild plants traditionally used as food, fiber and dyes by prehistoric and more recent cultures inhabiting the arid southwestern U.S. and northwestern Mexico. More than 2,000 different seeds are offered, representing traditional crops grown by Apache, Chemehuevi, Cocopah, Gila River Pima, Guarijio, Havasupai, Hopi, Maricopa, Mayo, Mojave, Mountain Pima, Navajo, Paiute, Puebloan, Tarahumara, Tohono O'odham and Yaqui farmers. More than a half of the offerings are corn, bean, and squash (aka the three sisters). They also have some seed assortments and they offer products other than seeds (on their website), such as dried beans, posole, salsas, chiles, etc. They have some interesting links to other sites, as well. I'm excited that they are offering devil's claw seeds, of which the dried plant pods are spectacular.