NYC SUSTAINABILITY
ART AND MUSIC
Welcome | Urban Green Council. Technology Footprint: Starting Up in New York - Graphic. PlaNYC 2030. In PlaNYC, we sought to address numerous challenges to our city's growth: How will we enable up to one million new residents to live, work, and play in a city already congested and brimming with activity?
In a city with over 520 miles of coastline, how will we adapt to, and mitigate, the growing risks of climate change? PlaNYC has changed our city dramatically since 2007, achieving the cleanest air quality levels in 50 years, more New Yorkers recycling rigid plastics and biking throughout New York City, planting over 750,000 new trees and counting, and passing the halfway mark of reducing citywide greenhouse gas emissions by 30 percent by 2030. We will continue to achieve major milestones as we accelerate our efforts. Our city faces renewed challenges today as we recover from the damage and disruption caused by Hurricane Sandy. BronxTransformation. Bronx Generator is a proposal to host an exhibition in the Spring of 2012 that will bring together cleantech businesses and community groups in a new collaborative structure.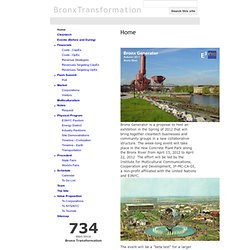 The week-long event will take place in the new Concrete Plant Park along the Bronx River from April 13, 2012 to April 22, 2012 The effort will be led by the Institute for Multicultural Communications, Cooperation and Development, IF-MC-CA-DI, a non-profit affiliated with the United Nations and E3NYC. The event will be a "beta test" for a larger E3NYC expo project in 2016 along the East River .
E3NYC seeks to turn the East River into a large cleantech district. We believe cleantech will be the foundation of the future economy, and will create jobs, improve health and address challenging urban problems. E3NYC. Sustainable South Bronx: A Model for Environmental Justice | New Economics Institute. Twenty-Seventh Annual E.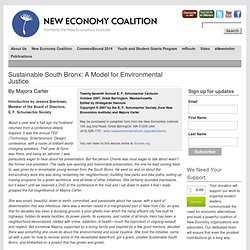 F. Schumacher Lectures October 2007, Great Barrington, Massachusetts Edited by Hildegarde Hannum Copyright © 2007 by the E. F.
---