Pearltrees Competitors
Digg Inc. turns up site redesign to capture more clicks - San Fr. "Once we get the user experience right, I think monetizing it will be a piece of cake," says Adelson of the revamped site.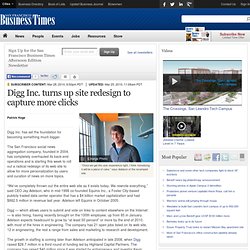 Digg Inc. has set the foundation for becoming something much bigger. The San Francisco social news aggregation company, founded in 2004, has completely overhauled its back-end operations and is starting this week to roll out a radical redesign of its web site to allow for more personalization by users and curation of news on more topics. "We've completely thrown out the entire web site as it exists today.
iCyte Creates Sharable Bookmarks from Highlighted Text. This post is part of Mashable's Spark of Genius series, which highlights a unique feature of startups.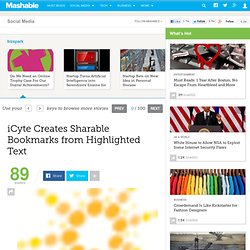 If you would like to have your startup considered for inclusion, please see the details here. The series is made possible by Microsoft BizSpark. Name: iCyte Quick Pitch: iCyte saves webpages with highlights, tags and notes. Search and retrieve your webpages (cytes). Home. Keep your websites iCyte lets you save webpages & PDF's exactly as you remember them.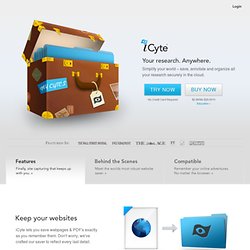 Don't worry, we've crafted our saver to reflect every last detail. Organize your work or play iCyte's realtime search ensures you'll instantly find what you're looking for. Remember why it's important with your highlights, tags and notes. Zotero | Home. Collaborative bookmarking with lists. Earlier this month we added stars in search so that you can easily mark and rediscover your favorite websites.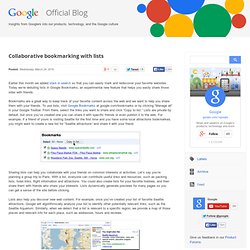 Today we're debuting lists in Google Bookmarks, an experimental new feature that helps you easily share those sites with friends. Bookmarks are a great way to keep track of your favorite content across the web and we want to help you share them with your friends. To use lists, visit Google Bookmarks at google.com/bookmarks or by clicking "Manage all" in your Google Toolbar. From there, select the links you want to share and click "Copy to list." Is Digg the future of social news? Mashable's Pete Cashmore says Digg can rise again if it helps us tackle "information overload.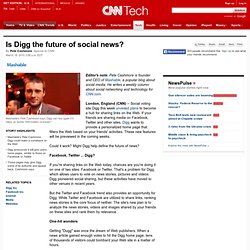 " Mashable's Pete Cashmore: Digg could make a comeback on the Web Digg announces it will give users home pages, similar to those on Facebook or Twitter Those pages may give Digg some of its authority and appeal back, Cashmore says Editor's note: Pete Cashmore is founder and CEO of Mashable, a popular blog about social media.
He writes a weekly column about social networking and technology for CNN.com. Emmet Labs.
---