MacOS writing apps
Reference management and bibliography generation software for Ma. Mariner Software - Storymill - novel writing for Mac OS X. Writing a great novel doesn't just happen, it is designed.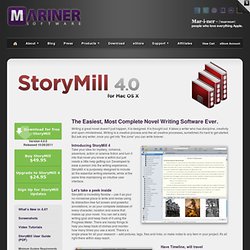 It is thought out. It takes a writer who has discipline, creativity and open-mindedness. Writing is a creative process and like all creative processes, sometimes it's hard to get started. But ask any writer, once you get into "the zone" you can write forever. Introducing StoryMill 4 Take your idea for mystery, romance, adventure, action or science fiction and turn it into that novel you know is within but just needs a little help getting out. Nisus Software - Word Processing for Mac OS X.
DEVONtechnologies Home. Scrivener. "The biggest software advance for writers since the word processor."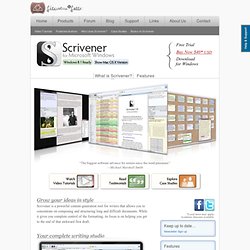 —Michael Marshall Smith Grow your ideas in style Scrivener is a powerful content-generation tool for writers that allows you to concentrate on composing and structuring long and difficult documents. Links. Why have a separate section for "word processing software"?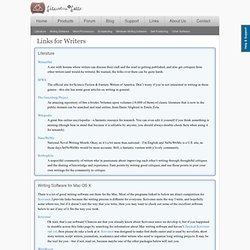 Why not just put it all under "writing software"? Word processing software is writing software by definition, of couse, and much of the software in the "writing software" section above might equally be categorised as word processors. The main difference drawn here is that a word processor is usually used for writing and printing the final document; it shows on screen exactly what you will see when you print. The applications in the "writing software" section are more about developing ideas and getting the words down. Some users may use one of those applications right up to and including printing; many will use one of the dedicated writing applications in conjunction with a word processor, hammering out the first draft in one of the programs above and then exporting it to a word processor for final revisions and formatting.
WriteRoom — Distraction free writing software for Mac & iPhone. "But if, when it comes right down to it, full screen is your holy grail, and the ultimate antidote to the bric-a-brac of Word, then you must enter the WriteRoom, the ultimate spartan writing utopia.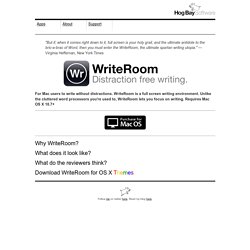 "— Virginia Heffernan, New York Times "Unlike practically everything else in our digital lives, WriteRoom's minimalist interface implies a truly flattering proposition: It's you, not the software, that matters. "— Jeffrey MacIntyre, Slate. RedleX - Makers of Mellel, the word processor for Mac OS X.
---