Great eating around the Moscone
Where to eat, drink & entertain around the Moscone Center in SF. Last year as part of my coverage of Web 2.0 Expo for Centernetworks I wrote a post offering a guide to San Francisco near the Moscone Center.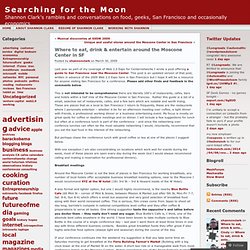 This post is an updated version of that post, written in advance of the 2009 Web 2.0 Expo here in San Francisco but I hope it will be a resource for anyone visiting San Francisco for a conference. Please add other finds and feedback in the comments below. This is not intended to be comprehensive there are literally 100′s of restaurants, cafes, bars and hotels within a half mile of the Moscone Center in San Franciso.
Rather this guide is a list of a small, selective set of restaurants, cafes, and a few bars which are notable and worth trying. Slow Brand » Coffee in San Francisco – my current favorites. San Francisco Coffee is among the best in the world.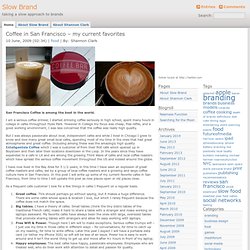 I am a serious coffee drinker, I started drinking coffee seriously in high school, spent many hours in college in cafes throughout Hyde Park. However in College my focus was cheap, free refills, and a good working environment, I was less concerned that the coffee was really high quality. But I was always passionate about local, independent cafes and while I lived in Chicago I grew to know and love many great small local cafes, spending most of my time in the ones that had great atmospheres and great coffee. Including among these was the amazingly high quality Inteligentsia Coffee which I was a customer of from their first cafe which opened up in Boystown and then later their locations downtown in the Loop.
In the years since they have expanded to a cafe in LA and are among the growing Third Wave of cafes and local coffee roasters which have spread the serious coffee movement throughout the US and indeed around the globe.
Breakfast. Lunch. Dinner. Drinks & Entertaining.
---