Great articles about RPGs
Original D&D, 4th Edition D&D, and "Game Balance" I recently read a minor flame war on the Wizards of the Coast message boards discussing whether or not Hasbro should sell the D&D license to Paizo Publishing.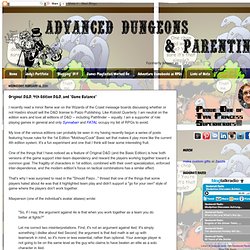 Like Kobold Quarterly, I am neutral on the edition wars and love all editions of D&D -- including Pathfinder -- equally. I am a supporter of role playing games in general and only Synnabarr and FATAL occupy my list of RPGs to avoid. My love of the various editions can probably be seen in my having recently begun a series of posts featuring house rules for the 1st Edition "Moldvay/Cook" Basic set that makes it play more like the current 4th edition system. It's a fun experiment and one that I think will bear some interesting fruit. One of the things that I have noticed as a feature of Original D&D (and the Basic Edition) is how both versions of the game support inter-team dependency and reward the players working together toward a common goal.
The Threefold Model FAQ. The following is more-or-less the original form of the Threefold FAQ.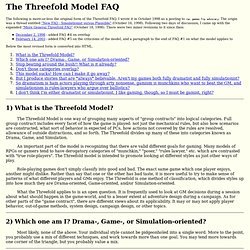 I wrote it in October 1998 as a posting to rec.games.frp.advocacy. The origin was a thread entitled "New FAQ - Simulationist versus Plausible" (October 16, 1998). Following two days of discussion, I came up with the expanded "More General Threefold FAQ" (October 18, 1998). There were two minor revisions to it since then: December 2, 1998 - added FAQ #4 on overlap February 14, 2003 - added FAQ #5 on the criticisms of the model, and a paragraph to the end of FAQ #1 on what the model applies to Below the most revised form is converted into HTML.
The Escapist. Writers reminisce about Dungeons & Dragons - Suvudu - Science Fi. I was initiated into the mysteries of gaming via a grade school classmate's copy of the Dungeons & Dragons Basic Set.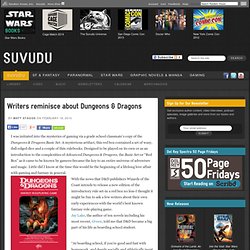 A mysterious artifact, this red box contained a set of waxy, dull-edged dice and a couple of thin rulebooks. Designed to be played on its own or as an introduction to the complexities of Advanced Dungeons & Dragons, the Basic Set-or "Red Box" as it came to be known by gamers-became the key to an entire universe of adventure and magic. Little did I know at the time this would be the beginning of a lifelong love affair with gaming and fantasy in general. With the news that D&D publishers Wizards of the Coast intends to release a new edition of the introductory rule set-in a red box no less-I thought it might be fun to ask a few writers about their own early experiences with the world's best known fantasy role-playing game.Jay Lake, the author of ten novels including his most recent, Green, told me that D&D became a big part of his life as boarding school student.
Min/Max Mashup. Get ready for EXP. videogame mag by Cory Schmitz. Iconography of Zelda - From EXP.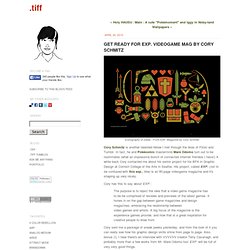 Magazine by Cory Schmitz Cory Schmitz is another talented fellow I met through the likes of Flickr and Tumblr. In fact, he and Pokécomic mastermind Maré Odomo turn out to be roommates (what an impressive bunch of connected Internet friendos I have!) About the EVOKE game. Posted by Alchemy on 27 Jan under Behind the scenes EVOKE is a ten-week crash course in changing the world.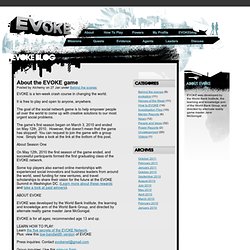 It is free to play and open to anyone, anywhere. The goal of the social network game is to help empower people all over the world to come up with creative solutions to our most urgent social problems. Robin Laws Revisited: The Complete Series. Critical Hits The Journal of Gamer Culture Robin Laws Revisited: The Complete Series July 23, 2009 by The Chatty DM This post bring together all the articles I wrote about Robin Laws of Good Game Mastering from January 2008 to July 2009.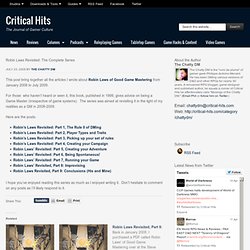 For those who haven't heard or seen it, this book, published in 1999, gives advice on being a Game Master (irrespective of game systems). Two years later..... Either the address you are accessing this site from has been banned for previous malicious behavior or the action you attempted is considered to be hostile to the proper functioning of this system.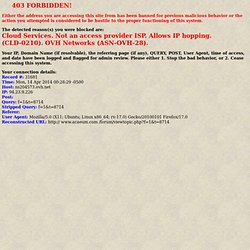 The detected reason(s) you were blocked are:Cloud Services. Not an access provider ISP. Allows IP hopping. Pen and Paper Gaming in the 21st Century - GamesU 2009 - Keynote.
---