Great articles about RPGs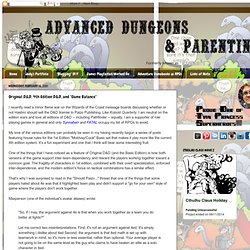 Original D&D, 4th Edition D&D, and "Game Balance"
I recently read a minor flame war on the Wizards of the Coast message boards discussing whether or not Hasbro should sell the D&D license to Paizo Publishing.
The Threefold Model FAQ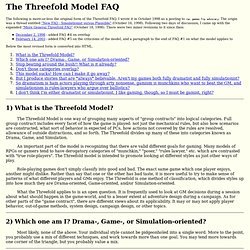 The following is more-or-less the original form of the Threefold FAQ. I wrote it in October 1998 as a posting to rec.games.frp.advocacy .
Writers reminisce about Dungeons & Dragons - Suvudu - Science Fi
I was initiated into the mysteries of gaming via a grade school classmate's copy of the Dungeons & Dragons Basic Set . A mysterious artifact, this red box contained a set of waxy, dull-edged dice and a couple of thin rulebooks.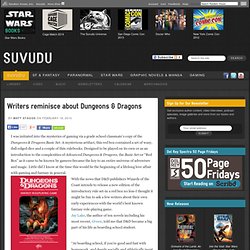 Min/Max Mashup
Power Gaming Bad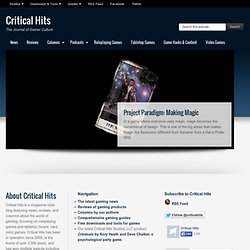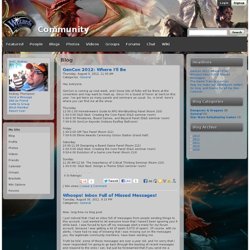 As of today, I've played Warhammer Fantasy Roleplaying 3rd Edition (the nex big box set from Fantasy Flight) twice. More accurately, I've GMed it twice.
WotC_Rodney
WotC_Rodney > Blog > Campaign Repairman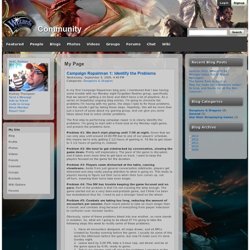 In my first Campaign Repairman blog post, I mentioned that I was having some trouble with my Monday night Forgotten Realms group, specifically that we weren't getting a lot done and didn't have a lot of playtime.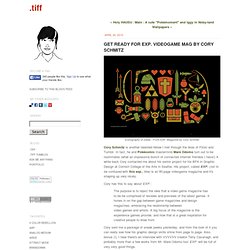 Get ready for EXP. videogame mag by Cory Schmitz
Iconography of Zelda - From EXP.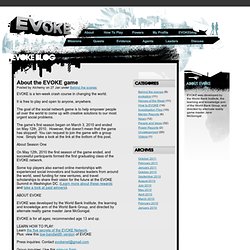 Posted by Alchemy on 27 Jan under Behind the scenes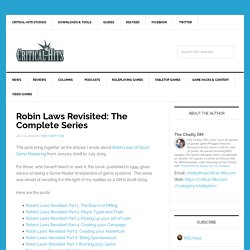 Robin Laws Revisited: The Complete Series
This post bring together all the articles I wrote about Robin Laws of Good Game Mastering from January 2008 to July 2009.
Two years later.....
he wins in the "nerd room" contest - wins hands (and weapons rack) down... by rycaut Mar 12
Pen and Paper Gaming in the 21st Century - GamesU 2009 - Keynote