Food
On The Farm — Truffles and stuff. It's been a long time — June 2005, in fact — since we've had saffron milk cap mushrooms off our little trial patch of Pinus radiata infected with the gourmet fungus, but this year's wet autumn has really got the mushrooms moving.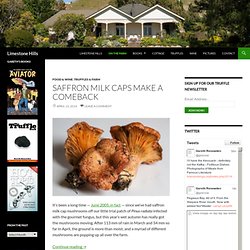 After 113 mm of rain in March and 54 mm so far in April, the ground is more than moist, and a myriad of different mushrooms are popping up all over the farm. Continue reading This is our first truffle newsletter for the 2014 season. It was sent to subscribers a couple of weeks ago. Buy Food Gifts and Sell Artisan Food on Foodzie. Cornichon.org.
Ubuntu, Napa CA. Great food Pearltrees. Food Communities and Recipies.
---
refpauline Apr 23 2010

Hi Rycaut ! I can see you love good food and truffles, you may like this web site which as an english version :
---