Breakfast
Epicenter Cafe provides a haven for great food and beverages in the SoMa and the emerging Yerba Buena districts of San Francisco. We regularly walk, bike and run to local farmers' markets to purchase organic and pesticide free seasonal produce and responsibly raised meats. We are fanatics with our coffee and espresso program, and serve an exciting mix of draft and bottled beers and wine.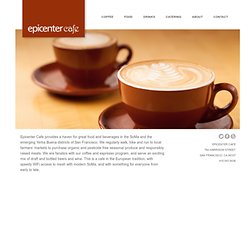 Epicenter Cafe - 4th & Harrison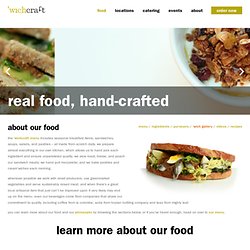 about our food the 'wichcraft menu includes seasonal breakfast items, sandwiches, soups, salads, and pastries – all made from scratch daily. we prepare almost everything in our own kitchen, which allows us to hand pick each ingredient and ensure unparalleled quality. we slow roast, braise, and poach our sandwich meats; we hand pull mozzarella; and we bake pastries and cream'wiches each morning. whenever possible we work with small producers, use greenmarket vegetables and serve sustainably raised meat. and when there's a great local artisanal item that just can't be improved upon it very likely may end up on the menu. even our beverages come from companies that share our commitment to quality, including coffee from la colombe, soda from boylan bottling company and teas from mighty leaf. you can learn more about our food and our philosophy by browsing the sections below, or if you've heard enough, head on over to our menu.
'wichcraft San Francisco