Design
An InDesign for HTML and CSS? – Jeffrey Zeldman Presents The Dai. In "CSS is the new Photoshop" (?)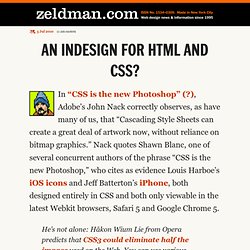 , Adobe's John Nack correctly observes, as have many of us, that "Cascading Style Sheets can create a great deal of artwork now, without reliance on bitmap graphics." Nack quotes Shawn Blanc, one of several concurrent authors of the phrase "CSS is the new Photoshop," who cites as evidence Louis Harboe's iOS icons and Jeff Batterton's iPhone, both designed entirely in CSS and both only viewable in the latest Webkit browsers, Safari 5 and Google Chrome 5.
He's not alone: Håkon Wium Lie from Opera predicts that CSS3 could eliminate half the images used on the Web. 29 Resources for Freelance Designers Operating on a Tight Budget. Get the FlatPix UI Kit for only $7 - Learn More or Buy Now There are plenty of highly-useful resources and web apps that have been created with freelance designers and developers in mind.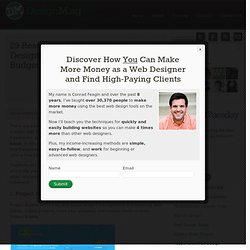 But for many freelancers, especially those who are just getting started, pricing can be an issue. In this post we'll feature 29 resources that are not only very useful fore freelancers, but also extremely affordable. CSS GALLERY - Web Gallery & Web Design Resources, Tutorials, Onl.
---