College Football
Mark Dantonio Facts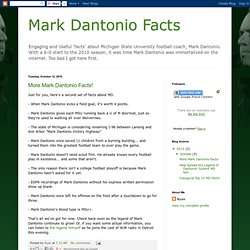 We felt that it was time that Mark Dantonio got some of the recognition he deserved. To some that might mean a Coach of the Year award, a Big Ten title, a raise, or continued good health as he recovers from his heart attack. But to us here at Mark Dantonio Facts, that means outlandish statements about his manhood and virility... uh, I mean, his football coaching prowess. For real facts about Mark Dantonio, you should probably head here: MSU Athletics Coache's Bio. So, without further ado, here's our list of inaugural Mark Dantonio facts!
NCAA Football news, scores, rankings - College Football
Big Ten Blog
3-point stance - College Football Nation Blog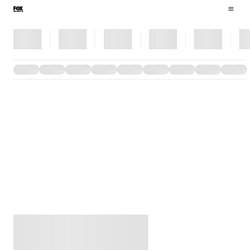 Billick looks ahead to Championship Sunday Cheat Sheet: Sit back and savor Championship Sunday Podcast: Comedian Josh Wolf talks NFL, steak buffets Barrett-Jackson beauty April Rose heating up Scottsdale Hot Topics
2014 football classBrian Allen, OL, ****, 6-2, 285 pounds, Hinsdale, Ill. David Beedle, DT, ***, 6-5, 278 pounds, Clarkston Robert Bowers, DE, ***, 6-5, 210 pounds, Columbus, Ohio Byron Bullough, LB, ***, 6-2, 195 pounds, Traverse City Vayante Copeland, DB, ***, 6-0, 186 pounds, Dayton, Ohio Deon Drake, LB, ***, 6-1, 215 pounds, Detroit Craig Evans, DT, ****, 6-2, 313 pounds, Sun Prairie, Wis. Chris Frey, LB, ***, 6-3, 217 pounds, Upper Arlington, Ohio Chase Gianacakos, OL, ***, 6-6, 280 pounds, St. Charles, Ill. T.J.
freep.com | Spartans | Detroit Free Press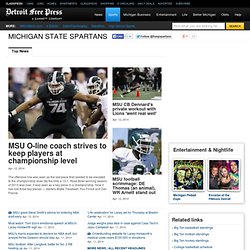 The Detroit News | Michigan State Spartans | The Detroit News On
GreenandWhite.com | Michigan State University Sports | MSU Sports, Spartan football, Spartan basketball. College Sports in East Lansing, Michigan