Ryanlamountain
Ryan LaMountain
Wine enthusiast, web strategist, litterateur,
NET Bible : The Biblical Studies Foundation
Watermark Community Church: Home
Republic National Distributing Company
Pedro Almodóvar Blog
Every time I get up to go on a trip I feel an irresistible need to stay at home. As if every trip signified the end of a stage in my life, which the journey turns into an irreparable loss. It doesn't matter if the reason for the trip is pleasure and enjoyment. That sensation, a mixture of failure, melancholy and anticipated nostalgia, always accompanies me when I set out on a trip.
Broken Embraces
Volver ( Spanish pronunciation: [bolˈβer] , meaning "return") is a 2006 Spanish drama film written and directed by Pedro Almodóvar . Headed by actress Penélope Cruz , the film features an ensemble cast also starring Carmen Maura , Lola Dueñas , Blanca Portillo , Yohana Cobo , and Chus Lampreave . Revolving around an eccentric family of women from a wind-swept region south of Madrid , Cruz plays Raimunda, a working-class woman forced to go to great lengths to protect her 14-year-old daughter Paula. To top off the family crisis, her mother Irene comes back from the dead to tie up loose ends. The plot originates in Almodóvar's earlier film The Flower of My Secret (1995), where it features as a novel which is rejected for publication but is stolen to form the screenplay of a film named The Freezer .
Volver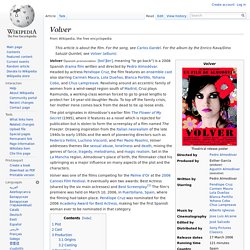 Talk to Her ( Spanish : Hable con ella ) is a 2002 Spanish drama written and directed by Pedro Almodóvar , and starring Javier Cámara , Darío Grandinetti , Leonor Watling , Geraldine Chaplin , and Rosario Flores . The film won the 2002 Academy Award for Best Original Screenplay and the 2003 Golden Globe Award for Best Foreign-Language Film . The film's themes include the difficulty of communication between the sexes, loneliness and intimacy, and the persistence of love beyond loss. In 2005, Time magazine film critics Richard Corliss and Richard Schickel included Talk to Her in their list of the All-TIME 100 Greatest Movies . [ 1 ] Paul Schrader placed the film at 46 on his film canon of the 60 greatest films. [ 2 ]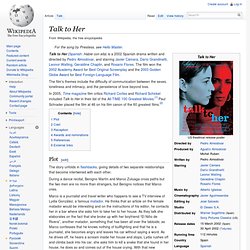 Talk to Her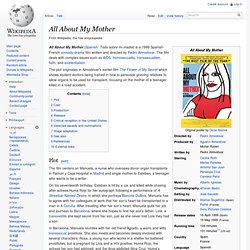 All About My Mother
All About My Mother ( Spanish : Todo sobre mi madre ) is a 1999 Spanish-French comedy-drama film written and directed by Pedro Almodóvar . The film deals with complex issues such as AIDS , homosexuality , transvestitism , faith , and existentialism . The plot originates in Almodóvar's earlier film The Flower of My Secret which shows student doctors being trained in how to persuade grieving relatives to allow organs to be used for transplant, focusing on the mother of a teenager killed in a road accident.
Pamuk in his personal writing space Ferit Orhan Pamuk (generally known simply as Orhan Pamuk ; born 7 June 1952) is a Turkish novelist, screenwriter, academic and recipient of the 2006 Nobel Prize in Literature . One of Turkey's most prominent novelists, [ 1 ] his work has sold over eleven million books in sixty languages, [ 2 ] making him the country's best-selling writer. [ 3 ] Born in Istanbul , Pamuk is Robert Yik-Fong Tam Professor in the Humanities at Columbia University , where he teaches comparative literature and writing. [ 4 ] His novels include The White Castle , The Black Book , The New Life , My Name Is Red and Snow . As well as the Nobel Prize in Literature (the first Nobel Prize to be awarded to a Turkish citizen), Pamuk is the recipient of numerous other literary awards.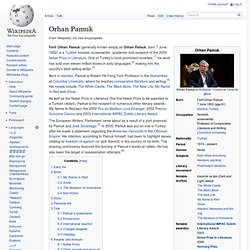 Orhan Pamuk
Snow (novel)
The Museum of Innocence ( Turkish : Masumiyet Müzesi ) is a novel by Orhan Pamuk , Nobel -laureate Turkish novelist published on August 29, 2008. The book is a long and detailed account of the obsessive love that Kemal, a wealthy businessman, bears for Füsun, a lower class shop girl 12 years Kemal's junior, for over 30 years starting in 1975. Kemal loves without regard to the interests or situation of Füsun.
The Museum of Innocence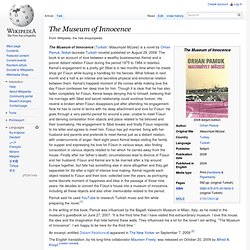 Istanbul: Memories of a City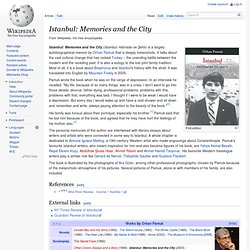 1st edition Istanbul: Memories and the City ( İstanbul: Hatıralar ve Şehir ) is a largely autobiographical memoir by Orhan Pamuk that is deeply melancholic.
Vince Guaraldi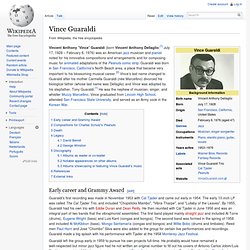 Vincent Anthony " Vince " Guaraldi (born Vincent Anthony Dellaglio ; [ 1 ] July 17, 1928 – February 6, 1976) was an American jazz musician and pianist noted for his innovative compositions and arrangements and for composing music for animated adaptations of the Peanuts comic strip . Guaraldi was born in San Francisco, California 's North Beach area, a place that became very important to his blossoming musical career. [ 2 ] Vince's last name changed to Guaraldi after his mother Carmella Guaraldi (neè Marcellino) divorced his biological father (whose last name was Dellaglio) and Vince was adopted by his stepfather, Tony Guaraldi. [ 1 ] He was the nephew of musician, singer, and whistler Muzzy Marcellino . Vince graduated from Lincoln High School , attended San Francisco State University , and served as an Army cook in the Korean War . [ edit ] Early career and Grammy Award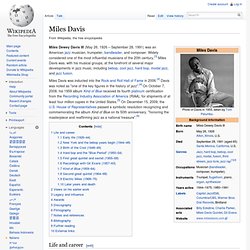 Miles Dewey Davis III (May 26, 1926 – September 28, 1991) was an American jazz musician, trumpeter, bandleader , and composer. Widely considered one of the most influential musicians of the 20th century, [ 3 ] Miles Davis was, with his musical groups, at the forefront of several major developments in jazz music, including bebop , cool jazz , hard bop , modal jazz , and jazz fusion . Miles Davis was inducted into the Rock and Roll Hall of Fame in 2006. [ 4 ] Davis was noted as "one of the key figures in the history of jazz". [ 4 ] On October 7, 2008, his 1959 album Kind of Blue received its fourth platinum certification from the Recording Industry Association of America (RIAA), for shipments of at least four million copies in the United States. [ 5 ] On December 15, 2009, the U.S. House of Representatives passed a symbolic resolution recognizing and commemorating the album Kind of Blue on its 50th anniversary, "honoring the masterpiece and reaffirming jazz as a national treasure." [ 6 ]
John Coltrane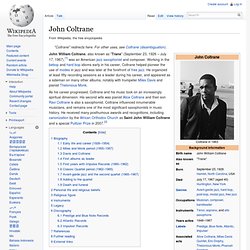 John William Coltrane , also known as " Trane ", (September 23, 1926 – July 17, 1967 [ 1 ] ) was an American jazz saxophonist and composer. Working in the bebop and hard bop idioms early in his career, Coltrane helped pioneer the use of modes in jazz and later was at the forefront of free jazz . He organized at least fifty recording sessions as a leader during his recording career, and appeared as a sideman on many other albums, notably with trumpeter Miles Davis and pianist Thelonious Monk .
Portrait of Bach in his old age, Haussmann , 1748 Johann Sebastian Bach [ 1 ] (31 March [ O.S. 21 March] 1685 – 28 July 1750) was a German composer, organist, harpsichordist, violist, and violinist of the Baroque period . He enriched many established German styles through his skill in counterpoint , harmonic and motivic organisation, and the adaptation of rhythms, forms, and textures from abroad, particularly from Italy and France. Bach's compositions include the Brandenburg Concertos , the Mass in B minor , the The Well-Tempered Clavier , his cantatas , chorales , partitas , Passions , and organ works.
Glenn Gould
Glenn Gould Glenn Herbert Gould [ fn 1 ] [ fn 2 ] (25 September 1932 – 4 October 1982) was a Canadian pianist who became one of the best-known and most celebrated classical pianists of the 20th century. He was particularly renowned as an interpreter of the keyboard music of Johann Sebastian Bach . His playing was distinguished by remarkable technical proficiency and capacity to articulate the polyphonic texture of Bach's music. Gould rejected most of the standard Romantic piano literature and, after his adolescence, avoided Liszt , Schumann , and Chopin . Although his recordings were dominated by Bach, Gould's repertoire was diverse, including works by Beethoven , Mozart , Haydn , Brahms , pre- Baroque composers such as Jan Pieterszoon Sweelinck , and such 20th-century composers as Paul Hindemith , Arnold Schoenberg and Richard Strauss .
Sergei Rachmaninoff
Sergei Rachmaninoff Sergei Vasilievich Rachmaninoff ( Russian : Серге́й Васи́льевич Рахма́нинов; [ 1 ] Russian pronunciation: [sʲɪrˈɡʲej rɐxˈmanʲɪnəf] ; 1 April [ O.S. 20 March] 1873 – 28 March 1943) was a Russian [ 2 ] composer, pianist, and conductor. Rachmaninoff is widely considered one of the finest pianists of his day and, as a composer, one of the last great representatives of Romanticism in Russian classical music. [ 3 ] Early influences of Tchaikovsky , Rimsky-Korsakov , and other Russian composers gave way to a thoroughly personal idiom that included a pronounced lyricism, expressive breadth, structural ingenuity, and a tonal palette of rich, distinctive orchestral colors. [ 4 ] The piano is featured prominently in Rachmaninoff's compositional output. He made a point of using his own skills as a performer to explore fully the expressive possibilities of the instrument.
The Piano Concerto No. 3 in D minor , Op. 30, composed in 1909 by Sergei Rachmaninoff has the reputation of being one of the most technically challenging piano concertos in the standard classical repertoire. The beginning of the opening theme of the Piano Concerto No. 3 [ edit ] Form Following the form of a standard concerto , the piece is in three movements: A portion of the original cadenza ( ossia ) Allegro ma non tanto (D minor) The first movement revolves around a diatonic melody that soon develops into complex pianistic figuration.
Piano Concerto No. 3 (Rachmaninoff) - Wikipedia, the free encycl
Division 26 Electrical Engineering - Memphis, TN
Urban Electric :: Welcome
:: Playfitters - Home ::
Global Positioning of America - GPOA - GPS Construction Asset Re
La Reunion TX
Oleader West | a place for this time
o9 Solutions
Kent Place School : We Believe in the Concept of Excellence Indi
Bad-Latimer
LaMountain Multimedia - bold creatives
On December 9th, 2009, I was watching the Biggest Loser finale and stuffing my face with buttery popcorn and my oh-so-favorite candy, Mike and Ike (green box). I was starting to feel sick to my stomach as I was watching the transformation of so many lives on TV. I was feeling pretty lethargic as I got up, and that's when it hit me. I am sick.
Getting started...
Mavs Ticket Specials
Long Shadows Wineries
Siduri Wines - Ultra Premium Single Vineyard Pinot Noir
Swanson Vineyards Napa Valley
Brancaia
KC-001 Kanetsune corkscrew / DuPont CORIAN Handle | Japan Blades
Payment gateway
Shopping Cart Software & Ecommerce Solutions: X-Cart. Free shopp