Wordpress
The Power of WordPress Weblog CMS #infographic
My name is Berrie Pelser, since 1999 co-owner of Ber|Art Visual Design V.O.F. Our company is been grown to a full service bureau for complete managed business internet sites that we are hosting in our own secure and fast Cloud. We are specialized in WordPress, search engine optimization, social media integration and social media strategy. I co-founded my company, Ber|Art Visual Design, in 1999 as a web design firm. It has since grown into a full-service agency for maintaining complete corporate websites hosted by Ber|Art in a secure and fastcloud environment.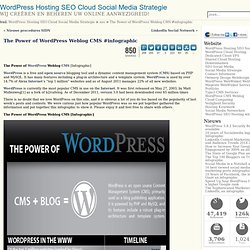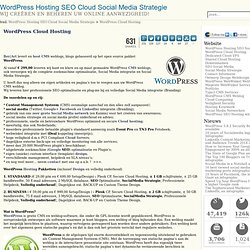 wordpress
609 Flares231157122846027--×609 Flares Ber|Art levert en host CMS weblogs, blogs gebaseerd op het open source pakket WordPress. Al vanaf € 299,00 leveren wij kant en klare en op maat gemaakte WordPress CMS weblogs, ook verzorgen wij de complete zoekmachine optimalisatie, Social Media integratie en Social Media Strategie.
Oscar Gonzalez Twitter | Oscar Gonzalez Trending
WordPress SEO Hosting Google SEO Zoekmachine Optimalisatie
73 Flares24187001212--×73 Flares WordPress 3.3 Beta 4 Available Now WordPress 3.3 Beta 4 Available Now With all our major tickets closed, we are very close to a release candidate.
WordPress 3.3 Beta 4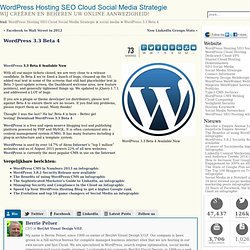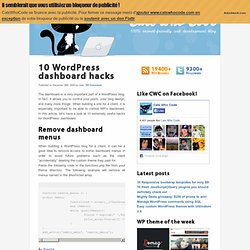 10 WordPress dashboard hacks - CatsWhoCode.com
Remove dashboard menus When building a WordPress blog for a client, it can be a good idea to remove access to some dashboard menus in order to avoid future problems such as the client "accidentally" deleting the custom theme they paid for. Paste the following code in the functions.php file from your theme directory. The following example will remove all menus named in the $restricted array. » Source Define your own login logo
With custom header images, you can display your own photo on your blog's page headers. Featured images allow for even greater customization, giving you the option to display unique custom header images for specific posts and pages or set thumbnails for special features of your theme. Setting a Featured Image Open the editor of the post or page where you want to display a unique custom header image, and locate the Featured Image module in the bottom right corner under Page Attributes. Click Choose a Featured Image.
Featured Images « Support — WordPress.com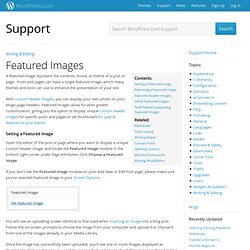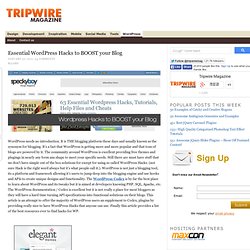 WordPress needs no introduction. It is THE blogging platform these days and usually known as the synonym for blogging. It's a fact that WordPress is getting more and more popular and that tons of blogs are powered by it. The community around WordPress is excellent providing free themes and plugings in nearly any form ans shape to meet your specific needs. Still there are must have stuff that we don't have simple out of the box solutions for except for using so called WordPress Hacks. (not sure Hack is the right word always but it's what people call it.).
Essential Wordpress Hacks to BOOST your Blog — tripwire magazine
Looking for the awesome WordPress themes? Here's the place to find them! Welcome to the Free WordPress Themes directory.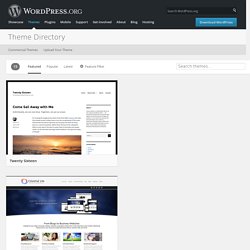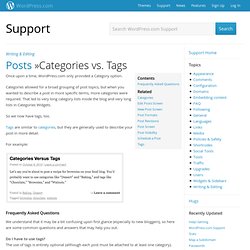 Categories vs. Tags « Support — WordPress.com
Once upon a time, WordPress.com only provided a Category option. Categories allowed for a broad grouping of post topics, but when you wanted to describe a post in more specific terms, more categories were required. That led to very long category lists inside the blog and very long lists in Categories Widgets.