Analytics
Twitter Sentiment Tracking: 5 Free Ways To Track Twitter Sentiment. We've seen a lot of great improvements in our ability to track and monitor social media over the last year.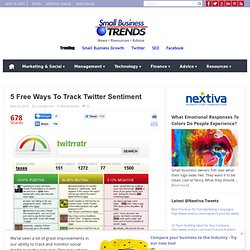 One area where it's still lagging, however, is in the area of sentiment analysis. But that doesn't mean it's impossible. There are still ways to track associated brand sentiment if you're a business looking to do so. PeerIndex. Serious Analytics for Social Relationships. The Standard for Online and Internet Influence.
TwitterForBusyPeople - Home. Ryan Zeigler: Klout Influence Summary. TweetPsych. Ryan Zeigler Twitter Stats - Twittercounter.com. Ryanjz's Archive on ryanjz Containing 1,001 Tweets. Twitter Statistics - Twoolr. Ryanjz. Generating Twitter Reach Report for @ryanjz. Twitter Directory and Search, Find Twitter Followers. Graphin' Your Stats. Twitter Grader.
---