Wikipedia (Meta)
The Wikipedian - Pentadactyl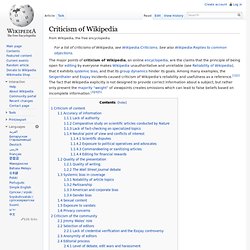 Wikipedia, the free encyclopedia - Pentadactyl
The major points of criticism of Wikipedia , an online encyclopedia , are the claims that the principle of being open for editing by everyone makes Wikipedia unauthoritative and unreliable (see Reliability of Wikipedia ), that it exhibits systemic bias , and that its group dynamics hinder its goals. The Seigenthaler and Essjay incidents caused criticism of Wikipedia's reliability and usefulness as a reference. [ 1 ] [ 2 ]
Open Codex by Joseph Reagle - Pentadactyl
The statistics we maintain within the Wikimedia movement broadly fall into two categories.
Statistics show that of those who contract the habit of eating, very few survive. (G.B. Shaw) - Pentadactyl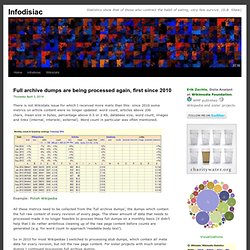 Tools are used by some animals, particularly primates, to perform simple tasks such as getting food or grooming. Originally thought to be a skill only possessed by humans, tool use requires some level of intelligence. Primates have been observed exploiting sticks and stones to accomplish tasks. Numerous bird species have also been noted as capable of using tools.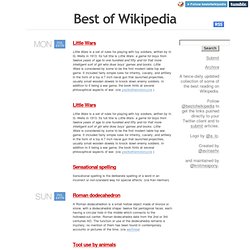 Best of Wikipedia - Pentadactyl
WikiProject Home Page - Pentadactyl