Gnuoogle
Hakia.com - Pentadactyl. iBoogie - MetaSearch Document Clustering Engine and Personalized Search Engines Directory - Pentadactyl. Search Engines - Pentadactyl. Welcome to INFOMINE: Scholarly Internet Resource Collections - Pentadactyl. Internettutorials.net - Similar Sites and Reviews | Xmarks - Pentadactyl. OAIster [OCLC - Digital Collection Services] - Pentadactyl. Access to OAIster A freely-accessible site for searching only OAIster records is available at Additionally, OAIster records are fully accessible through WorldCat.org, and will be included in WorldCat.org search results along with records from thousands of libraries worldwide.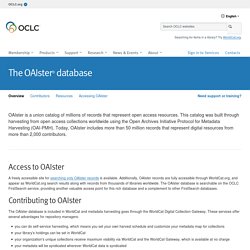 They will also continue to be available on the OCLC FirstSearch service to Base Package subscribers, providing another valuable access point for this rich database and a complement to other FirstSearch databases. Vertical Search Engines - Pentadactyl. Advanced search - Pentadactyl.
How to Choose a Search Tool - Pentadactyl. Subject Directories - Pentadactyl. Digital Image Resources on the Deep Web - Pentadactyl. Sometimes you stumble across something that really makes you say "wow" and reminds you that there's so much more to this internet thing than just the latest web app.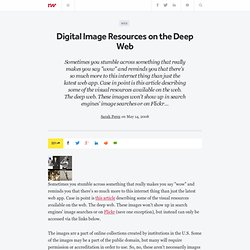 Case in point is this article describing some of the visual resources available on the web. The deep web. These images won't show up in search engines' image searches or on Flickr (save one exception), but instead can only be accessed via the links below. The images are a part of online collections created by institutions in the U.S.
---