Gnuoogle
General Search Engines Alexa Web Search - analyzes site traffic including ranking, global users, pages linking to the site, and links to related pages of interest Ask.com - general search engine enhanced by a number of specialty searches including a dictionary, thesaurus, currency converter, encyclopedia, maps, news and more Bing - Microsoft engine that displays excerpts from sites retrieved by your search and offers related search suggestions; multimedia and other deep Web results are also displayed. Also check out Bing Maps .
Search Engines - Pentadactyl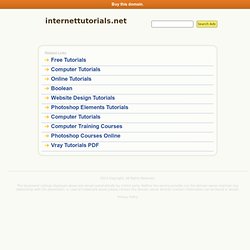 internettutorials.net - Similar Sites and Reviews | Xmarks - Pentadactyl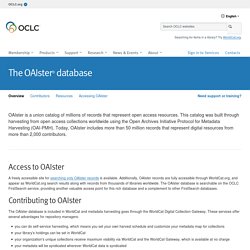 Access to OAIster A freely-accessible site for searching only OAIster records is available at http://oaister.worldcat.org/ . Additionally, OAIster records are fully accessible through WorldCat.org, and will be included in WorldCat.org search results along with records from thousands of libraries worldwide. They will also continue to be available on the OCLC FirstSearch service to Base Package subscribers, providing another valuable access point for this rich database and a complement to other FirstSearch databases.
Vertical Search Engines - Pentadactyl
<< Back to The World of Search Engines A vertical search engine searches a specific industry, topic, type of content (e.g., travel, movies, images, blogs, live events), piece of data, geographical location, and so on. It may help to think of vertical search as a search for a particular niche. Some of this content cannot be found, or is difficult to find, on general search engines. For this reason, the topic of vertical search is closely related to that of the deep Web .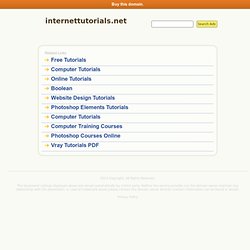 Advanced search - Pentadactyl
How to Choose a Search Tool - Pentadactyl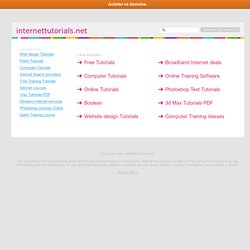 Subject Directories - Pentadactyl
Academic & Professional Directories Academic Info - gateway to college and research level Internet resources maintained by former librarian Mike Madin and a volunteer group of subject specialists BUBL Link - UK funded project of selective resources from the Centre for Digital Library Research of Strathclyde University in Glasgow, Scotland (ceased updating in April 2011) INFOMINE - large collection of scholarly Internet resources collectively maintained by several libraries, including those from the University of California ipl2 - large, selective collection maintained by students and professionals in library and information science; the collection is the result of a merger of the Internet Public Library (IPL) and the Librarians' Internet Index (LII). Research Guides - extensive collection of subject pages from the University of Delaware Library The WWW Virtual Library - guides to many disciplines sponsored by the W3 Consortium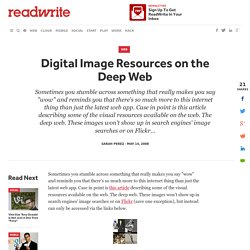 Digital Image Resources on the Deep Web - Pentadactyl
Sometimes you stumble across something that really makes you say "wow" and reminds you that there's so much more to this internet thing than just the latest web app. Case in point is this article describing some of the visual resources available on the web.