Social Commerce PESQUISA
Trends in Social Commerce
Tecnocrata Digital
Syzygy (3)
Simple Definition of Social Commerce (with Word Cloud & Definitive Definition List)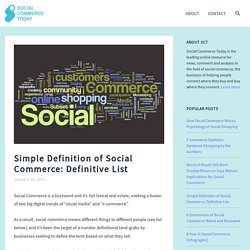 Social Commerce is a buzzword and it's hot lexical real estate, evoking a fusion of two big digital trends of "social media" and "e-commerce". As a result, social commerce means different things to different people (see list below), and it's been the target of a number definitional land-grabs by businesses seeking to define the term based on what they sell. So here's a no-vested-interests inclusive word cloud definition of "social commerce" that we created (with the wondrous Wordle ).
Social Commerce, a onda do momento
Groupon is thinking about delaying its IPO, according to a report in the WSJ today. The company had intended to go public after Labor Day, according to the article, but is now "reevaluating plans for an initial public offering in the face of stock-market volatility" and has canceled its plans for its IPO roadshow, which was slated for next week.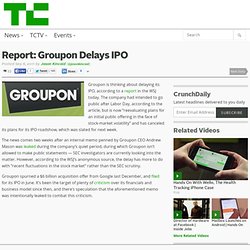 Report: Groupon Delays IPO
Social Commerce Blog