Competitor
30 Best-selling Professional Web Admin Templates on ThemeForest. 17 Free Content Management Systems For Better Content Handling | Graphic and Web Design Blog. Every one that wishes to start a website or a blog needs a way to manage content.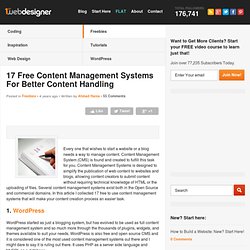 Content Management System (CMS) is found and created to fulfill this task for you. Content Management Systems is designed to simplify the publication of web content to websites and blogs, allowing content creators to submit content without requiring technical knowledge of HTML or the uploading of files. Several content management systems exist both in the Open Source and commercial domains. Apache Lenya - Open Source Content Management (Java/XML) CityMax - The Original All-In-One Website Builder - Home. ODE -- Index. Textpattern. Open Source CMS / Framework. Web Content Management and Portal Solutions - Bitrix Site Manager.
Content Management System - CMSMatrix.com. CMS comparison, Enterprise CMS, Opensource Content Management Systems, JMDCMS - ASP.Net, C#, SQL Server Based Free Open Source Web Content Management System. MojoPortal - Home. Home - Sitecore Content Management System (CMS) Web Design Inspiration. December 8th, 2010 If you've come here expecting to see asiteaday.org it has been discontinued. asiteaday.org was my own bespoke gallery but I no longer have time to manage it.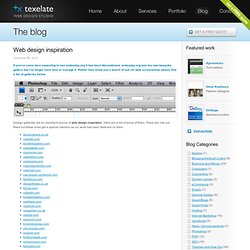 Rather than show you a bunch of out–of–date screenshots please find a list of galleries below. Design galleries are an excellent source of web design inspiration. Here are a list of some of them. Ellington CMS. Build a Website - Create a Blog. Industry's most comprehensive web site creation solution. - SiteKreator Home. About Boxxet - the Best News, Blogs, Videos, Photos and Search. Weebly - Website Creation Made Easy. Homestead - Create your own Website: FREE Trial! Web Hosting & Website Building Software Included. Inc - Web Content Management and Document Management with scalable flexible and affordable authoring solutions. Nucleus CMS: Pure Publishing. Workflow - EPiServer. IBM Workplace Web Content Management - Product Overview.
Rapidly develop and manage Internet, intranet and extranet websites IBM® Web Content Manager is designed to accelerate digital content development and deployment through all your digital channels.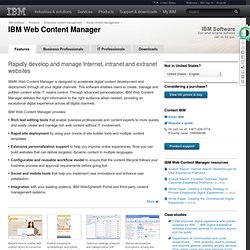 This software enables users to create, manage and publish content while IT retains control. Through advanced personalization, IBM Web Content Manager delivers the right information to the right audience when needed, providing an exceptional digital experience across all digital channels. IBM Web Content Manager provides: Products. Your Company Name Here Website Tonight® - Build your own web site. Web Hosting Services for Business and Ecommerce from ValueWeb.
Private Label CMS Reseller. Small Business Web Design - Inapart,Inc. Affordable Website Templates, Hosting and Databases. Easy Web Site Builder. Click Here To See Why XsitePro is Our Favorite Easy Web Site Builder What you should know before making a purchase.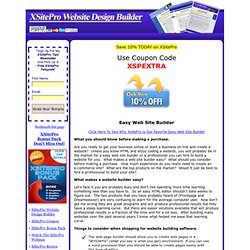 Are you ready to get your business online or start a business on line and create a website? Unless you know HTML and enjoy coding a website, you will probably be in the market for a easy web site builder or a professional you can hire to build a website for you. What makes a web site builder easy? What should you consider before making a purchase. Website builder. Create a website in minutes with Site2You. SiteCenter: Online Web Builder. Wholesale Online Store Solution Provider with over 3,500 products. Web Hosting, website design and domain name registration services. §. Web Content Management - Savvy Content Manager - ColdFusion CMS for Mac and PC.
Home. Frontpage - umbraco cms, open source ASP.NET Content Management System written in C# Subdreamer CMS - Build your website today! Asbru Software. Xaraya :: Welcome. ASP.NET CMS .NET open content management system portal C# VB.NET. CMS - Content Management System. Cuyahoga - Home. TheBeerHouse: CMS & e-commerce StarterKit. Microsoft adCenter: Online advertising platform for MSN Search.
---