Competitor
30 Best-selling Professional Web Admin Templates on ThemeForest
17 Free Content Management Systems For Better Content Handling | Graphic and Web Design Blog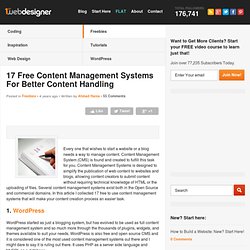 Every one that wishes to start a website or a blog needs a way to manage content. Content Management System (CMS) is found and created to fulfill this task for you. Content Management Systems is designed to simplify the publication of web content to websites and blogs, allowing content creators to submit content without requiring technical knowledge of HTML or the uploading of files. Several content management systems exist both in the Open Source and commercial domains.
Apache Lenya - Open Source Content Management (Java/XML)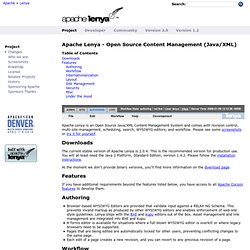 Apache Lenya is an Open Source Java/XML Content Management System and comes with revision control, multi-site management, scheduling, search, WYSIWYG editors, and workflow. Please see some screenshots or try it for yourself. The current stable version of Apache Lenya is 2.0.4. This is the recommended version for production use. You will at least need the Java 2 Platform, Standard Edition, version 1.4.2. Please follow the installation instructions.
Industry Recognized CityMax is a Better Business Bureau Accredited Business with an A+ rating, the highest rating the BBB can give. CityMax has also earned multiple awards including Ad Tech People's Choice Award and #2 Best Company to Work for in BC by BCBusiness Magazine.
CityMax - The Original All-In-One Website Builder - Home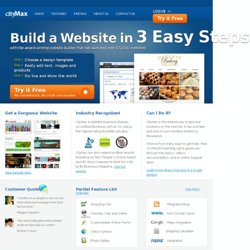 Apache ODE (Orchestration Director Engine) software executes business processes written following the WS-BPEL standard. It talks to web services, sending and receiving messages, handling data manipulation and error recovery as described by your process definition. It supports both long and short living process executions to orchestrate all the services that are part of your application. WS-BPEL (Business Process Execution Language) is an XML-based language defining several constructs to write business processes.
ODE -- Index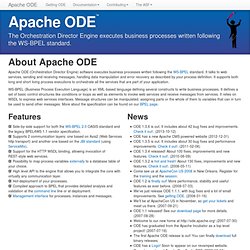 Tim Van Damme at maxvoltar.com No matter what CMS I try, I always end up going back to Textpattern. It's simple, stable, reliable, and I love the syntax used to create your own templates. Being a front-end coder, the syntax (looking a lot like XHTML) is super-easy to learn. The Textpattern community is one of the most friendly and helpful I ever encountered.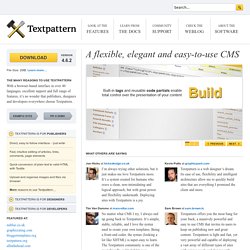 Web Content Management and Portal Solutions - Bitrix Site Manager
Content Management System - CMSMatrix.com. CMS comparison, Enterprise CMS, Opensource Content Management Systems,
JMDCMS - ASP.Net, C#, SQL Server Based Free Open Source Web Content Management System
JMDCMS - Free Open Source Content Management System JMDCMS is a powerfull module based Content Management System. Written in ASP.net and C# with SQL Server as database.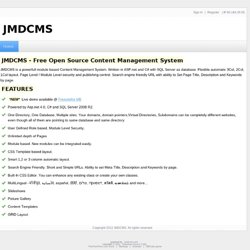 mojoPortal - Home
Easy Professional Websites mojoPortal is free open source web content management software for running your website. Very user friendy,no knowledge of HTML required to create and edit content.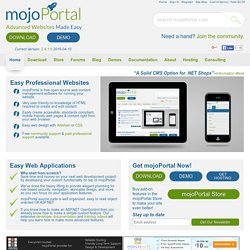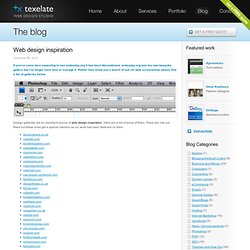 Web Design Inspiration
December 8th, 2010 If you've come here expecting to see asiteaday.org it has been discontinued. asiteaday.org was my own bespoke gallery but I no longer have time to manage it. Rather than show you a bunch of out–of–date screenshots please find a list of galleries below. Design galleries are an excellent source of web design inspiration. Here are a list of some of them.
Ellington CMS
Ellington is the industry standard for forward thinking web-focused news and media organizations ranging from small daily to large metropolitan newspapers, from startups looking for an edge to large media corporations standardizing on a single, superior solution. We are dedicated to building the best, most thought through tools focusing on content publishing, user and social media, local business services, and more. "We immediately saw a significant traffic increase after joining the Ellington CMS and Marketplace platforms. Gazettextra.com doubled in traffic (2 million pageviews per month to up to 4 million per month), WCLO.com and WJVL.com tripled visitors and pageviews within the first year... we see the realistic potential a new million dollar revenue stream." — Shar Hermanson, Director of Online Sales, Bliss Communications
About Boxxet - the Best News, Blogs, Videos, Photos and Search
" It's a way our clients can get to know us and see our culture without physically visiting the store. I couldn't believe I got the site up and running over one weekend." " I have been an entrepreneur for many, years, but suddenly my art licensing is really coming together and I need to have a simple, bold statement about my art. My Weebly site fits that vision for me." " It surprised me how quick it was to put the site together.
Inc - Web Content Management and Document Management with scalable flexible and affordable authoring solutions.
Nucleus CMS 3.64 Released The Nucleus CMS core development team has released Nucleus CMS v3.64. This release includes a major security fix and a few minor bug fixes. All users who allow comments from non-members should upgrade immediately (fixed in 3.64).
Nucleus CMS: Pure Publishing
Workflow - EPiServer
Rapidly develop and manage Internet, intranet and extranet websites IBM® Web Content Manager is designed to accelerate digital content development and deployment through all your digital channels. This software enables users to create, manage and publish content while IT retains control. Through advanced personalization, IBM Web Content Manager delivers the right information to the right audience when needed, providing an exceptional digital experience across all digital channels. IBM Web Content Manager provides:
IBM Workplace Web Content Management - Product Overview
products
Your Company Name Here Website Tonight® - Build your own web site
Web Hosting Services for Business and Ecommerce from ValueWeb
Private Label CMS Reseller
Small Business Web Design - Inapart,Inc.
People rely on the Internet, more than ever, as a source of information. According to the Pew Internet & American Life Project, the most quoted source of data on Internet use, three out of four Internet users will research a product or service before buying it. That means that three out of four potential customers may find your competition instead of you.
Affordable Website Templates, Hosting and Databases
Easy Web Site Builder
Website builder. Create a website in minutes with Site2You
SiteCenter: Online Web Builder
Wholesale Online Store Solution Provider with over 3,500 products
Web Content Management - Savvy Content Manager - ColdFusion CMS for Mac and PC
Home
Subdreamer CMS - Build your website today!
Asbru Software
Xaraya :: Welcome
CMS - Content Management System
Cuyahoga - Home
TheBeerHouse: CMS & e-commerce StarterKit
Microsoft adCenter: Online advertising platform for MSN Search