MPI
Product Detail
From Clipboards to iPads: Mobile Apps for the Meeting Planner Date: Wednesday, May 18, 2011Start Time: 11:00 AM CST/6:00 PM CETPresenters: Midori Connoly, Sam Smith and Ruud Janssen Member Price: FREEMPI Connect Price: $25 USDNon-Member Price: $50 USD Technology Series: Part 5 of 5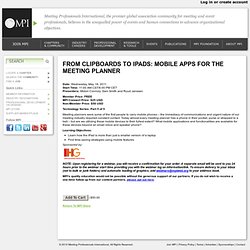 Right beneith the ECB building, a unique location in Frankfurt, our underground gathering unfolds ... FRESH dinner is the place where you meet others with an interest in the content side of meetings. You will have the opportunity to meet meeting planners, meeting designers, facilitators, ROI specialists, technology suppliers, actors etc. Our last dinner at IMEX Frankfurt was a great success attracting 85 participants with the functional fun of More Balls Than Most, pioneers in using actors to drive communication in meetings and Wim Rombaut as an 'energy cocktail' for conferences. This time We will have the international communication theather YESSI JADA on stage, re-FRESH-ing our batteries with their performance. Remember that this is not your average party with loud music and free drinks.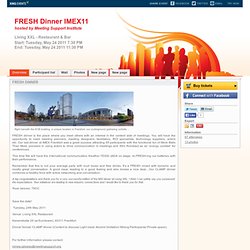 FRESH Dinner IMEX11 Frankfurt
Online Learning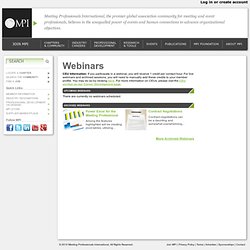 CEU Information: If you participate in a webinar, you will receive 1 credit per contact hour. For live webinars and archived sessions, you will need to manually add these credits to your member profile. You may do so by clicking here. For more information on CEUs, please visit the CEU section on our Career Development page. Upcoming Webinars
2011_CMM_Award_Release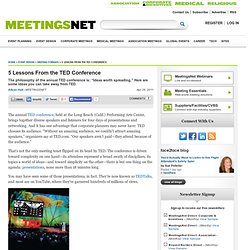 5 Lessons From the TED Conference
The annual TED conference, held at the Long Beach (Calif.) Performing Arts Center, brings together diverse speakers and listeners for four days of presentations and networking. And it has one advantage that corporate planners may never have: TED chooses its audience. "Without an amazing audience, we couldn't attract amazing speakers," organizers say at TED.com. "Our speakers aren't paid—they attend because of the audience."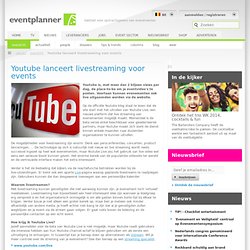 Youtube is, met meer dan 2 biljoen views per dag, de place-to-be om je eventvideo's te posten. Voortaan kunnen evenementen ook live uitgezonden worden via de website. Op de officiële Youtube blog staat te lezen dat de site start met het uitrollen van Youtube Live, een nieuwe platform dat live streaming van evenementen mogelijk maakt.
Youtube lanceert livestreaming voor events
Understand your online social capital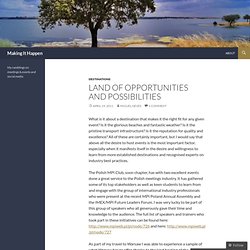 What is it about a destination that makes it the right fit for any given event? Is it the glorious beaches and fantastic weather? Is it the pristine transport infrastructure? Is it the reputation for quality and excellence? All of these are certainly important, but I would say that above all the desire to host events is the most important factor, especially when it manifests itself in the desire and willingness to learn from more established destinations and recognised experts on industry best practices. The Polish MPI Club, soon chapter, has with two excellent events done a great service to the Polish meetings industry.
Land of Opportunities and Possibilities « Making It Happen
5th Association Congress London | Meeting Support Institute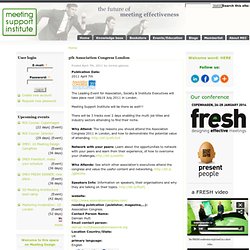 The Leading Event for Association, Society & Institute Executives will take place next 18&19 July 2011 in London. Meeting Support Institute will be there as well!!! There will be 3 tracks over 2 days enabling the multi job titles and industry sectors attending to find their niche.
NBTC en Facebook Places slaan handen ineen - Koninklijke Horeca Nederland
Wine Fairies - Keeping Service Fun - Slowfood concepts for Meetings & Events
Two of the things that make a book, a book
Subscribe to our free email newsletter. We'll update you once or twice a week, and we'll never rent or sell your email address to anyone. Thanks. 1. Kevin Kelly has a fabulous (as usual) post about the nature of a book.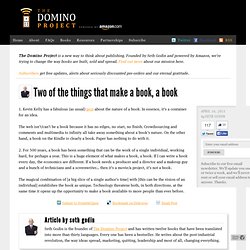 Sign In To mpiweb.org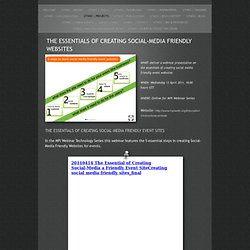 the essentials of creating social-media friendly websites
The Essentials of Creating a Social-Media Friendly Event Site Presented by Ruud Janssen, CMM Original Webinar with full audio and slides can be found here: http://www.mpiweb.org/Education/Online/smeventsite
You have to have JavaScript enabled to use this portal. Your browser appears to be running in compatibility mode. You may experience issues using this portal. To take this page out of compatibility mode, please click the "Broken Page" link on the right side of your browser's address bar. Webinar: Five Lessons Learned from the MPI Hybrid Meeting Research ProjectMedia: WebinarLevel: Novice, Intermediate80% / 4 ratings
Professional Development On Demand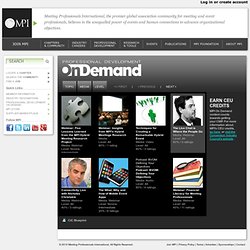 Sign In To mpiweb.org
Date: Wednesday, April 13, 2011 Start Time: 11:00 AM CST/6:00 PM CET Presenters: Ruud Jannsen Member Price: FREE Non-Member Price: $50 USD While we are racing to jump on the social media bandwagon, we forget to check if our websites are ready for Social Media. Most aren't – and you are missing attendees. This webinar will show you five simple things that you can change on your website today to make it social media friendly.
The essentials of creating a social-media friendly event site
WEC_Prospectus
General Sessions NEW!: Be a part of the Daily Download conversation by adding the specific daily and event hashtags to your commentary throughout conference.
WEC2011
#MPI #GCMBE3 2-7 April 2011, Doha Qatar on Vimeo
Share photos and videos on Twitter
The SAPPHIRE NOW Experience‬‪‬‪
EMT Home
Green Meeting Industry Council - Home
Information
#MPI #GCMBE 3, Sharq Village, Ritz Carlton, Doha, Qatar : un album
#gcmbe3 - MPI Global Training GCMBE level 3
foursquare
TEDxEarthquake9.0
Join a select group of key stakeholders this Saturday Jan 12 on the third anniversary of the earthquake as we look back and forward to the future. For the past 3 years, Haïti has been a hub of innovation, with an active stream of social an...d technology experiments undertaken by both local and international organizations working together to improve the quality of life, access to opportunities and value generation of the Haitian people. See More
Product Detail
Building A Team to Execute Effective, Impactful Hybrid Events Date: Wednesday, March 23, 2011Start Time: 11:00 AM CST/6:00 PM CETPresenters: Sam Smith Member Price: FREEMPI Connect Price: $25 USDNon-Member Price: $50 USD
Research > Webinar: Economic Significance Study
multimedia: gospodarka, giełda, finanse, komentarze
#MPI Poland 2nd General Assembly 17 March 2011 on Vimeo
foursquare
Ruud Janssen, CMM at BSL EuroAirport Basel-Mulhouse-Freiburg
foursquare
20 Wordpress Themes for Your Event Website
Get the TED2011 Program Guide for iPad and desktop
Meet the Farmer, over an open air organic lunch @Loews Don Cesar Hotel & Beach resort - Slowfood concepts for Meetings & Events
Scalable slowfood concepts for meetings + events - Slowfood concepts for Meetings & Events
foursquare
Attendee led session experiment-what attendees have to say about The Visual Shift Experiment at #mpi #emec11
Attendee led session experiment-what attendees have to say about The Visual Shift Experiment at #mpi #emec11 - ©TNOC | Ruud Janssen's posterous
foursquare
Introducing: MPIWeb Connect
TED Conversations | About TED Conversations | TEDCred
The Visual Shift | Solution Room Experiment at #MPI European Meetings & Events Conference #EMEC11 Dusseldorf #tnoc #eventprofs - ©TNOC | Ruud Janssen's posterous
Central Desktop Collabosphere 2011 User Conference: Elevate | Overview | powered by RegOnline
foursquare
foursquare
"Visual Shift" Result Room #MPI #EMEC11  : un album
©TNOC | The New Objective Collective | Livestream
BackNoise.com
Ruud Janssen, CMM at CCD Stadthalle Duesseldorf
Photo : yfrog.com/h3sd0jjj - Shared by RuudWJanssen
MPI CMM class of 2010, SKEMA, Cote D'Azure, France on Vimeo
foursquare
Facebook Rolling Out Brand New Photos Interface
Ruud Janssen, CMM at Hilton
Ruud Janssen, CMM at DUS Düsseldorf International
Ruud Janssen, CMM at BSL EuroAirport Basel-Mulhouse-Freiburg
Marketers Optimistic About Finding Social Media ROI [STUDY]
10 Mobile Apps for Event Planners
Visualizing the web by (interconnected) #pearltrees in realtime #tnoc #eventprofs #mpi - ©TNOC | Ruud Janssen's posterous
Catalyst
From Long List to Shortlist: how to evaluate, select and measure the success of your event technologies
European Meetings & Events Conference - 2011
Creating Event Engagement through Technology
European Meeting & Events Conference - 2011
#emec11 Solution Room