UI Patterns Librarys
Ui Parade – User Interface Design Inspiration. Home | Konigi. Open - A Free Front-End Resource. The Main Tap › PatternTap. Elements of Design: Web Design Gallery. Navigation guidelines on Windows Modern UI. UI-Patterns.com. Interaction Design Pattern Library - Welie.com. Suggest a pattern Have you seen new examples of patterns out there that have not been described on this site?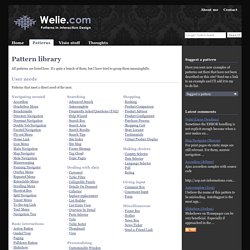 Send me a link to an example and I'll add it to my to-do list. Suggest a pattern. Design Pattern Library. View the most recent patterns added to the library.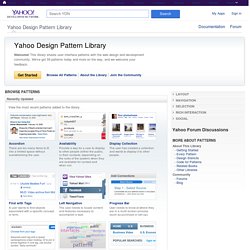 Accordion There are too many items to fit into a limited space without overwhelming the user. Availability Provide a way for a user to display to other people (either the public, or their contacts, depending on the rules of the system) when they are available for contact and when not.
---