SAKG Schools
Perth Kitchen Garden Tour | Aussie Green Thumb - Cultivating a Gardening Lifestyle - Hints, Tips and Traps for Beginner Gardeners and growing Australian Native Plants
Reuse/Recycle!
Victorian Schools' Garden Award | Yarra PS
Northern Metropolitan Region Winners Yarra Primary School is the proud winner of the NMR Victorian Schools' Garden Awards for 2009. On October 30th we were visited by the judges who flew in via a $4mil helicopter which landed on the School's basketball court.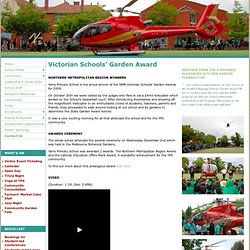 Westgarth Primary School - Kitchen garden
Westgarth Primary's innovative kitchen garden program provides pleasurable food education for young children. Created in conjunction with the Stephanie Alexander Kitchen Garden Foundation and Go For Your Life , the program aims to positively influence our students' food choices.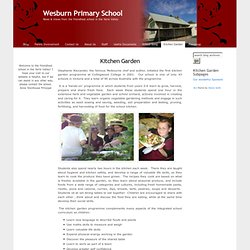 Kitchen Garden at Wesburn Primary School
Stephanie Alexander, the famous Melbourne chef and author, initiated the first kitchen garden programme at Collingwood College in 2001. Our school is one of only 43 schools in Victoria and a total of 90 across Australia with the programme.
Mt Eliza Primary School: Home
Donald Primary School
Daylesford PS Kitchen Garden Project
The Stephanie Alexander Kitchen Garden Program at Weeden Heights Primary School aims to encourage and facilitate learning for life through an engaging, fun and hands on experience in the kitchen and garden. We aim to promote and strengthen our community involvement in the Program and encourage the understanding of a variety of different foods as well as the relationship between the garden and the table.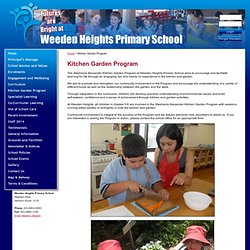 Stephanie Alexander Kitchen Garden Program | Weeden Heights Primary School
Home - Elwood Primary School
Southmoor Primary School
Webster Central School District
Webster Health and Education Network