Kitchen Garden Education Books
Hollyhocks and Honeybees: Garden Projects for Young Children (9781929610204): Sara Starbuck, Marla Olthof, Karen Midden
Worms Eat Our Garbage: Classroom Activities for a Better Environment (9780942256055): Mary Appelhof, Mary Frances Fenton, Barbara Loss Harris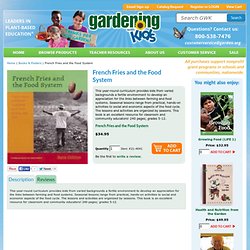 French Fries and the Food System
This year-round curriculum provides kids from varied backgrounds a fertile environment to develop an appreciation for the links between farming and food systems. Seasonal lessons range from practical, hands-on activities to social and economic aspects of the food cycle.
Digging Deeper: Integrating Youth Gardens Into Schools & Communities (9781884430046): Joseph Kiefer, Martin Kemple, Melanie Manaugh, Robin Wimbiscus
Farm to Table & Beyond (LiFE 2)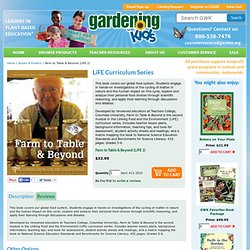 This book covers our global food system.
Gardening Wizardry for Kids
Flow Learning™ Chart - Sharing Nature Worldwide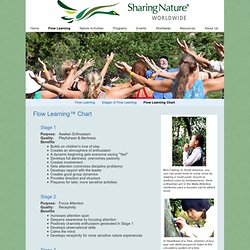 Bird Calling: In North America, you can call small birds to come close by making a "pssh-pssh" sound (a method used by birdwatchers). Here, a Brazilian girl in the Mata Atlântica rainforest uses a wooden call to attract birds. In Heartbeat of a Tree, children of any age use stethoscopes to listen to the circulatory system of a tree. (Thinbarked trees work best.)
Gardens are magical settings filled with aromas, colors, and patterns that excite the imagination and awaken the senses. This engaging curriculum uses a mathematical lens to take children on an education-filled exploration of the garden.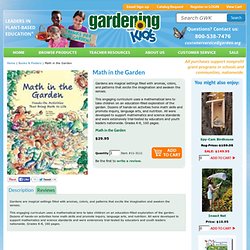 Math in the Garden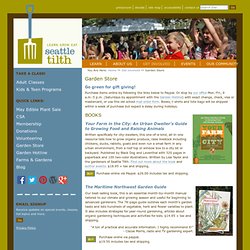 Buy Stuff: Books & Specialty Items — Seattle Tilth
Buy a copy of the Maritime NW Garden Guide, Teach Peace Through Gardening, a handy Seattle Tilth apron or one of our other items for sale. Go green for gift giving!
" Healthy Foods from Healthy Soils is just what we need now! Never before has it been so critical that young kids learn healthy eating habits and an appreciating for eating local, in-season, balanced diets. As we struggle to help our kids get connected to the earth and the food they eat, in a world where most kids think vegetables grow on Aisle 8, this book is a great tool. Patten and Lyons make learning about food fun!" —Anna Blythe Lappé, co-author, Hope's Edge: The Next Diet for a Small Planet Healthy Foods from Healthy Soils invites you and your students to discover where food comes from, how our bodies use food, and what happens to food waste.
Healthy Foods from Healthy Soils: A Hands-On Resource for Teachers - Tilbury House
Botany on Your Plate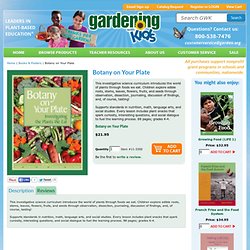 This investigative science curriculum introduces the world of plants through foods we eat. Children explore edible roots, stems, leaves, flowers, fruits, and seeds through observation, dissection, journaling, discussion of findings, and, of course, tasting! Supports standards in nutrition, math, language arts, and social studies.