Children's Cooking/Gardening Curriculum
Early Sprouts. Sustainable Agriculture Activity Guides — ASI. On-Farm Experiential Learning for High School and College Students A New Publication for Farm and Garden-Based Educators Working with Youth This collection of activity guides is designed for use with students who visit college and university farms and similar farm programs that are involved in youth education.
The guides cover nine field-based activities focusing on diverse sustainable agriculture activities and concepts that can be completed within one hour. Introduction, including How to use the Guides. Food, Math And Science Teaching Enhancement Resource. The FoodMASTER Intermediate curriculum presents third through fifth grade students with ten basic topics in foods.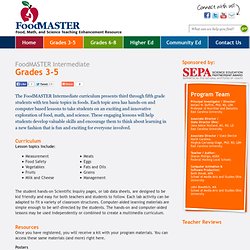 Each topic area has hands-on and computer based lessons to take students on an exciting and innovative exploration of food, math, and science. These engaging lessons will help students develop valuable skills and encourage them to think about learning in a new fashion that is fun and exciting for everyone involved. Teacher Resources and Curriculums. Farm To School Resources For Teachers. Farm to School connects schools (K-12) and local farms by serving healthy meals in school cafeterias, improving student nutrition, providing food, farm, and nutrition education, and supporting local, family farmers.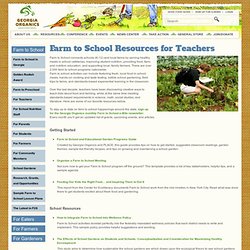 There are over 2,000 farm to school programs nationwide. Farm to school activities can include featuring fresh, local food in school meals, hands-on cooking and taste testing, edible school gardening, field trips to farms, and standards-based experiential learning in the classroom. Over the last decade, teachers have been discovering creative ways to teach kids about food and farming, while at the same time meeting standards-based requirements in science, math, social studies, and literature. RenewAll Garden Project - School Garden Projects and Resources. T he future of food, farming and community is coming to life in school gardens across the nation and the world.
The valuable lessons of conservation, cooperation and sustainability are being learned in these open-air classrooms, and the children, teachers, parents and communities involved are an inspiration to us all. S chool gardens promote good health, good nutrition, good food, strong communities, a respect for the farmers, and strong ties to the land that sustains us all -- whether it's in a reclaimed empty lot in an urban setting, or a donated field in a rural area! H ere, you can read real-life stories about how school gardening programs are instilling children and their communities with a sense of purpose and a renewed interest in being personally involved in how their food is produced. Click a link below to read about a school garden project! Agriculture in the Classroom. The Sylvia Center - Inspiring children to eat well. Welcome | Edible Schoolyard. Middle and High School GBL Re... Food Matters | Video channel on TED.com. About | The Whole Plate. The Story of The Whole Plate: A Return to Real Food begins in Viroqua, WI at the Youth Initiative High School, which was founded in 1996 by a group of students, faculty and parents strongly connected to organic agriculture.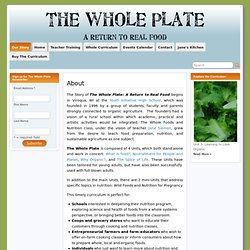 The founders had a vision of a rural school within which academic, practical and artistic activities would be integrated. The Whole Foods and Nutrition class, under the vision of teacher Jane Siemon, grew from the desire to teach food preparation, nutrition, and sustainable agriculture as one subject. School Dinners |Jamie Oliver. A "Real Food" Guide to MyPlate (INFOGRAPHIC) In my recent critique of the new USDA dietary guidelines, I wrote that we'll never see a real food version of MyPlate as long as the food industry holds sway over the guidelines and USDA continues to promote industrial foods.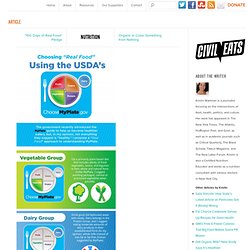 While this is true, there's no reason we can't create our own "Real Food" version of MyPlate to promote what we think is healthy and what's not. Admittedly, it's difficult to convey a lot of information in a single graphic, but, in my opinion as a certified nutrition educator, MyPlate promotes foods that are unhealthy. The cooking RoomThe cooking Room - The Cooking Room.
---