Things to make
DIY Satsuma Candle. A friend of mine DIYed her own candles, made from the peels of Satsuma oranges, for a recent dinner party.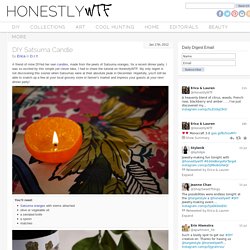 I was so excited by this simple yet clever idea, I had to share the tutorial on HonestlyWTF. My only regret is not discovering this sooner when Satsumas were at their absolute peak in December. Hopefully, you'll still be able to snatch up a few at your local grocery store or farmer's market and impress your guests at your next dinner party! The stem side of the Satsuma will be the bottom and base of the candle. Lightly score a ring around the top 1/3 portion of the orange. Transformed :: A Suitcase. Hi there!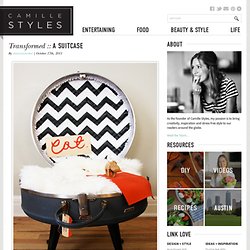 Claire here, to bring you our latest before-and-after of…a pet bed! Two weeks ago, I polled you guys on which pet bed (out of 3 choices) I should create for my next DIY post. Gilded Thank You Cards. As many of you know, we are huge paper freaks.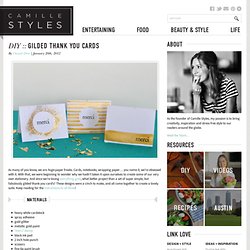 Cards, notebooks, wrapping paper… you name it, we're obsessed with it. With that, we were beginning to wonder why we hadn't taken it upon ourselves to create some of our very own stationery.
---