Marketing
45 Great Examples of Retro Website Design. In this article we'll have a closer look at some web designs that use retro/vintage elements to make them stand out from the crowd.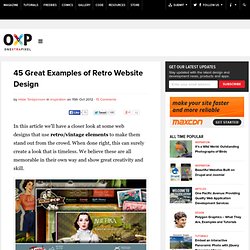 When done right, this can surely create a look that is timeless. We believe these are all memorable in their own way and show great creativity and skill. Creating a successful design doesn't have to mean you need to draw or make complicated elements. Why not use some old photos, go for a color palette with a vintage feel to it or have some old music play in the background. 10 Step Guide To Develop a Killer Online StrategyTribalCafe. 10 Websites Every Entrepreneur Should Bookmark. There's an overwhelming amount of information available to entrepreneurs.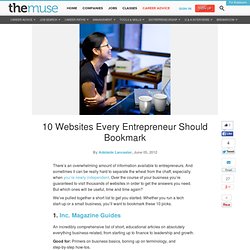 And sometimes it can be really hard to separate the wheat from the chaff, especially when you're newly independent. Over the course of your business you're guaranteed to visit thousands of websites in order to get the answers you need. But which ones will be useful, time and time again? The 10 Commandments for Giving a Perfect Presentation. Looking out into a sea of faces while standing on a stage can be one of the most intimidating experiences of your career.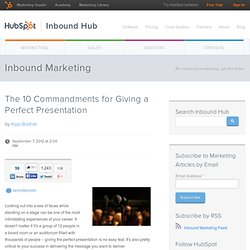 It doesn't matter if it's a group of 12 people in a board room or an auditorium filled with thousands of people -- giving the perfect presentation is no easy feat. It's also pretty critical to your success in delivering the message you want to deliver. Last week, 2,800 marketers converged on Boston for INBOUND 2012 (It sold out, so you better get your tickets for next year's event now!) 37 Ways to Use Twitter for Business. Business owners have a lot on their mind!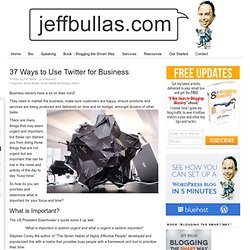 They need to market the business, make sure customers are happy, ensure products and services are being produced and delivered on time and on budget, amongst dozens of other tasks. There are many things that may seem urgent and important, but these can distract you from doing those things that are not urgent but are important that can be lost in the noise and activity of the day to day "busy-ness". So how do you set priorities and determine what is important for your focus and time? What is Important? The US President Eisenhower's quote sums it up well. "7 Steps in Creating and Implementing a Social Media Marketing Campaign" The processes involved in creating a social media campaign has been open to many discussions by many people as to how to do it effectively and as I indicated in my last blog I would give a further insight into one type of approach to social media marketing after my recent discussions with Fi Bendall.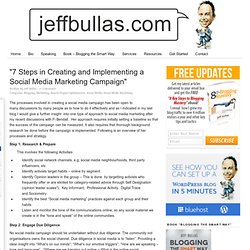 Her approach requires initially setting a baseline so that the success of the campaign can be measured. It also requires that thorough background research be done before the campaign is implemented. The One Thing Most Social Media Marketers Forget [Plus Infographic] Christmas only comes once a year and it is fun to see the children tear off the paper and unwrap their presents.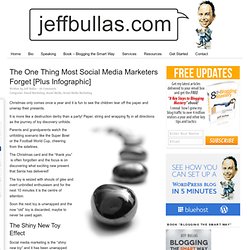 It is more like a destruction derby than a party! Paper, string and wrapping fly in all directions as the journey of toy discovery unfolds. Parents and grandparents watch the unfolding scenario like the Super Bowl or the Football World Cup, cheering from the sidelines. The Christmas card and the "thank you" is often forgotten and the focus is on discovering what exciting new present that Santa has delivered! Breakdown: Corporate Social Media Team. The purpose of this post is to be a living document and industry reference on the topic of social media teams, as part as my ongoing coverage of corporate social media programs.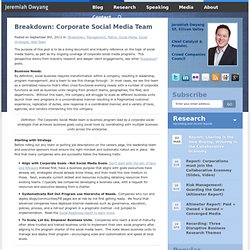 This perspective stems from industry research and deeper client engagements, see other 'breakdown' posts. Business Needs: By definition, social business requires transformation within a company, resulting in leadership, program management, and a team to see this change through. In most cases, we see this team as a centralized resource that's often cross-functional working closely with a number of corporate functions as well as business units ranging from product teams, geographies, the field, and departments. 18 Beautiful Examples of Parallax Scrolling in Web Design. The parallax effect in web design is something that has gained popularity over the past couple of years.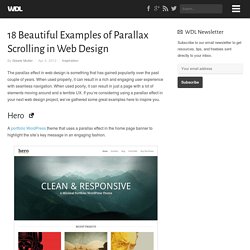 When used properly, it can result in a rich and engaging user experience with seamless navigation. When used poorly, it can result in just a page with a lot of elements moving around and a terrible UX. If you're considering using a parallax effect in your next web design project, we've gathered some great examples here to inspire you. The 20 most-watched TED Talks to date. Design The Best TED Images of 2012 2012 has been big for TED — it's the year we reached a billion video views and upped the TED Prize to one million dollars.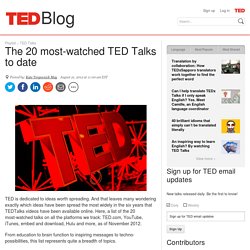 And since a picture is worth a thousand words, here is a glimpse of the year in photos, taken at TED events as far-flung as Long Beach, Edinburgh, Doha and New York. […] 19 Unexpected Sources of Inspiration. Marketing Is Dead - Bill Lee. Traditional marketing — including advertising, public relations, branding and corporate communications — is dead. Many people in traditional marketing roles and organizations may not realize they're operating within a dead paradigm. But they are. 72 Fascinating Social Media Marketing Facts and Statistics for 2012. Social media and inbound marketing techniques have been a boon for marketers. Not only do leads generated through social and content marketing cost half as much as traditional outbound-generated leads (see below), they also close at higher rate (again, see below). And social media isn't just about lead generation of course. While prospective buyers are using search and social to research products and services before making purchase decisions, marketers and PR professionals can use those same tools to research buyer wants and needs. And their competition. 10 Creative Ways to Market on Pinterest. Marketing used to be simple. You placed an advertisement in a magazine, the yellow pages or the local newspaper and people picked up the phone and called you or dropped into your place of business.
Now you have dozens of marketing channels you can use and the media is not just print, television and telemarketing. The age of multimedia and multiple social networks is providing many choices and options. 7 Habits of Remarkably Charismatic Marketers. You know those people everyone wants to be around? The ones that light up the room with their smiles? The ones that make every person they talk to feel like the most important person in the world? Start With Why. 33 Stats That Paint a Picture of the Future of Marketing. The future of our beloved marketing industry is changing fast -- the good news is, we don't even need a crystal ball to see where it's headed! HubSpot CMO Mike Volpe, when sharing his story on how he came to be HubSpot's fifth employee, says the problem he faced as a marketer was finding an integrated marketing software solution that allowed him to see how his various marketing efforts impacted his website and revenue.
Little did he know when yearning for this marketing system that it was in the process of being built That was just five years ago, and now our industry is at a place where Mike Volpe's dream has been realized . Now, it's time to tap into the other dreams marketers are having ... so we can solve them! Blogging. 12 Most Useless Habits of Highly Ineffective Sales People. In sales, many bad habits have crept in somehow – and seem to propagate with every new crop of sales people. I have made many of these mistakes myself, and witnessed them being carelessly carried out by some of the worst in the business.
Here are some of the most useless habits of conversation I've seen and heard in sales, and what you can do about them. 1. 12 Simple Ways Marketers Can Humanize Their Brand. 10 Tips For Success From George Lois, The Original Mad Man. What Successful People Do With The First Hour Of Their Work Day. E(motie)-marketing: 7 emoties voor online marketing.
Inbound Marketing Explained in 6 Simple Analogies. KPI's voor social media: voorbeelden en stappen. 5 Things Toddlers Can Teach You About Marketing. Oncologists Are Most Likely To Shun Sales Reps.
---