Web tracking
Stalking.htm: How to search the web, by fravia+ stalking. Email Tracking: It Gets Worse. When I wrote Monday about the new didtheyreadit.com privacy-invading email tracking system, I had no idea that an even more invasive system has been on the market for two years or so.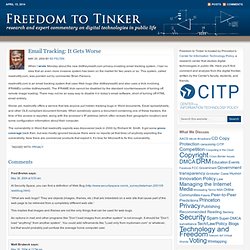 This system, called readnotify.com, was pointed out by commenter Brian Parsons. readnotify.com is an email tracking system that uses Web bugs (like didtheyreadit) and also uses a trick involving IFRAMEs (unlike didtheyreadit). The IFRAME trick cannot be disabled by the standard countermeasure of turning off remote image loading. There may not be an easy way to disable it in today's email software, short of turning off HTML email entirely. Ilektrojohn/creepy @ GitHub. Creepy Creepy is a geolocation OSINT Tool Description Creepy is a geolocation OSINT tool.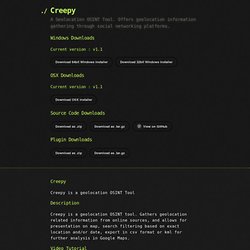 The Dangers of Web Tracking - The Great Privacy Debate. Google Lets Users Opt Out Of Analytics Tracking, But Doesn't Expect Many Will. Google has announced the launch of a browser plugin that lets users avoid being tracked by Google Analytics.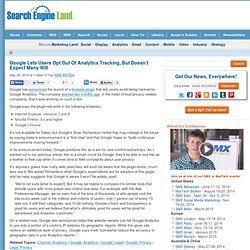 The company warned two months ago, in the midst of loud privacy-related complaints, that it was working on such a tool. Google says the plugin will work in the following browsers: Internet Explorer, versions 7 and 8Mozilla Firefox, 3.x and higherGoogle Chrome It's not available for Safari, but Google's Brian Richardson hinted that may change in the future by saying today's announcement is a "first step" and that Google hopes to "build continuous improvements moving forward." In its announcement today, Google positions this as a win for user control and privacy.
Google Dashboard Offers New Privacy Controls. Google has launched a new privacy dashboard — technically just called Google Dashboard — that gives users quicker access to, and more control over, the personal information stored in Google's databases.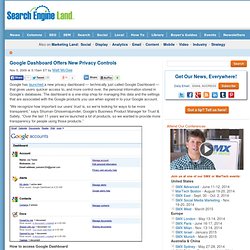 The dashboard is a one-stop shop for managing this data and the settings that are associated with the Google products you use when signed in to your Google account. "We recognize how important our users' trust is, so we're looking for ways to be more transparent," says Shuman Ghosemajumder, Google's Business Product Manager for Trust & Safety.
History Sniffing: How YouPorn Checks What Other Porn Sites You've Visited and Ad Networks Test The Quality of Their Data. How People Broadcast Their Locations Without Meaning To. People were up in arms this week about the privacy implications of news that the iPhone gathers location information and stores it in a file on the user's computer.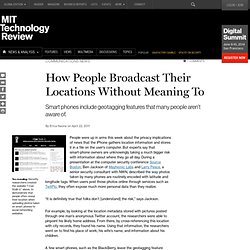 But experts say that smart-phone owners are unknowingly taking a much bigger risk with information about where they go all day. During a presentation at the computer security conference Source Boston, Ben Jackson of Mayhemic Labs and Larry Pesce, a senior security consultant with NWN, described the way photos taken by many phones are routinely encoded with latitude and longitude tags. How To Hide From Google - Forbes.com. Traceroute.org. I Can Stalk U - Raising awareness about inadvertent information sharing. NNDB: Tracking the entire world. Tracking Yourself Online: The Power of Google Alerts | Keyword Connects Blog. Think Google is just a gigantic search engine that knows everything about everything?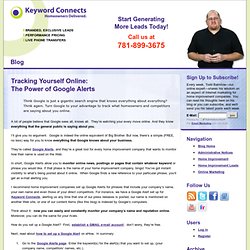 Think again. Turn Google to your advantage to track what homeowners and competitors are saying about you online. A lot of people believe that Google sees all, knows all. They're watching your every move online. And they know everything that the general public is saying about you. Tracking Yourself Online: The Power of Google Alerts | Keyword Connects Blog. Do Not Track - Universal Web Tracking Opt Out. Think You've Disabled Google's Web History Tracking? Check Again. Late Friday evening, I tweeted out that, for some reason unbeknownst to me, Google's Web History tracking "feature" (the one that keeps tabs on every search you've made for sake of tailoring ads to your tastes and/or creeping you out) had seemingly been enabled on my account.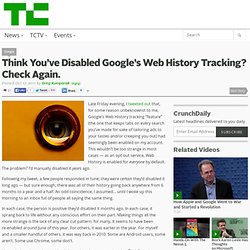 This wouldn't be too strange in most cases — as an opt-out service, Web History is enabled for everyone by default. The problem? I'd manually disabled it years ago. Browser History Sniffing Is Back.
---