Web tracking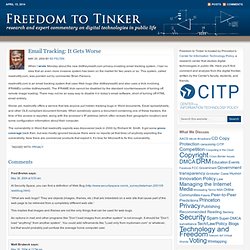 Email Tracking: It Gets Worse
When I wrote Monday about the new didtheyreadit.com privacy-invading email tracking system, I had no idea that an even more invasive system has been on the market for two years or so. This system, called readnotify.com, was pointed out by commenter Brian Parsons. readnotify.com is an email tracking system that uses Web bugs (like didtheyreadit) and also uses a trick involving IFRAMEs (unlike didtheyreadit). The IFRAME trick cannot be disabled by the standard countermeasure of turning off remote image loading. There may not be an easy way to disable it in today's email software, short of turning off HTML email entirely.
Creepy Creepy is a geolocation OSINT Tool Description Creepy is a geolocation OSINT tool.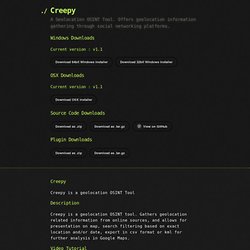 The Dangers of Web Tracking - The Great Privacy Debate
Updated Aug. 6, 2010 12:01 a.m. ET In a 1963 Supreme Court opinion, Chief Justice Earl Warren observed that "the fantastic advances in the field of electronic communication constitute a great danger to the privacy of the individual." The advances have only accelerated since then, along with the dangers. Today, as companies strive to personalize the services and advertisements they provide over the Internet, the surreptitious collection of personal information is rampant. The very idea of privacy is under threat.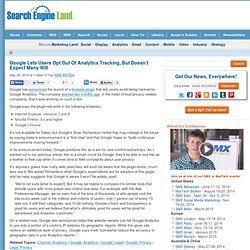 Google Lets Users Opt Out Of Analytics Tracking, But Doesn't Expect Many Will
Google has announced the launch of a browser plugin that lets users avoid being tracked by Google Analytics. The company warned two months ago, in the midst of loud privacy-related complaints, that it was working on such a tool. Google says the plugin will work in the following browsers: Internet Explorer, versions 7 and 8Mozilla Firefox, 3.x and higherGoogle Chrome It's not available for Safari, but Google's Brian Richardson hinted that may change in the future by saying today's announcement is a "first step" and that Google hopes to "build continuous improvements moving forward." In its announcement today, Google positions this as a win for user control and privacy.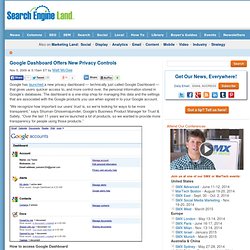 Google has launched a new privacy dashboard — technically just called Google Dashboard — that gives users quicker access to, and more control over, the personal information stored in Google's databases. The dashboard is a one-stop shop for managing this data and the settings that are associated with the Google products you use when signed in to your Google account. "We recognize how important our users' trust is, so we're looking for ways to be more transparent," says Shuman Ghosemajumder, Google's Business Product Manager for Trust & Safety.
Google Dashboard Offers New Privacy Controls
History Sniffing: How YouPorn Checks What Other Porn Sites You've Visited and Ad Networks Test The Quality of Their Data
How People Broadcast Their Locations Without Meaning To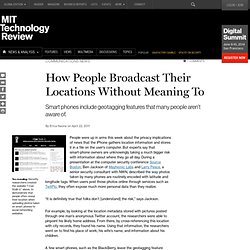 People were up in arms this week about the privacy implications of news that the iPhone gathers location information and stores it in a file on the user's computer. But experts say that smart-phone owners are unknowingly taking a much bigger risk with information about where they go all day. During a presentation at the computer security conference Source Boston, Ben Jackson of Mayhemic Labs and Larry Pesce, a senior security consultant with NWN, described the way photos taken by many phones are routinely encoded with latitude and longitude tags.
How To Hide From Google - Forbes.com
Please feel free to send me updates, links, corrections, extra info Note that I'm unable to provide support for the linked web pages By country: Or:
traceroute.org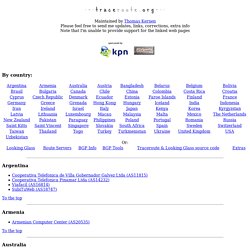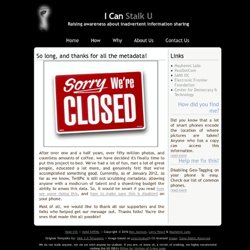 After over one and a half years, over fifty million photos, and countless amounts of coffee, we have decided it's finally time to put this project to bed. We've had a lot of fun, met a lot of great people, educated a lot more, and genuinely felt that we've accomplished something good. Currently, as of January 2012, as far as we know, TwitPic is still not scrubbing metadata; allowing anyone with a modicrum of talent and a shoestring budget the ability to amass this data. So, it would be smart if you read how we were doing this , and how to make sure this is disabled on your phone.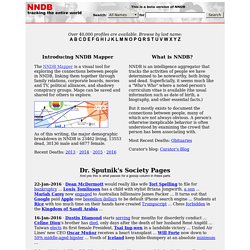 Dr. Sputnik's Society PagesAnd yes this is what passes for a gossip column in these parts 7-Apr-2014 · Werner Herzog explains that chickens are "the most horrifying, cannibalistic and nightmarish creatures in the world" ... US National Security Agency and British intelligence have plans to covertly use social media for propaganda, deception, and pushing stories ... Archbishop Wilton D.
Tracking Yourself Online: The Power of Google Alerts | Keyword Connects Blog
Think Google is just a gigantic search engine that knows everything about everything? Think again. Turn Google to your advantage to track what homeowners and competitors are saying about you online. A lot of people believe that Google sees all, knows all. They're watching your every move online. And they know everything that the general public is saying about you.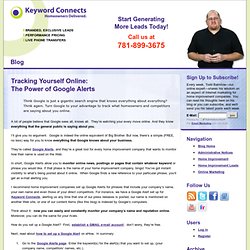 Tracking Yourself Online: The Power of Google Alerts | Keyword Connects Blog
Overview Do Not Track is a technology and policy proposal that enables users to opt out of tracking by websites they do not visit, including analytics services, advertising networks, and social platforms. At present few of these third parties offer a reliable tracking opt out, and tools for blocking them are neither user-friendly nor comprehensive. Much like the popular Do Not Call registry, Do Not Track provides users with a single, simple, persistent choice to opt out of third-party web tracking. Do Not Track signals a user's opt-out preference with an HTTP header, a simple technology that is completely compatible with the existing web. While some third parties have committed to honor Do Not Track, many more have not.
Do Not Track - Universal Web Tracking Opt Out
Late Friday evening, I tweeted out that, for some reason unbeknownst to me, Google's Web History tracking "feature" (the one that keeps tabs on every search you've made for sake of tailoring ads to your tastes and/or creeping you out) had seemingly been enabled on my account. This wouldn't be too strange in most cases — as an opt-out service, Web History is enabled for everyone by default. The problem? I'd manually disabled it years ago.
Think You've Disabled Google's Web History Tracking? Check Again.
Browser History Sniffing Is Back