Tsa
CT Scans Linked to Cancer. TSA Never Tested Full-Body Scans For Mass Transit, Except When It Did. Full-Body Scan Technology Deployed In Street-Roving Vans. DHS Tries To Hide Mobile Scanner Details. DHS X-ray Car Scanners Now At Border Crossings. DHS' X-ray scanners could be cancer risk to border crossers | Privacy Inc. Internal Homeland Security documents describing specifications for border-crossing scanners, which emit gamma or X-ray radiation to probe vehicles and their occupants, are raising new health and privacy concerns, CNET has learned.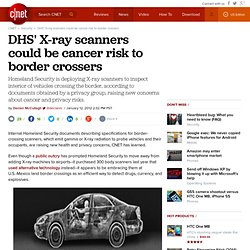 Even though a public outcry has prompted Homeland Security to move away from adding X-ray machines to airports--it purchased 300 body scanners last year that used alternative technology instead--it appears to be embracing them at U.S. -Mexico land border crossings as an efficient way to detect drugs, currency, and explosives. A 63-page set of specifications (PDF), heavily redacted, obtained by the Electronic Privacy Information Center through the Freedom of Information Act, says the scanners must "be based on X-Ray or gamma technology," which use potentially dangerous ionizing radiation at high energies, and "shall be capable of scanning cars, SUVs, motorcycles and busses.
" Penn & Teller | ROAD PENN. The naked truth about scanners - Roger Simon. On the day after Christmas, readers of The Washington Post were given a real treat: pictures of naked men.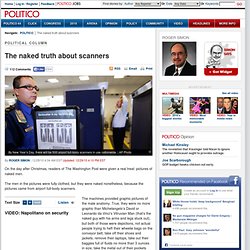 The men in the pictures were fully clothed, but they were naked nonetheless, because the pictures came from airport full-body scanners. Continue Reading VIDEO: Napolitano on security The machines provided graphic pictures of the male anatomy. True, they were no more graphic than Michelangelo's David or Leonardo da Vinci's Vitruvian Man (that's the naked guy with his arms and legs stuck out), but both of those were depictions, not actual people trying to heft their wheelie bags on the conveyor belt, take off their shoes and jackets, remove their laptops, take out their baggies full of fluids no more than 3 ounces in size, take the metal out of their pockets and somehow get through security before their planes take off.
Lawmaker sails home to avoid TSA screening - Ben Smith. Ron Paul: TSA 'abusive,' involved in 'all kind of sexual activities' - Alexander Burns. Claire McCaskill: TSA pat-downs 'get ugly' - Burgess Everett. Now that she's sold her private jet, Sen.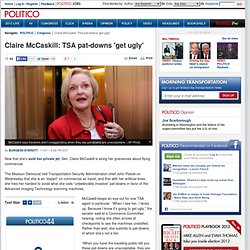 Claire McCaskill is airing her grievances about flying commercial. The Missouri Democrat told Transportation Security Administration chief John Pistole on Wednesday that she is an "expert" on commercial air travel, and that with her artificial knee, she tries her hardest to avoid what she calls "unbelievably invasive" pat-downs in favor of the Advanced Imaging Technology scanning machines. Continue Reading McCaskill keeps an eye out for one TSA agent in particular. 'Jersey Shore' star: TSA mistreated me - CLICK. November 14, 2011 (Photo Credit: AP) One of the stars of MTV's "Jersey Shore" is calling out the TSA for what she perceived to be unfair treatment over the weekend.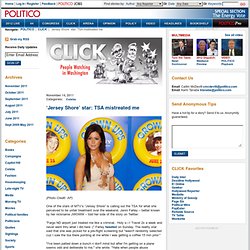 Rand Paul detained by TSA - Tim Mak. Kentucky Sen.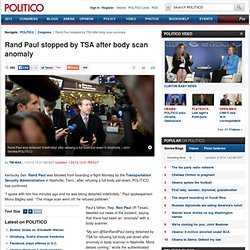 Rand Paul was blocked from boarding a flight Monday by the Transportation Security Administration in Nashville, Tenn., after refusing a full body pat-down, POLITICO has confirmed. "I spoke with him five minutes ago and he was being detained indefinitely," Paul spokesperson Moira Bagley said. "The image scan went off; he refused patdown."
Continue Reading Paul's father, Rep. The TSA Blog. Microsoft confirms UEFI fears, locks down ARM devices - SFLC Blog - Software Freedom Law Center. At the beginning of December, we warned the Copyright Office that operating system vendors would use UEFI secure boot anticompetitively, by colluding with hardware partners to exclude alternative operating systems.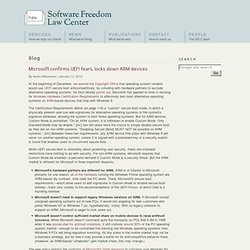 As Glyn Moody points out, Microsoft has wasted no time in revising its Windows Hardware Certification Requirements to effectively ban most alternative operating systems on ARM-based devices that ship with Windows 8. The Certification Requirements define (on page 116) a "custom" secure boot mode, in which a physically present user can add signatures for alternative operating systems to the system's signature database, allowing the system to boot those operating systems.
But for ARM devices, Custom Mode is prohibited: "On an ARM system, it is forbidden to enable Custom Mode. Only Standard Mode may be enable. " [sic] Nor will users have the choice to simply disable secure boot, as they will on non-ARM systems: "Disabling Secure [Boot] MUST NOT be possible on ARM systems. " FOIA Documents Reveal Homeland Security is Monitoring Political Dissent. EPIC - FOIA Documents Reveal Homeland Security is Monitoring Political Dissent As the result of EPIC v.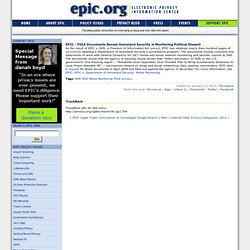 DHS, a Freedom of Information Act lawsuit, EPIC has obtained nearly thee hundred pages of documents detailing a Department of Homeland Security's surveillance program. The documents include contracts and statements of work with General Dynamics for 24/7 media and social network monitoring and periodic reports to DHS. The documents reveal that the agency is tracking media stories that "reflect adversely" on DHS or the U.S. government. Cupcakegate. This will be short and "sweet."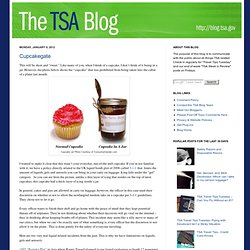 Like many of you, when I think of a cupcake, I don't think of it being in a jar. However, the photo below shows the "cupcake" that was prohibited from being taken into the cabin of a plane last month. DHS Monitors Social Media For 'Political Dissent' Carnival Booth: An Algorithm for Defeating the Computer-Assisted Passenger Screening System. Carnival Booth: An Algorithm for Defeating the Computer-Assisted Passenger Screening System Samidh Chakrabarti Aaron Strauss 6.806: Law and Ethics on the Electronic Frontier.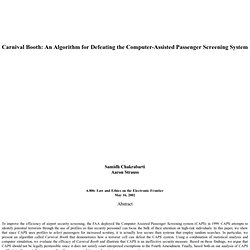 Transit Police. The MBTA has been conducting random security inspections regularly since October 2006.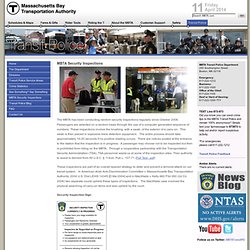 Passengers are selected on a random basis through the use of a computer generated sequence of numbers. These inspections involve the brushing, with a swab, of the exterior of a carry-on. What's the Best Way To Deal With Roving TSA Teams. TSA gathering info about radiation measurement devices for its airport screeners. TSA is looking for vendors that could help it measure the levels of ionizing radiation that its security screeners are exposed to at U.S. airports. "The measurements will assist the TSA in determining if the Transportation Security Officers (TSO) at selected federalized airports are exposed to ionizing radiation above minimum detectable levels, and whether any measured radiation doses approach or exceed the threshold where personnel dosimetry monitoring is required by DHS/TSA policy," says a request for information (RFI) document made public by TSA on Dec. 29, 2011. The agency is required by federal safety regulations to undertake periodic examinations of its radiation-emitting equipment.
In response to an inquiry by Government Security News, TSA spokesman Mike McCarthy said on Jan. 4 that the recently-issued RFI did not reflect any heightened concern by the agency about radiation levels that might be excessive or pose a risk to either TSA screeners or members of the traveling public.
Radiation scan. House Republicans say TSA hasn't made skies safer - Burgess Everett. The Transportation Security Administration is a top-heavy, intrusive bureaucracy that is ineffective in protecting the nation's skies from terrorists, House Republicans said Wednesday during the week of its 10th anniversary. "We've spent nearly $60 billion funding TSA, and travelers are no safer today than they were before 9/11," said Rep. Paul Broun (R-Ga.), a member of the House Homeland Security Committee, who joined House Transportation and Infrastructure Chairman John Mica in calling for reforms. 2011-11-16-TSA_Reform_Report.pdf (application/pdf Object)
What happens to items left at security checkpoints? Troy Thompson The Pennsylvania Department of General Services sells items -- such as these knives -- left behind at aiport security checkpoints. By Harriet Baskas, NBC News contributor Betty Spencer doesn't travel much, but she's curious about what happens to items confiscated or surrendered at airport security checkpoints. Congressional report calls for drastic changes at TSA. By Rebecca Ruiz, NBC News A report released today by the Republican leaders of a Congressional committee calls for the Transportation Security Administration to slash its work force, minimize its role in screening passengers and make public its performance results, among other recommendations.
The report, "A Decade Later: A Call for TSA Reform," was published by the Committee on Transportation and Infrastructure, which is chaired by Rep. John L. House approves new TSA rules for U.S. military. By Joy Jernigan, TODAY Members of the U.S. military flying on official orders while in uniform may soon see faster security screening while traveling through the nation's airports. The U.S.
---