Play
André Michelle - Laboratory. Trace - Thomas Petersen. Kaleidoscope. Particle Reactor HD - UnitZeroOne. 10 Highly Addictive Open Source and Free 3D Shooter Games - Part 1. In our earlier post we had covered 12 Free Open Source Games That You Do Not Want To Miss and 10 More Free Open Source Games.
Recommended Reading. Here we look at 10 Free Open Source First Person Shooter 3D games that are extremely addictive. 1. ZigZagPhilosophy.com, Angelo Plessas, 2009, Courtesy the artist. Xkcd - Tetris Hell - Playable Game. Xkcd, in all its wisdom, recently depicted Hell as a game of Tetris in a bullet-shaped playing frame, such that you can never quiiiite create a row.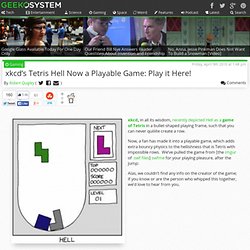 Now, a fan has made it into a playable game, which adds extra bouncy physics to the hellishness that is Tetris with impossible rows. We've pulled the game from [the imgur of .swf files] swfme for your playing pleasure, after the jump: Alas, we couldn't find any info on the creator of the game; if you know or are the person who whipped this together, we'd love to hear from you. (swfme via Neatorama) Virtual Pickett N909-ES SIMPLEX TRIG RULE with METRIC CONVERSION Slide Rule. Neave Interactive - Paul Neave's digital playground. We Choose the Moon: Pre-launch. Flight Simulator in Google Earth 4.2. Games - News & Rumors. Liquid thing. Game Of Life Cellular Automaton. Game Of Life Cellular Automaton Try to click and drag in the Applet area!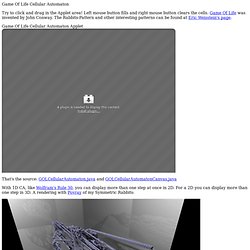 Left mouse button fills and right mouse button clears the cells. Game Of Life was invented by John Conway. The Rabbits-Pattern and other interesting patterns can be found at Eric Weisstein's page. Daily Jigsaw Puzzle 2010-02-28 Poppy Duo. Bizarre Websites On Which You Can Kill Time With Style - Smashing Magazine. Advertisement Modern Web-building technologies allow designers to realize their most daring and creative ideas.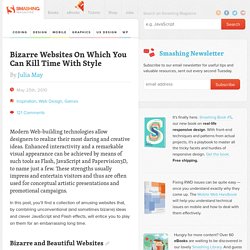 Enhanced interactivity and a remarkable visual appearance can be achieved by means of such tools as Flash, JavaScript and Papervision3D, to name just a few. These strengths usually impress and entertain visitors and thus are often used for conceptual artistic presentations and promotional campaigns. Attractors Flash Game | The Cleverest. Shadow Poetry's Magnetic Word Poetry. Spacewar! - Original 1962 code on PDP-1 emulator. Spacewar Readme. Spacewar!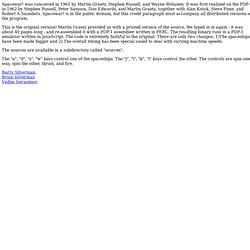 Was conceived in 1961 by Martin Graetz, Stephen Russell, and Wayne Wiitanen. It was first realized on the PDP-1 in 1962 by Stephen Russell, Peter Samson, Dan Edwards, and Martin Graetz, together with Alan Kotok, Steve Piner, and Robert A Saunders. Flash Doodle.
---