On line privacy
TrackMeNot Review: The Worst Security Tool Ever? Written by: Mark Muller•edited by: Bill Bunter•updated: 5/18/2011 TrackMeNot is a browser add-on for Firefox aiming at obfuscating your searches in Google and other search engines.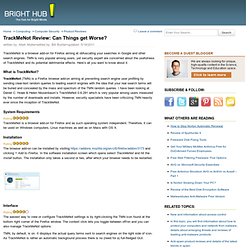 TMN is very popular among users, yet security expert are concerned about the usefulness of TrackMeNot and its potential detrimental effects. Here's all you want to know about it. What is TrackMeNot? TrackMeNot (TMN) is a Firefox browser add-on aiming at preventing search engine user profiling by sending clear-text random queries to leading search engines with the idea that your real search terms will be buried and concealed by the mass and spectrum of the TMN random queries. Stay Invisible is an Internet anonymity test that helps you to control your online privacy and anonymity. Who Knows What Youhavedownloaded.com? You may have never heard of youhavedownloaded.com, but if you recently grabbed movies, music or software from online file-trading networks, chances are decent that the site has heard of you.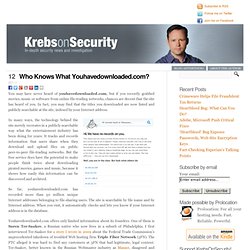 In fact, you may find that the titles you downloaded are now listed and publicly searchable at the site, indexed by your Internet address. In many ways, the technology behind the site merely recreates in a publicly searchable way what the entertainment industry has been doing for years: It tracks and records information that users share when they download and upload files on public peer-to-peer file-trading networks. But the free service does have the potential to make people think twice about downloading pirated movies, games and music, because it shows how easily this information can be discovered and archived. So far, youhavedownloaded.com has recorded more than 50 million unique Internet addresses belonging to file-sharing users. "Anonymized" data really isn't—and here's why not. The Massachusetts Group Insurance Commission had a bright idea back in the mid-1990s—it decided to release "anonymized" data on state employees that showed every single hospital visit.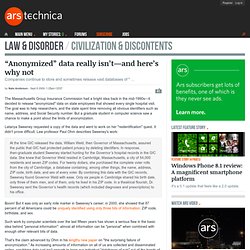 The goal was to help researchers, and the state spent time removing all obvious identifiers such as name, address, and Social Security number. But a graduate student in computer science saw a chance to make a point about the limits of anonymization. Latanya Sweeney requested a copy of the data and went to work on her "reidentification" quest. It didn't prove difficult. Law professor Paul Ohm describes Sweeney's work: Not-so-privately annoyed by Spokeo. So I got an invite earlier today from one of those friends who'll sign up for just about anything, directing me to Spokeo.com -- a site that purports to keep track of my social-networking site activity.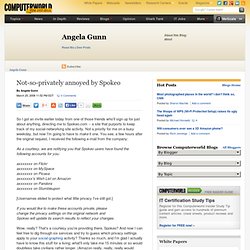 Not a priority for me on a busy weekday, but now I'm going to have to make it one. You see, a few hours after the original request, I received the following e-mail from the company: As a courtesy, we are notifying you that Spokeo users have found the following accounts for you: Social media search: A stalker's paradise? Don't look now, but you're being watched.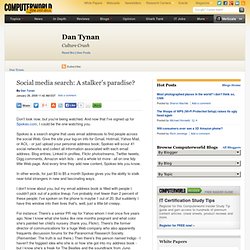 And now that I've signed up for Spokeo.com, I could be the one watching you. Spokeo is a search engine that uses email addresses to find people across the social Web. Best_Practices_Datasheets.pdf (application/pdf Object)
---