Health
European Journal of Plastic Surgery, Volume 29, Number 1. Breast implants consist of hollow silicone shells filled with either medical-grade silicone gel or sterile saline.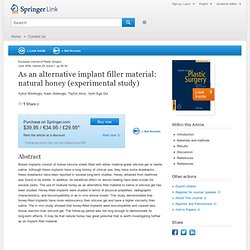 Although these implants have a long history of clinical use, they have some drawbacks; these drawbacks have been reported in several long-term studies. Honey obtained from beehives was found to be sterile. In addition, its beneficial effect on wound healing have been known for several years.
Genome. Nutrition. Hearing. Exercise. Weight. Mental, emotional. Human body. Vision. Exercise.
---