Hacking: Defense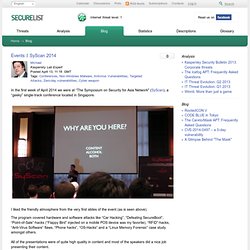 Blog
In the past, we've seen targeted attacks against Tibetan and Uyghur activists on Windows and Mac OS X platforms. We've documented several interesting attacks ( A Gift for Dalai Lamas Birthday and Cyber Attacks Against Uyghur Mac OS X Users Intensify ) which used ZIP files as well as DOC, XLS and PDF documents rigged with exploits. Several days ago, the e-mail account of a high-profile Tibetan activist was hacked and used to send targeted attacks to other activists and human rights advocates.
Hacker's Demo Shows How Easily Credit Cards Can Be Read Through Clothes And Wallets
scams - report the scam here
SpywareGuide.com - Spyware, Greynets, Privacy, Botnets, Rootkits, Security Resource
Sanitize HTML - RefactorMyCode.com
Java web applications security. XSS | RichFaces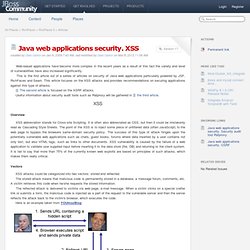 Web-based applications have become more complex in the recent years as a result of this fact the variety and level of vulnerabilities have also increased significantly. This is the first article out of a series of articles on security of Java web applications particularly powered by JSF, RichFaces and Seam. This article focuses on the XSS attacks and provides recommendations on securing applications against this type of attacks.
Mike Ter Louw.pdf (application/pdf Object)