Government
Network World - As the price of digital storage drops and the technology to tap electronic communication improves, authoritarian governments will soon be able to perform retroactive surveillance on anyone within their borders, according to a Brookings Institute report. These regimes will store every phone call, instant message, email, social media interaction, text message, movements of people and vehicles and public surveillance video and mine it at their leisure, according to "Recording Everything: Digital Storage as an Enabler of Authoritarian Government," written by John Villaseno, a senior fellow at Brookings and a professor of electrical engineering at UCLA. BACKGROUND: Surveillance tech companies should not sell to despots, says EU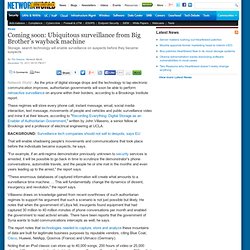 Coming soon: Ubiquitous surveillance from Big Brother's wayback machine
In an attempt to distance themselves from the increasingly volatile Carrier IQ situation, we've been told that Sprint has ordered that all of their hardware partners remove the Carrier IQ software from Sprint devices as soon as possible.
Sprint orders all OEMs to strip Carrier IQ from their hardware – Cell Phones & Mobile Device Technology News & Updates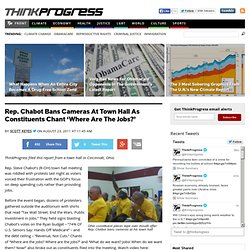 By Scott Keyes on August 23, 2011 at 11:45 am
Rep. Chabot Bans Cameras At Town Hall As Constituents Chant 'Where Are The Jobs?'
The War on Police Accountability continues apace.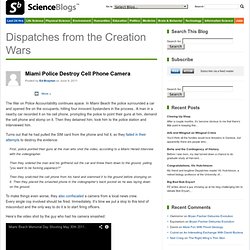 Miami Police Destroy Cell Phone Camera : Dispatches from the Creation Wars
» Cops Confiscate Cameras at Ohio Congressman's Town Hall Alex Jones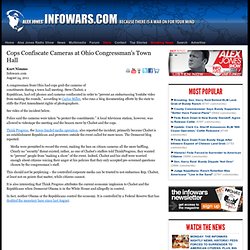 Kurt Nimmo Infowars.com August 24, 2011
1214_digital_storage_villasenor.pdf (application/pdf Object)
A 10 page Powerpoint presentation (pdf) that I recently obtained through a Freedom of Information Act Request to the Department of Justice, reveals that law enforcement agencies routinely seek and obtain real-time surveillance of credit card transaction. The government's guidelines reveal that this surveillance often occurs with a simple subpoena, thus sidestepping any Fourth Amendment protections. Background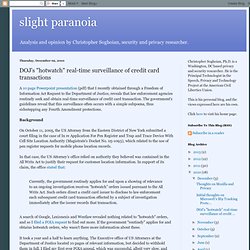 DOJ's "hotwatch" real-time surveillance of credit card transactions
BECK: Is anybody willing to do their own homework? Because the media is not going to. Start looking at who they're connected to?
Beck: "Don't Do A Google Search" Because "Google Is Pretty Deeply In Bed With The Government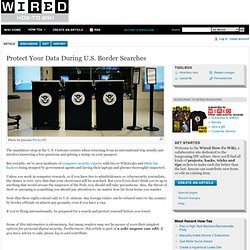 From Wired How-To Wiki
Protect Your Data During U.S. Border Searches
Android App Aims to Allow Wiretap-Proof Cell Phone Calls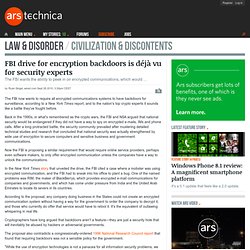 FBI drive for encryption backdoors is déjà vu for security experts
The FBI now wants to require all encrypted communications systems to have backdoors for surveillance, according to a New York Times report, and to the nation's top crypto experts it sounds like a battle they've fought before.
i
TSA Agent Harold Glen Rodman Arrested In Manassas Virginia, Charged After Raping Woman – While Wearing Uniform « Our Tax Dollars At Work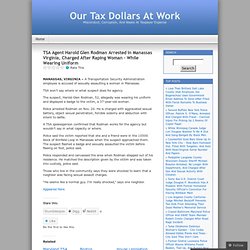 Big Brother in the Home Office
Somewhere, a US government official is reading through a list of those who sent or received an email from Jacob Appelbaum, a 28-year-old computer science researcher at the University of Washington who volunteered for WikiLeaks. Among those listed will be my name, a journalist who interviewed Appelbaum for a book about the digital revolution.
How the US Government Secretly Reads Your Email
Palantir, the War on Terror's Secret Weapon
Government Requests – Google Transparency Report
Comme d'autres entreprises spécialisées dans les technologies et les communications, Google reçoit régulièrement des demandes d'autorités administratives et de tribunaux du monde entier exigeant la suppression de contenus de nos services ou l'examen de ces contenus pour déterminer s'ils respectent bien le règlement de la communauté d'un produit donné.
Security vendors help covert agencies spy on their own citizens: WikiLeaks
December 02, 2011, 11:26 AM — Yesterday WikiLeaks released 287 documents in what it calls The Spy Files, which describes as descriptions of the relationship between national intelligence agencies and the commercial software, security and surveillance companies they hired to provide technology that allows them to secretly listen in on cell phone conversations, text messages, email and other Internet traffic and location data.
A new security research project is designed to scan millions of IMs, texts and emails every day.
Could the U.S. Government Start Reading Your Emails?