Government
Coming soon: Ubiquitous surveillance from Big Brother's wayback machine. Network World - As the price of digital storage drops and the technology to tap electronic communication improves, authoritarian governments will soon be able to perform retroactive surveillance on anyone within their borders, according to a Brookings Institute report.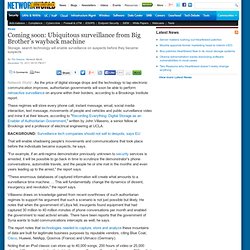 These regimes will store every phone call, instant message, email, social media interaction, text message, movements of people and vehicles and public surveillance video and mine it at their leisure, according to "Recording Everything: Digital Storage as an Enabler of Authoritarian Government," written by John Villaseno, a senior fellow at Brookings and a professor of electrical engineering at UCLA. BACKGROUND: Surveillance tech companies should not sell to despots, says EU.
Sprint orders all OEMs to strip Carrier IQ from their hardware – Cell Phones & Mobile Device Technology News & Updates. In an attempt to distance themselves from the increasingly volatile Carrier IQ situation, we've been told that Sprint has ordered that all of their hardware partners remove the Carrier IQ software from Sprint devices as soon as possible.
This comes after a number of dramatic turns over the past few weeks. During that time Carrier IQ was called a lot of things, from a harmless mobile intelligence company to a vicious rootkit designed to steal our personal data and sell it to the ne'er-do-wells. In my opinion, Carrier IQ is a company that provides a service that benefits everyone with a cellphone by giving information to the carriers about when their network has problems that affects our service.
Rep. Chabot Bans Cameras At Town Hall As Constituents Chant 'Where Are The Jobs?' By Scott Keyes on August 23, 2011 at 11:45 am "Rep.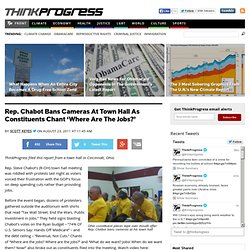 Chabot Bans Cameras At Town Hall As Constituents Chant 'Where Are The Jobs?' " ThinkProgress filed this report from a town hall in Cincinnati, Ohio. Ohio constituent places tape over mouth after Rep. Miami Police Destroy Cell Phone Camera : Dispatches from the Creation Wars. The War on Police Accountability continues apace.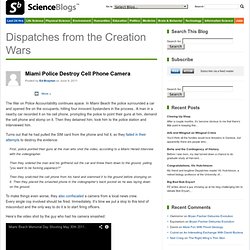 In Miami Beach the police surrounded a car and opened fire on the occupants, hitting four innocent bystanders in the process.. A man in a nearby car recorded it on his cell phone, prompting the police to point their guns at him, demand the cell phone and stomp on it. Then they detained him, took him to the police station and interviewed him.
» Cops Confiscate Cameras at Ohio Congressman's Town Hall Alex Jones. Kurt Nimmo Infowars.com August 24, 2011 A congressman from Ohio had cops grab the cameras of constituents during a town hall meeting.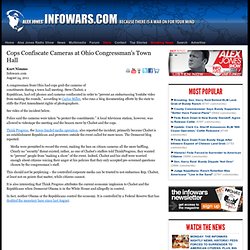 Steve Chabot, a Republican, had cell phones and cameras confiscated in order to "prevent an embarrassing Youtube video from making the rounds," according to Carlos Miller, who runs a blog documenting efforts by the state to stifle the First Amendment rights of photographers. See video of the incident below. Police said the cameras were taken "to protect the constituents." 1214_digital_storage_villasenor.pdf (application/pdf Object) DOJ's "hotwatch" real-time surveillance of credit card transactions.
A 10 page Powerpoint presentation (pdf) that I recently obtained through a Freedom of Information Act Request to the Department of Justice, reveals that law enforcement agencies routinely seek and obtain real-time surveillance of credit card transaction.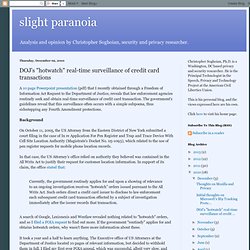 The government's guidelines reveal that this surveillance often occurs with a simple subpoena, thus sidestepping any Fourth Amendment protections. Background. Beck: "Don't Do A Google Search" Because "Google Is Pretty Deeply In Bed With The Government. BECK: Is anybody willing to do their own homework?

Because the media is not going to. Start looking at who they're connected to? Protect Your Data During U.S. Border Searches. From Wired How-To Wiki The mandatory stop at the U.S.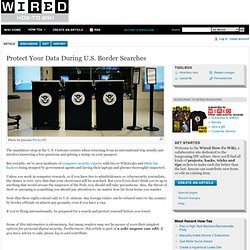 Customs counter when returning from an international trip usually just involves answering a few questions and getting a stamp on your passport. But recently, we've seen incidents of computer security experts with ties to WikiLeaks and white hat hackers being stopped by government agents and having their laptops and phones thoroughly inspected. Unless you work in computer research, or if you have ties to whistleblowers or cybersecurity journalists, the chance is very, very slim that your electronics will be searched.
Android App Aims to Allow Wiretap-Proof Cell Phone Calls. FBI drive for encryption backdoors is déjà vu for security experts. The FBI now wants to require all encrypted communications systems to have backdoors for surveillance, according to a New York Times report, and to the nation's top crypto experts it sounds like a battle they've fought before.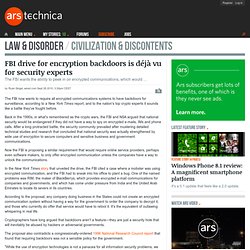 Back in the 1990s, in what's remembered as the crypto wars, the FBI and NSA argued that national security would be endangered if they did not have a way to spy on encrypted e-mails, IMs and phone calls. After a long protracted battle, the security community prevailed after mustering detailed technical studies and research that concluded that national security was actually strengthened by wide use of encryption to secure computers and sensitive business and government communications. Now the FBI is proposing a similar requirement that would require online service providers, perhaps even software makers, to only offer encrypted communication unless the companies have a way to unlock the communications. TSA Agent Harold Glen Rodman Arrested In Manassas Virginia, Charged After Raping Woman – While Wearing Uniform « Our Tax Dollars At Work.
MANASSAS, VIRGINIA – A Transportation Security Administration employee is accused of sexually assaulting a woman in Manassas.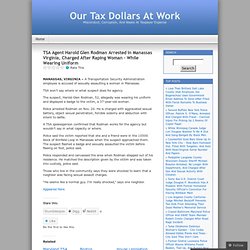 TSA won't say where or what suspect does for agency The suspect, Harold Glen Rodman, 52, allegedly was wearing his uniform and displayed a badge to the victim, a 37-year-old woman. Police arrested Rodman on Nov. 20. Big Brother in the Home Office. Tens of thousands of programmers, writers, accountants and other workers labor at home doing contract work for companies like Google, Hewlett-Packard and NBC. The computers they use contain software that takes snapshots of what they are doing six times an hour. The snooping occurs randomly, making it impossible for the computer user to game the system. It is probably more invasive than what happens to those working in offices, where scooting through Facebook entries, shopping on Cyber Monday, and peeping at N.S.F.W. ("Not Safe for Work") Web sites on corporate computers is both normal and rarely observed by managers. How the US Government Secretly Reads Your Email.
Somewhere, a US government official is reading through a list of those who sent or received an email from Jacob Appelbaum, a 28-year-old computer science researcher at the University of Washington who volunteered for WikiLeaks. Among those listed will be my name, a journalist who interviewed Appelbaum for a book about the digital revolution. Appelbaum is a spokesman for Tor, a free internet anonymizing software that helps people defend themselves against internet surveillance.
He's spent five years teaching activists around the world how to install and use the service to avoid being monitored by repressive governments. It's exactly the sort of technology Secretary of State Hilary Clinton praised in her famous "Internet Freedom" speech in January 2010, when she promised US government support for the designers of technology that circumvented blocks or firewalls.
Palantir, the War on Terror's Secret Weapon. Government Requests – Google Transparency Report. Like other technology and communications companies, Google regularly receives requests from government agencies and courts around the world to remove content from our services or to review such content to determine if it should be removed for inconsistency with a product's community policies. In this report, we disclose the number of requests we receive from each government in six-month periods with certain limitations.
Governments ask companies to remove or review content for many different reasons. For example, some content removals are requested due to allegations of defamation, while others are due to allegations that the content violates local laws prohibiting hate speech or adult content. Security vendors help covert agencies spy on their own citizens: WikiLeaks. December 02, 2011, 11:26 AM — Yesterday WikiLeaks released 287 documents in what it calls The Spy Files, which describes as descriptions of the relationship between national intelligence agencies and the commercial software, security and surveillance companies they hired to provide technology that allows them to secretly listen in on cell phone conversations, text messages, email and other Internet traffic and location data.
Some even use voice-recognition technology to help identify the voices in conversations on which they eavesdrop, sometimes while looking for the opportunity to end some conversations by firing a missile to kill one of the participants. Nearly all governments spy on their own citizens and on foreigners using surreptitious spyware on computers, cell phones, GPS devices and other modern electronic devices according to WikiLeaks founder Julian Assange said during a panel on espionage and digital security at a conference yesterday in London. Could the U.S. Government Start Reading Your Emails?
---