Geneology
Welcome to The USGenWeb Project! We are a group of volunteers working together to provide free genealogy websites for genealogical research in every county and every state of the United States. This Project is non-commercial and fully committed to free genealogy access for everyone. Organization is by county and state, and this website provides you with links to all the state genealogy websites which, in turn, provide gateways to the counties. The USGenWeb Project also sponsors important Special Projects at the national level and this website provides an entry point to all of those pages, as well. Clicking on a State Link (on the left) will take you to the State's website.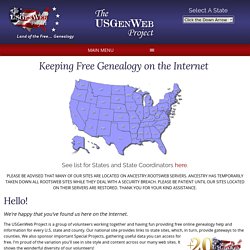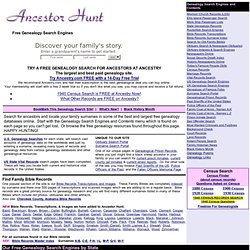 Find Family Bible Records One popular section of the site is our Bible Records Transcriptions and Images. These Family Bibles are completely indexed by surname and there over 500 pages of transcriptions and scanned images which we are adding to on a regular basis.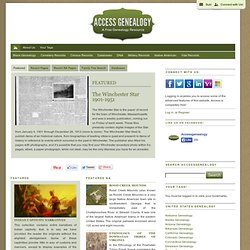 Featured NA Indian Biographies Biographies are a good source of information on our ancestors. They can be used as a tool to provide facts: names, dates and locations for the events in our ancestors lives.
Genealogy Search and Free Genealogy Search
Centre for Irish Genealogical and Historical Studies Contents of Website Directory of Irish GenealogyGenealogy CoursesAbout the Web Author Copyright © 1998-2013 Centre for Irish Genealogical and Historical StudiesDirector Sean J Murphy MA, Carraig, Cliff Road, Windgates, Bray, Co Wicklow, Ireland | E-mail (remove 'SPAMOUT')The Centre is a voluntary, non-commercial entity with genealogical, heraldic and historical aims related to the content of this website.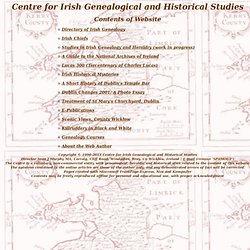 Centre for Irish Genealogical and Historical Studies