Climate Change
Kyoto Accord: Canada formally withdrawing from climate change protocol. By Mark Kennedy OTTAWA — Canada is formally withdraw from the Kyoto accord on climate change, Environment Minister Peter Kent said Monday.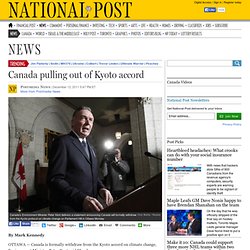 "The Kyoto Protocol does not represent the path forward for Canada," Kent told a news conference in the foyer of the House of Commons, after his return from an international climate-change summit in Durban, South Africa. "It's now clear that Kyoto is not the path forward for a global solution to climate change. If anything, it's an impediment." Life on this Earth Just Changed: The North Atlantic Current is Gone. Update: - Naval Research Laboratory Charts Show Damaged Loop Current - Jesse Ventura Conspiracy Theory: 'Gulf Coast Oil Spill' - Europe: Coldest Winter in 1,000 Years On Its Way, Connected To Gulf Stream Changes, Say Scientists - Global Cooling and the New World Order: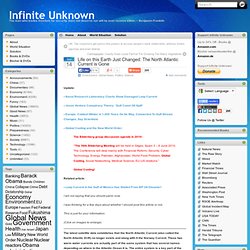 Belief In Climate Change Hinges On Worldview. The big picture: 65 million years of temperature swings. Greenland Temperatures - last 10,000 years.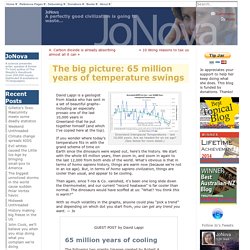 Are we headed for an ice age? (See below for more detail.) Game Over for Planet Earth: The Month's Biggest Story You Never Read | Economy. November 16, 2011 | Like this article?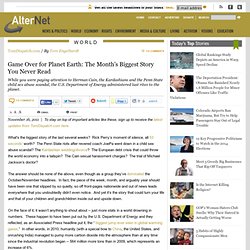 Join our email list: Stay up to date with the latest headlines via email. To stay on top of important articles like these, sign up to receive the latest updates from TomDispatch.com here. What's the biggest story of the last several weeks? Climate panel says prepare for weird weather. Extreme weather, such as the 2010 Russian heat wave or the drought in the horn of Africa, will become more frequent and severe as the planet warms, the Intergovernmental Panel on Climate Change (IPCC) warns in a report released today.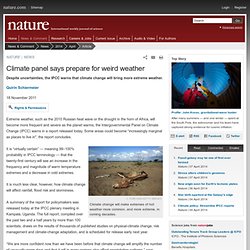 Some areas could become "increasingly marginal as places to live in", the report concludes. Climate change will make extremes of hot weather more common, and more extreme, in coming decades. It is "virtually certain" — meaning 99–100% probability in IPCC terminology — that the twenty-first century will see an increase in the frequency and magnitude of warm temperature extremes and a decrease in cold extremes. It is much less clear, however, how climate change will affect rainfall, flood risk and storminess.
A summary of the report for policymakers was released today at the IPCC plenary meeting in Kampala, Uganda. Blockbuster IPCC Chart Hints at Dust-Bowlification, But Report Is Mostly Silent on Warming's Gravest Threat to Humanity. By Joe Romm on November 18, 2011 at 12:45 pm "Blockbuster IPCC Chart Hints at Dust-Bowlification, But Report Is Mostly Silent on Warming's Gravest Threat to Humanity" A USA Today (not IPCC) chart emphasizes the risk of drought in heavily populated areas.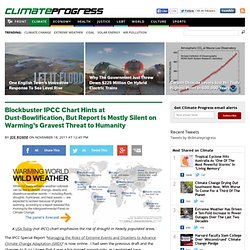 The IPCC Special Report "Managing the Risks of Extreme Events and Disasters to Advance Climate Change Adaptation (SREX)" is now online. I had seen the previous draft and the changes to it, so I knew that it was a big missed opportunity, as I explained here. UPDATE: Dr. Trends in Carbon Dioxide. Contents Recent Monthly Average Mauna Loa CO2 March 2014: 399.65 ppm March 2013: 397.31 ppm Last updated: April 8, 2014.
Climate change news, comment and analysis | Environment. World headed for irreversible climate change in five years, IEA warns | Environment. The world is likely to build so many fossil-fuelled power stations, energy-guzzling factories and inefficient buildings in the next five years that it will become impossible to hold global warming to safe levels, and the last chance of combating dangerous climate change will be "lost for ever", according to the most thorough analysis yet of world energy infrastructure.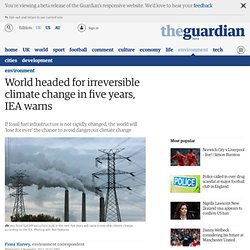 Anything built from now on that produces carbon will do so for decades, and this "lock-in" effect will be the single factor most likely to produce irreversible climate change, the world's foremost authority on energy economics has found. If this is not rapidly changed within the next five years, the results are likely to be disastrous.
---