Help to figure out a career path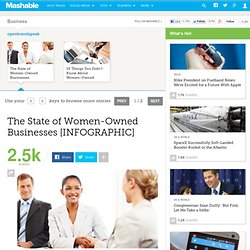 For the full State of Women-Owned Businesses Report, visit openforum.com/women.
The State of Women-Owned Businesses [INFOGRAPHIC]
Career Development Analysis
HumanMetrics - online relationships, personality and entrepreneur tests, personal solution center
Uncover your potential with this profile, providing you with insight into your personality type. Ever wanted to know why you act or react a certain way? Wondered what career you would fit best in?
MBTI Profile - Myers Briggs Test Online | Career Assessment Site
How to Give a Great Speech
Ever Worry You Have No Purpose In Life? | Live Bold & Bloom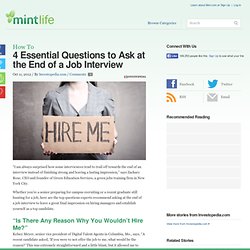 "I am always surprised how some interviewees tend to trail off towards the end of an interview instead of finishing strong and leaving a lasting impression," says Zachary Rose, CEO and founder of Green Education Services, a green jobs training firm in New York City. Whether you're a senior preparing for campus recruiting or a recent graduate still hunting for a job, here are the top questions experts recommend asking at the end of a job interview to leave a great final impression on hiring managers and establish yourself as a top candidate.
4 Essential Questions to Ask at the End of a Job Interview
johari window model - helpful for personal awareness and group relationships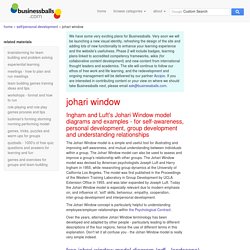 home » self/personal development » johari window Ingham and Luft's Johari Window model diagrams and examples - for self-awareness, personal development, group development and understanding relationships The Johari Window model is a simple and useful tool for illustrating and improving self-awareness, and mutual understanding between individuals within a group. The Johari Window model can also be used to assess and improve a group's relationship with other groups. The Johari Window model was devised by American psychologists Joseph Luft and Harry Ingham in 1955, while researching group dynamics at the University of California Los Angeles. The model was first published in the Proceedings of the Western Training Laboratory in Group Development by UCLA Extension Office in 1955, and was later expanded by Joseph Luft.
Contents
starting up • Timing your startup "Almost anything you build on the web has already been tried in one form or another. This should not deter you." • Why you shouldn't keep your startup idea secret "Most people will probably think your idea is stupid. This does not mean your idea is stupid. In fact, if everyone loves your idea, I might be worried that it's not forward thinking enough."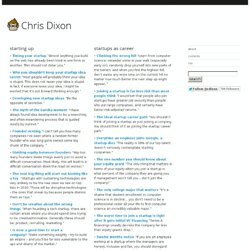 Carl Jung in 1910. Myers and Briggs extrapolated their MBTI theory from Jung's writings in his book Psychological Types The Myers-Briggs Type Indicator (MBTI) assessment is a psychometric questionnaire designed to measure psychological preferences in how people perceive the world and make decisions.[1]:1 These preferences were extrapolated from the typological theories proposed by Carl Gustav Jung and first published in his 1921 book Psychological Types (English edition, 1923[2]). Jung theorized that there are four principal psychological functions by which we experience the world: sensation, intuition, feeling, and thinking.[3] One of these four functions is dominant most of the time.
Myers-Briggs Type Indicator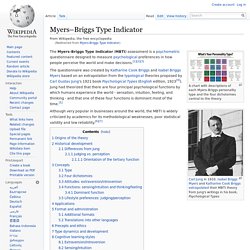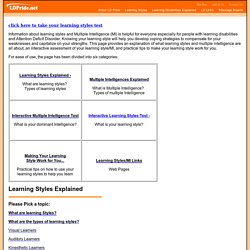 Learning Styles take your test
click here to take your learning styles test Information about learning styles and Multiple Intelligence (MI) is helpful for everyone especially for people with learning disabilities and Attention Deficit Disorder. Knowing your learning style will help you develop coping strategies to compensate for your weaknesses and capitalize on your strengths. This page provides an explanation of what learning styles and multiple intelligence are all about, an interactive assessment of your learning style/MI, and practical tips to make your learning style work for you.
work genealogy - RSA Animate - The Secret Powers of Time
Dear Lifehacker, I heard that a lot of companies use software to weed out "good" from "bad" resumes. How do those systems work, and is there anything I can do to improve my chances of my resume getting through the system and into the hands of a real person? Thanks, Resume Revamper Dear RR, It's true: Employers and hiring managers are turning more than ever to resume screening software, thanks to the overwhelming number of job applications they get. It pays to know how these systems (called Applicant Tracking Systems or Automated Resume Screeners) work so you can make your resume more relevant to the job you're applying for.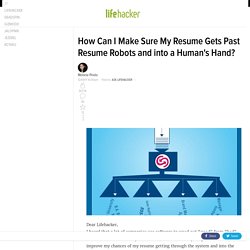 How Can I Make Sure My Resume Gets Past Resume Robots and into a Human's Hand?
Personality Test - Keirsey Temperament Website
Personal Mission Statement Examples | Mission Statement Builder | FranklinCovey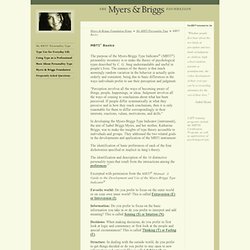 The purpose of the Myers-Briggs Type Indicator® (MBTI®) personality inventory is to make the theory of psychological types described by C. G. Jung understandable and useful in people's lives. The essence of the theory is that much seemingly random variation in the behavior is actually quite orderly and consistent, being due to basic differences in the ways individuals prefer to use their perception and judgment.
My MBTI Personality Type - MBTI Basics
Is anyone else struggling to figure out what to do with their lives? - Nerdfighters
MyFuture.com - Figure Out What's Next