Music
See All Shows || The Bowery Presents - Live Music in New York / Albany / Boston / New Jersey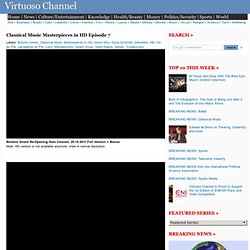 HD Bolshoi Grand Re-Opening Gala Concert | Watch on Virtuoso Channel
: http://www.noamsivan.com . Live from the Ravinia Festival in Chicago, September 2011. Read more about the story behind the transcription: http://bit.ly/Liszt-World-Premiere conducts The Las Vegas Philharmonic Recorded live, September 2009 Playlist:
Little Boxes - Walk off the Earth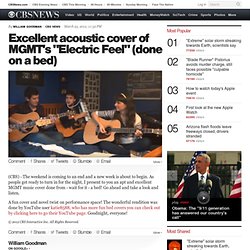 Excellent acoustic cover of MGMTs "Electric Feel" (done on a bed) - The Feed Blog - CBS News
(CBS) - The weekend is coming to an end and a new week is about to begin. As people get ready to turn in for the night, I present to you an apt and excellent MGMT music cover done from - wait for it - a bed! Go ahead and take a look and listen. A fun cover and novel twist on performance space! The wonderful rendition was done by YouTube user katie8588 , who has more fun bed covers you can check out by clicking here to go their YouTube page.
Tuna de Derecho - Tus Ojos 2010.
MUSIC PAINTING - Glocal Sound - Matteo Negrin
The Lone Bellow: Tiny Desk Concert : NPR
This week's curator: Mara Schwartz of Bug Music. By Mara Schwartz Every two weeks, titans of the mediasphere give Nerve their music recommendations. This week: Mara Schwartz of Bug Music . My life features a soundtrack of near-continual music, whether I'm deciding which of our company's artists to suggest for an upcoming film, checking out new songwriters we're considering signing, or just listening for pleasure. Here are five that stood out from the unruly pack and made me want to listen again and again.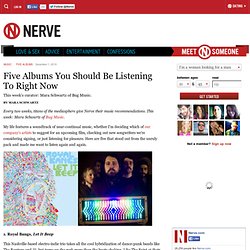 10 Frisson-Inducing Songs
Frisson is a word that comes from French meaning "a sudden, passing sensation of excitement; a shudder of emotion;" It can often be felt when listening to particularly moving songs, or emotionally fraught moments in movies. Also real life, but it's hard to link to real life. Of course, frisson is hard to explain, but easy to demonstrate. For that purpose, here's a list of 10 songs, in no particular order, that are likely to cause frisson. In fact, if you can get through the whole list without feeling a single shiver of excitement, you might want to get a Voight-Kampff test because you're a robot, fam.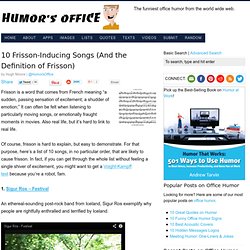 A British band and a group of scientists have made the most relaxing tune in the history of man, an Mp3 of which is at the bottom of this article. Sound therapists and Manchester band Marconi Union compiled the song. Scientists played it to 40 women and found it to be more effective at helping them relax than songs by Enya, Mozart and Coldplay. Weightless works by using specific rhythms, tones, frequencies and intervals to relax the listener.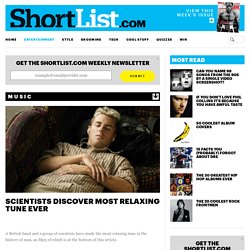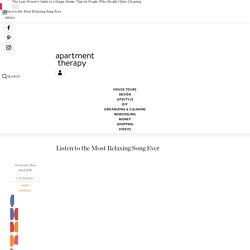 Looking for something to help you relax before bed that doesn't involve popping a pill? You might want to load up your iPod with a song by Manchester band, Marconi Union. Sound therapists were able to rate ten of the most relaxing songs, with Marconi Union's 8 minute trance-inducing tune, "Weightless", coming out on top thanks to its continuous rhythm of 60 BPM, an ideal tempo for synchronization with the heart and brainwaves, making it an ideal audio accompaniment for a good night's rest. Listen to it under the jump… Lyz Cooper, founder of the British Academy of Sound Therapy notes:
Main Composer of Beatles songs