Be Better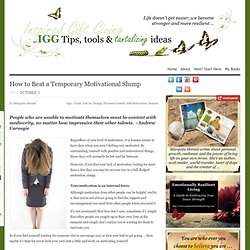 How to Beat a Temporary Motivational Slump - Inspired Gift Giving
People who are unable to motivate themselves must be content with mediocrity, no matter how impressive their other talents.
Developing good habits is the basic of personal development and growth. Everything we do is the result of a habit that was previously taught to us. Unfortunately, not all the habits that we have are good, that's why we are constantly trying to improve. The following is a list of 30 practical habits that can make a huge difference in your life. You should treat this list as a reference, and implement just one habit per month.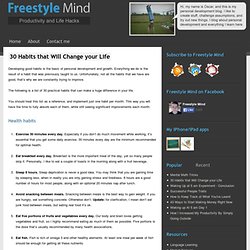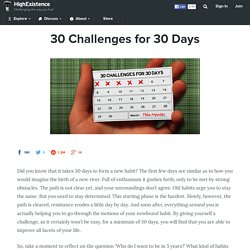 It is been said that it takes about 30 days to form a habit. The ones that are good for you require cultivation and determination. The starting phase is the hardest, especially if you want to change an old habit into a new one. This is why giving yourself a challenge for a minimum of 30 days is a great way to improve all facets of your life. Yes, it is a gift.
Home » Girls and Their Bodies » "Keep an eye out for 'weightist' images in the media (images that celebrate thinness in unrealistic ways and put down women who are even slightly overweight). Identify, discuss and refute them. The point is to not deny that weightism exists or to pretend that weightist comments aren't painful. Instead, help your daughter draw useful parallels between weightism and other forms of prejudice.
Raising a Girl With a Positive Body Image . Girls and Their Bodies . Raising...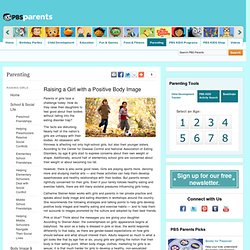 Be Patient - wikiHow
Edit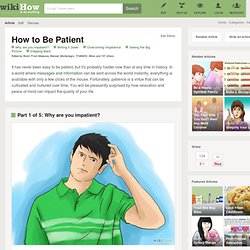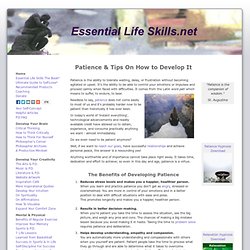 Patience is the ability to tolerate waiting, delay, or frustration without becoming agitated or upset.
Patience - Tips On How To Develop It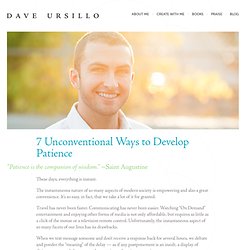 7 Unconventional Ways to Practice and Develop Patience | DaveUrsillo.com
"Patience is the companion of wisdom." ~ Saint Augustine These days, everything is instant. The instantaneous nature of so many aspects of modern society is empowering and also a great convenience.
Perhaps it's that fitness routine which you swiftly abandoned (along with all the accompanying equipment). Maybe it's a craft project which has been taken up space for months. You might have musical instruments which you never learned to play, college courses left unfinished, websites half-created, a novel that you started writing and never finished. I used to be great at starting things, and really bad at following through.
How to Finish What You Start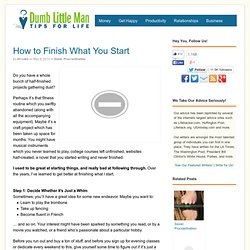 by Celes on Nov 19, 2010 | ShareThis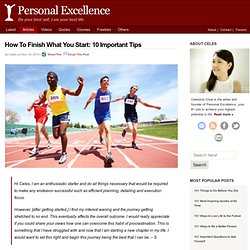 How To Finish What You Start: 10 Important Tips
There are as many introverts as extraverts, but you'd never know it by looking around. Introverts would rather be entertained by what's going on in their heads than in seeking happiness. Their big challenge is not to feel like outsiders in their own culture. by Laurie Helgoe, Ph.D.
Photo by Jordan Fraker . See more of his work here . Can you remember the last time you stepped into a room full of strangers and felt that self-conscious and awkward feeling rush over you? Or that heart thumping moment when you wanted to ask someone on a date, but were too shy to do so?
Eat an Apple... Research from Pennsylvania State University found that people who ate an apple before lunch consumed nearly 190 fewer calories at the meal than those who'd taken in the same number of calories (125) in the form of applesauce, fiber-fortified apple juice, and plain apple juice. "All calories are not created equal," says Mark Hyman, MD, author of Ultrametabolism: The Simple Plan for Automatic Weight Loss . "A whole apple feels like more. It has more fiber and nutrients, and makes you feel full longer."
Small Changes, Big Results - Oprah.com - StumbleUpon
Welcome to Quirkology
Ever wondered how your surname has influenced your life? Or wished that you could tell if someone is lying? Or wanted to understand more about seduction? Professor Richard Wiseman has spent twenty years exploring the backwaters of the human mind and going to places where mainstream scientists fear to tread. The result is Quirkology – a book that will change the way you look at life.
Goal Setting Template for 2011 (and Beyond)
By failing to prepare, you are preparing to fail. Benjamin Franklin Planning is bringing the future into the present so that you can do something about it now." Alan Lakein Would you like to have your Best Year Yet in 2012 ? I've put together a goal setting template for your own personal growth plan . I'm going to summarize the series of posts I've put together over the last couple of months.
Think of any positive daily habit you would like to acquire. Daily exercise. Daily meditation. Spending more time with your kids.
How to Create Daily Habits
Overcoming Ego's Hold on You