CBFA online mapping
Use PHP, MySql and Google Map API v3 for displaying data on map | Tips4PHP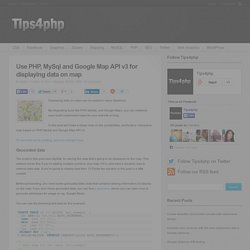 Displaying data on maps can be useful in many situations. By integrating tools like PHP, MySQL and Google Maps, you can relatively easy build customized maps for your website or blog. In this post we'll take a closer look on the possibilities, and build a interactive map based on PHP, MySql and Google Map API v3. To see what we're building, see live example here Geocoded data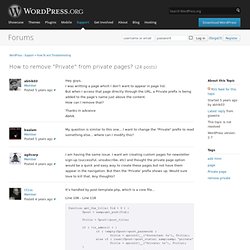 I have messed up badly, trying to follow this advice. Can you help dig me out? I have started to buildhttp://www.how-to-hypnotize-anyone.com and have made two pages private. They are: domain/confirm domain/collect I tried to get rid of the Private: that appears in the headline of the two private pages by simply changing the word 'Private:' to '123' in the post-format.php file in wp-includes.
Support » How to remove "Private" from private pages?
Utech World Time
Creates digital real time world clocks on your posts or pages using simple shortcode. The customizable clocks show the name and current time of the location of your choice. The clocks display the current time, even if the user's computer clock is wrong.Automatic adjustment for Daylight Saving TimeAll major time zones supportedCustomizable and easy to use with shortcode Quick Start Put the following shortcode anywhere on your post or page to create a GMT/UTC clock: [worldtime] Use the 'places' parameter to specify the clock's time zone: [worldtime places="Paris"] List several places separated by a comma.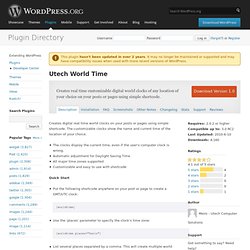 Important Note About WP Geo 3.3 This update now uses Google Maps API v3. While it should continue to work OK it you have simply installed and are using a previous version of WP Geo, if you have customised your templates or used any filters you may need to update your code to work with this version of Google's API. Please submit any bugs or issues here... When editing a post or page, you will be able to set a physical location for that post and easily embed a Google map into your post.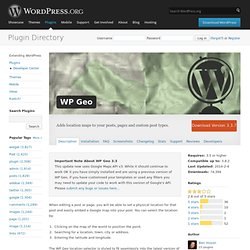 WP Geo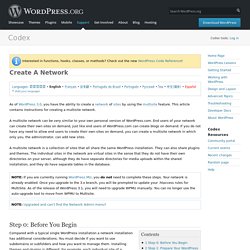 Create A Network Languages: English • Français • 日本語 • Português do Brasil • Русский • 中文(简体) • Español • (Add your language) As of WordPress 3.0, you have the ability to create a network of sites by using the multisite feature. This article contains instructions for creating a multisite network. A multisite network can be very similar to your own personal version of WordPress.com. End users of your network can create their own sites on demand, just like end users of WordPress.com can create blogs on demand.
Multisite User Management
Piggy Bank Contributing Piggy Bank is an open source software and built around the spirit of open participation and collaboration. There are several ways you can help: Blog about Piggy Bank Subscribe to our mailing lists to show your interest and give us feedback Report problems and ask for new features through our issue tracking system (but take a look at our todo list first) Send us patches or fixes to the code Publish Semantic Web data on your web site (how-to) for Piggy Bank's consumption Write and submit new screen scrapers for others to use
Piggy Bank
UCL Centre for Advanced Spatial Analysis
CBFA Aboriginal Outreach | Your one-stop shop for aboriginal outreach stuff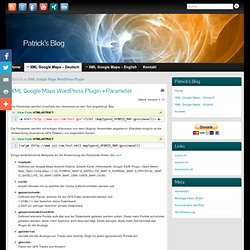 XML Google Maps Wordpress Plugin » Parameter (en) » Patrick's Blog
Stand: Version 1.12 Die Parameter werden innerhalb des Verweises an den Text angehängt. Bsp: Die Parameter werden mit eckigen Klammern von dem Original Verweistitel abgetrennt. Ebenfalls möglich ist die Verwendung (Ausnahme GPX Dateien) von folgendem Syntax:
Vancouver Workshop
Google Mapping Technology for Nonprofits Update, 9/3/2011: Thank you everyone, for making the workshop and Google Earth Outreach Canada launch such a success! What: Google Mapping Technology for Nonprofits When: September 26-28, 2011, 8:30am – 5:00pmWho should attend?: This workshop is intended for Canadian nonprofit technology specialists. Ideal participants will meet one or more of the following requirements:
Souhaitez-vous tracer les contours de l'immeuble ?Souhaitez-vous tracer les limites du site ?Souhaitez-vous délimiter le contour du bâtiment ou tracer la limite du site ? Place Closed Place Removed Impossible de modifier cette adresse, en raison d'une modification effectuée par un autre utilisateur en attente.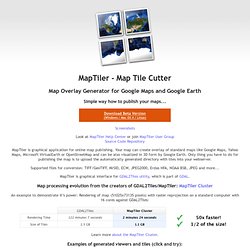 Simple way how to publish your maps... Download Beta Version(Windows / Mac OS X / Linux) Screenshots
Project Materials - Vancouver Workshop
Training Materials - Vancouver Workshop
Outreach Canada 2011 - Bootcamp excercises - Google Docs
Desarrollo para dispositivos móviles La versión 3 del API de Google Maps está diseñada para cargarse rápidamente y funcionar correctamente en dispositivos móviles. En especial, nos hemos centrado en el desarrollo para dispositivos móviles avanzados (por ejemplo, los que utilizan los sistemas operativos iOS y Android). Los dispositivos móviles tienen tamaños de pantalla más pequeños que los de los típicos navegadores de escritorio. Por otra parte, también suelen tener comportamientos específicos de ese tipo de dispositivos como, por ejemplo, la ampliación o reducción de la imagen pellizcando la pantalla. Si quieres que tu aplicación funcione correctamente en dispositivos móviles, te recomendamos lo siguiente:
Maps Javascript API V3 Basics - Google Maps JavaScript API V3 - Google Code
Google Maps API for Business provides Enterprise-ready application support for your mapping application needs. Google Maps API for Business uses the same code base as the standard Google Maps API, but provides the following additional features and benefits: Greater capacity for service requests such as geocoding.
Maps API Premier - Google Code
The libraries listed below are all open source. Note that some are hosted on GitHub, so simply checking out all the code under the "Source" tab above does not get you every library listed here. Instead, click the link next to the library you are interested in.
Libraries - google-maps-utility-library-v3 - List of libraries here and quick links to them - Open source project to be a central repository of utility libraries that can be used with the Google Maps API JavaScript v3.
Code Playground
Introduction Welcome to the developer documentation for the Google Earth API. The Google Earth Plugin and its JavaScript API let you embed the full power of Google Earth and its 3D rendering capabilities into your web pages. Just like in the Google Maps API, you can draw markers and lines—but in 3D! See the Google Earth API developer forum if you have have questions about the API after reading this developer guide.
Earth API Developer's Guide - Google Earth API - Google Code
Earth API - Google Code
An Overview of Using KML in the Earth API - Google Earth API - Google Code
My Earth
Earth Pad - Untitled
Earth API Demo Gallery - Google Earth API - Google Code
earth-api-samples - Revision 122: /trunk/examples
Google Earth API Samples - Maps/Earth Integration
KML Reference - KML - Google Code
KML Interactive Sampler
Welcome to pyKML — pyKML v0.1.0 documentation
KML Articles - KML - Google Code
Zh GoogleMap
From Info Windows to a Database: Saving User-Added Form Data - Google Maps API Family - Google Code