MH / Neuro Care
"I am under a lot of pressure to not diagnose PTSD" - Coming home: The Army's fatal neglect. Energy Psychology with David Feinstein Ph. D. WP Multimedia: Soldiers dealing with traumatic brain injury. About the Home Base Program | Red Sox Foundation and Massachusetts General Hospital Home Base Program 2010 Run to Home Base 9K. About the Home Base Program The Red Sox Foundation and Massachusetts General Hospital Home Base Program helps Iraq and Afghanistan veterans and their families heal from the invisible wounds of war -- post traumatic stress (PTS) and traumatic brain injury (TBI) -- through world class clinical care, community education and research.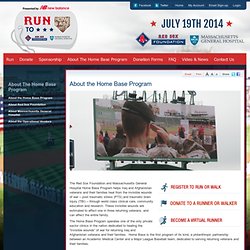 These invisible wounds are estimated to affect one in three returning veterans, and can affect the entire family. The Home Base Program operates one of the only private sector clinics in the nation dedicated to healing the "invisible wounds" of war for returning Iraq and Afghanistan veterans and their families. Home Base is the first program of its kind, a philanthropic partnership between an Academic Medical Center and a Major League Baseball team, dedicated to serving returning veterans and their families. Soldiers Ordered Not to Kill Themselves. Brig.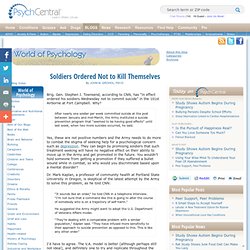 Gen. Stephen J. Townsend, according to CNN, has "in effect ordered his soldiers Wednesday not to commit suicide" in the 101st Airborne at Fort Campbell. Why? After nearly one soldier per week committed suicide at the post between January and mid-March, the Army instituted a suicide prevention program that "seemed to be having good effects" until last week, when two more suicides occurred, he said. Traumatic brain injury leaves an often-invisible, life-altering wound. The doctor begins with an apology because the questions are rudimentary, almost insultingly so.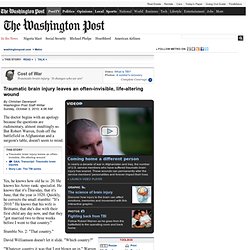 But Robert Warren, fresh off the battlefield in Afghanistan and a surgeon's table, doesn't seem to mind. Yes, he knows how old he is: 20. He knows his Army rank: specialist. He knows that it's Thursday, that it's June, that the year is 1020. Quickly, he corrects the small stumble: "It's 2010. " Toxic Cocktail: Army Struggles With Mental-Health Care. BOSTON (TheStreet) -- On April 6, 2009, 21-year-old Army Specialist Adam Kuligowski took his rifle into a bathroom stall at Bagram Air Base in Afghanistan and shot himself.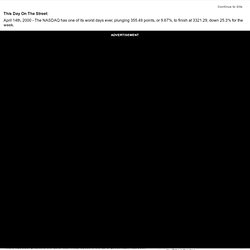 His last words were found in a suicide note to his father, Michael Kuligowski: "Sorry to be a disappointment. " Just weeks earlier, Adam had visited his dad in Thailand. T r u t h o u t | Broken Promises: Thousands of Veterans Denied Crucial Care. Despite Army's Prevention Efforts, Suicides Continue. Michael Stravato for The New York Times Amelia and Armando G.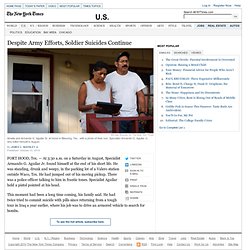 Aguilar Sr. at home in Blessing, Tex., with a photo of their son, Specialist Armando G. Aguilar Jr., who killed himself in August. Specialist Armando G. RAND | News Release | One In Five Iraq and Afghanistan Veterans Suffer from PTSD or Major Depression. ThursdayApril 17, 2008 Nearly 20 percent of military service members who have returned from Iraq and Afghanistan — 300,000 in all — report symptoms of post traumatic stress disorder or major depression, yet only slightly more than half have sought treatment, according to a new RAND Corporation study.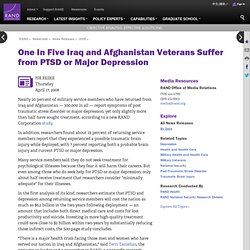 In addition, researchers found about 19 percent of returning service members report that they experienced a possible traumatic brain injury while deployed, with 7 percent reporting both a probable brain injury and current PTSD or major depression. Many service members said they do not seek treatment for psychological illnesses because they fear it will harm their careers. But even among those who do seek help for PTSD or major depression, only about half receive treatment that researchers consider "minimally adequate" for their illnesses.
---