VIDEOS
Packaging Automation - ABB Robotics on EXPO21XX.com. IRC5 is ABB's fifth generation robot controller.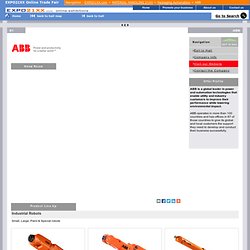 Its motion control technology, TrueMove & QuickMove, is key to the robot's performance in terms of accuracy, speed, cycle-time, programmability and synchronization with external devices. Watch the FANTA Can Challenge movie below to see this superior motion control in action. NEW. A crane lifting a crane that is lifting a crane.
Honesty shouldn't go unrewarded. Live dubstep song creation. The line between life and not-life. High-speed robotic hands. Cool PC game gun. Deadliest ocean animal. Impossible knot. Global population growth. Photographing secret sites. The animated guide to Polish success. Matthew Taylor: Brain and behavior research with respect to political and policy debate. Volkswagen conducts a garbage experiment. Gears cube. Today's forecast.
---