Study Cases
83 Year-Old Woman Gets the World's First 3D Printed Jaw. An 83-year-old woman in Belgium is now the proud owner of what could be possibly the coolest lower jaw in history: a 3D printed titanium mandible replacement.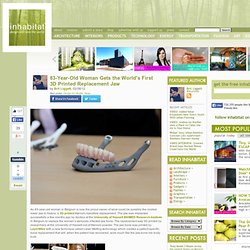 The jaw was implanted successfully a few months ago by doctors at the University of Hasselt BIOMED Research Institute in Belgium to replace the woman's seriously infected jaw bone. The replacement was 3D printed by researchers at the University of Hasselt out of titanium powder. The Art of Painting in Water. Suminagashi is the ancient Japanese technique of painting on water to create marbleized effects on paper.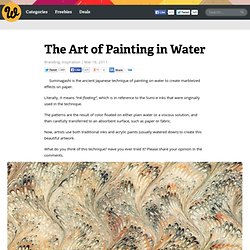 Literally, it means "ink-floating", which is in reference to the Sumi-e inks that were originally used in the technique. The patterns are the result of color floated on either plain water or a viscous solution, and then carefully transferred to an absorbent surface, such as paper or fabric. Now, artists use both traditional inks and acrylic paints (usually watered down) to create this beautiful artwork. What do you think of this technique?
In Progress: One Ocean / soma. Construction on soma's "One Ocean" thematic pavilion is currently well underway and scheduled for completion in May 2012.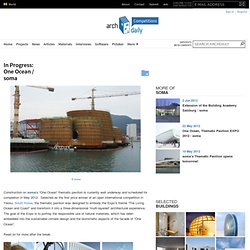 Selected as the first prize winner of an open international competition in Yeosu, South Korea, the thematic pavilion was designed to embody the Expo's theme "The Living Ocean and Coast" and transform it into a three-dimensional "multi-layered" architectural experience. The goal of the Expo is to portray the responsible use of natural materials, which has been embedded into the sustainable climate design and the biomimetic aspects of the facade of "One Ocean". Read on for more after the break. The site of the new pavilion is on a former industrial harbor. As part of the exposition goals, the organization aspires to improve the water quality so that it may be adapted to use as an urban beach, offering leisure activities to the public.
J. MAYER H.     BUILDINGS.URBANISM     METROPOL PARASOL. Project Architect: Jürgen Mayer H., Andre Santer, Marta Ramírez Iglesias J.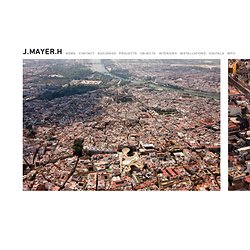 MAYER H. Folding space. SuckerPUNCH: describe your project. mikael HVIDTFELDT CHRISTENSEN (Syntopia): 'Folding Space' is an exploration of a class of 3D fractals, called Kaleidoscopic IFS's (first described in this thread at fractalforums.com).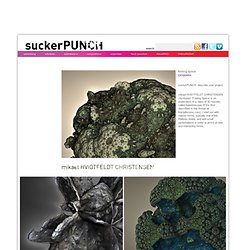 I start out with classic forms, typically one of the Platonic Solids, and add small perturbations in order to arrive at new and interesting forms. sP: what were you reading/listening to/watching while developing this project? mHC: Music: Keith Jarrett (a lot), Arvo Pärt, Leonard Cohen…. Currently reading Houllebeque, Murakami, and Knausgård. 3d fractals. Edinburgh SCOTLAND suckerPUNCH: describe your project. tom BEDDARD: It is an exploration into the relatively new field of 3D fractals.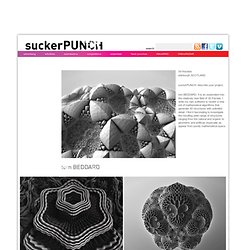 ---