Digital tools
Excel
Gimp. About | Jahshaka. ReInventing Hollywood Jahshaka is bringing you the future of immersive digital content creation.
It delivers a media management and playback platform the is accentuated by compositing, editing and effects modules. Jahshaka is free software, developed as an open source project under the GPL licence, and is designed to be compiled for Windows, OsX and many distributions of Linux. Core Jahshaka Features. Imgv image viewer Screen shots. How to Make GIMP Work More Like Photoshop. GraphicAll.org. Avidemux - Main Page. Apache OpenOffice Draw. The powerful graphics package Draw - from a quick sketch to a complex plan, Draw gives you the tools to communicate with graphics and diagrams.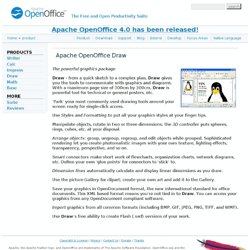 With a maximum page size of 300cm by 300cm, Draw is powerful tool for technical or general posters, etc. 'Park' your most commonly used drawing tools around your screen ready for single-click access. Use Styles and Formatting to put all your graphics styles at your finger tips. V-Ray for Blender - Rendering Software | Chaos Group. Product Overview V-Ray for Blender is a project of V-Ray integration to Blender combining V-Ray's flexibility and unprecedented speed with one of the world's most famous open source 3D applications.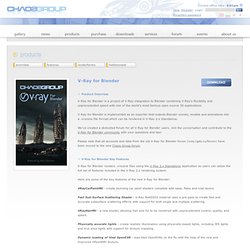 V-Ray for Blender is implemented as an exporter that outputs Blender scenes, models and animations into a .vrscene file format which can be rendered in V-Ray 2.x Standalone. We've created a dedicated forum for all V-Ray for Blender users. Join the conversation and contribute to the V-Ray for Blender community with your questions and tips!
Luxrender. Archicad. Rhino. Illustrator. Indesign. AutoCAD. MIR. 3ds max. Vray. Photoshop. Interoperable Geometry (Part 2): Spline Control. Simple things matter in the world of 3D modeling and BIM...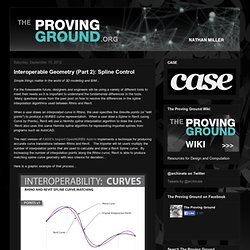 For the foreseeable future, designers and engineers will be using a variety of different tools to meet their needs so it is important to understand the fundamental differences in the tools. Many questions arose from the past post on how to resolve the differences in the spline interpolation algorithms used between Rhino and Revit.
PARAMETRIC MODELING. PROCESSING. The Professional Designer's Guide to using Black | RGB, CMYK, Rich, Cool and Pantone Black. The aim of this article is to document every conceivable type of black that is destined for print and web.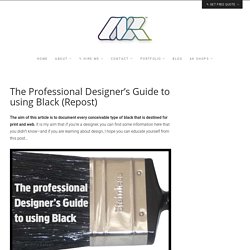 It is my aim that if you are a designer, you can find some information here that you didn't know―and if you are learning about design, I hope you can educate yourself from this post… ★★★★★ Like this type of article? Why not subscribe for Free via RSS or Email.
---