FIRMS
0076
projects
_____wraight + associates limited
index
Jean-Michel Landecy > architecture, photographie, landscape
Janet Rosenberg & Studio is pleased to announce that we have been selected, through a multi stage process, to implement our design for the 14th Floor Healing Garden at the Princess Margaret Cancer Centre, Toronto. The intent of the exterior courtyard is to provide patients fighting cancer, their family members, and the dedicated staff with an uplifting and inspiring garden that references nature, but is comprised entirely of artificial materials.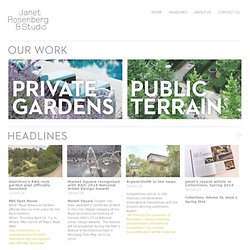 JRA | JANET ROSENBERG + ASSOCIATES - Landscape Architecture / Urban Design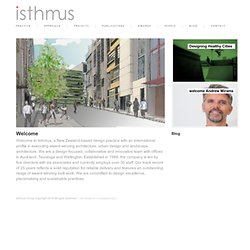 Isthmus
Welcome to Isthmus, a New Zealand-based design practice with an international profile in executing award-winning urban design and landscape architecture. We are a design-focused, collaborative and innovative team with offices in Auckland, Tauranga and Wellington. Established in 1988, the company is led by five directors with six associates and currently employs over 30 staff. Our track record of 25 years reflects a solid reputation for reliable delivery and features an outstanding range of award-winning built work. We are committed to design excellence, placemaking and sustainable practices.
Fauteux Architectes
Germán del Sol - Arquitecto
Gustafson Guthrie Nichol Ltd
! ! ! DAL PIAN Arquitetos Associados - versao em PORTUGUES ! ! !
CS&P Architects Inc. - Home
Atelier 4D
architecture WORKSHOP | NEWS