Server Security [RA]
Based on a Reading Assignment to review various server types and how to improve their security.
Www.k-state.edu/its/security/training/mstraining/advanced.security.pdf. Class Work. Print server. Print servers may support a variety of industry-standard or proprietary printing protocols including Internet Printing Protocol, Line Printer Daemon protocol, NetWare, NetBIOS/NetBEUI, or JetDirect.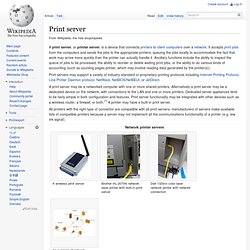 A print server may be a networked computer with one or more shared printers. Alternatively a print server may be a dedicated device on the network, with connections to the LAN and one or more printers. Dedicated server appliances tend to be fairly simple in both configuration and features. Active Directory Server | Identity | Credential | Protection Overview. Enabling IT to remain in control of corporate information IT must still remain in control of corporate information.
To manage a single identity for each user, across both on-premises and cloud-based (SaaS) applications, you can leverage Windows Server Active Directory, Microsoft Azure Active Directory (including Password Sync), and Active Directory Federation Services (AD FS). Enforce conditional access policies by defining the resources and level of access each user has to information and applications based on who they are, what they are accessing, and from which device, using the Web Application Proxy and AD FS. Configure additional authentication to secure access to on-premises and cloud applications using Windows Azure Multi-Factor Authentication, and provision and manage user identities and groups based on business policies with Forefront Identity Manager. Active Directory.
Active Directory (AD) is a directory service implemented by Microsoft for Windows domain networks.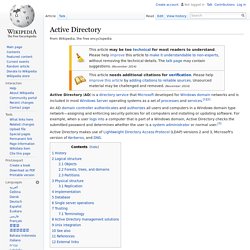 It is included in most Windows Server operating systems. An AD domain controller authenticates and authorizes all users and computers in a Windows domain type network—assigning and enforcing security policies for all computers and installing or updating software. For example, when a user logs into a computer that is part of a Windows domain, Active Directory checks the submitted password and determines whether the user is a system administrator or normal user.[1] History[edit] Active Directory, like many information-technology efforts, originated out of a democratization of design using Request for Comments or RFCs.
The Basics of Windows Server 2008 FSRM (File Server Resource Manager) - Jose Barreto's Blog. Overview FSRM (File Server Resource Manager) is a service of the File Services role in Windows Server 2008.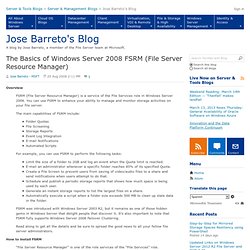 Assigning Delegated Print Administrator and Printer Permission Settings in Windows Server 2008 R2. Updated: September 24, 2009 Applies To: Windows 7, Windows Server 2008 R2 Planning security for your print servers and determining how to restrict access to them is an important part of print server administration.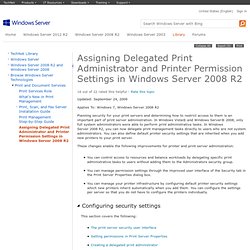 Controlling Service Security Using Windows Server 2008. If you would like to read the next part in this article series please go to Controlling Service Security Using Windows Server 2008 (Part 2).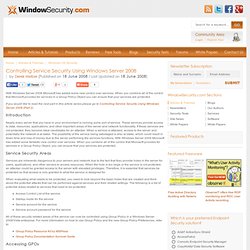 Introduction Nearly every server that you have in your environment is running some sort of service. These services provide access to data, resources, applications, and other important areas of the server and network functionality. If these services are not protected, they become ideal candidates for an attacker. When a service is attacked, access to the server and potentially the network is at stake. Security Enhancements Abound in Windows Server 2008. Six years ago, Microsoft chairman Bill Gates put security at the top of the agenda with the announcement of the company's Trustworthy Computing initiative.
The fruits of this initiative are evident in Microsoft's Windows Server 2008, which is packed with new security features and enhancements straight out of the box. It's rarely wise to state that a new operating system is more secure than its predecessor because security flaws can take months to come to light after the software is released, but in the case of Windows Server 2008, we can say it with some confidence. That's because it shares the same code base as Windows Vista, which was released more than 18 months ago—so in effect the code is already tried and tested, and security patches to Vista have been incorporated into the Windows Server 2008 code. So what are the new security features and enhancements?
What is proxy server. Proxy server. Communication between two computers (shown in grey) connected through a third computer (shown in red) acting as a proxy.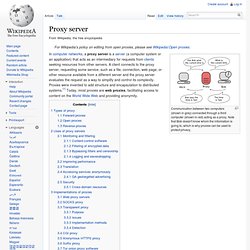 Note that Bob doesn't know whom the information is going to, which is why proxies can be used to protect privacy. Types of proxy[edit] A proxy server may reside on the user's local computer, or at various points between the user's computer and destination servers on the Internet. Forward proxies[edit] A forward proxy taking requests from an internal network and forwarding them to the Internet.
---