Server Security [RA]
Based on a Reading Assignment to review various server types and how to improve their security. Jul 4
www.k-state.edu/its/security/training/mstraining/advanced.security.pdf
Print server
Print servers may support a variety of industry-standard or proprietary printing protocols including Internet Printing Protocol, Line Printer Daemon protocol, NetWare, NetBIOS/NetBEUI, or JetDirect. A print server may be a networked computer with one or more shared printers. Alternatively a print server may be a dedicated device on the network, with connections to the LAN and one or more printers. Dedicated server appliances tend to be fairly simple in both configuration and features.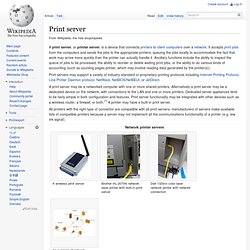 Active Directory Server | Identity | Credential | Protection Overview
Enabling IT to remain in control of corporate information IT must still remain in control of corporate information.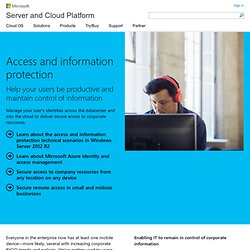 Active Directory (AD) is a directory service implemented by Microsoft for Windows domain networks. It is included in most Windows Server operating systems. An AD domain controller authenticates and authorizes all users and computers in a Windows domain type network—assigning and enforcing security policies for all computers and installing or updating software. For example, when a user logs into a computer that is part of a Windows domain, Active Directory checks the submitted password and determines whether the user is a system administrator or normal user.[1] History[edit] Active Directory, like many information-technology efforts, originated out of a democratization of design using Request for Comments or RFCs.
Active Directory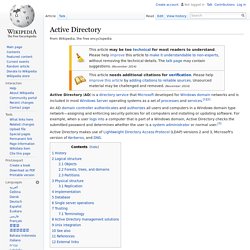 Overview FSRM (File Server Resource Manager) is a service of the File Services role in Windows Server 2008.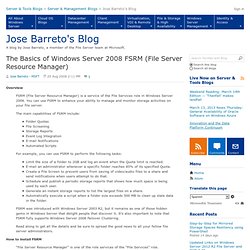 The Basics of Windows Server 2008 FSRM (File Server Resource Manager) - Jose Barreto's Blog
Updated: September 24, 2009 Applies To: Windows 7, Windows Server 2008 R2 Planning security for your print servers and determining how to restrict access to them is an important part of print server administration.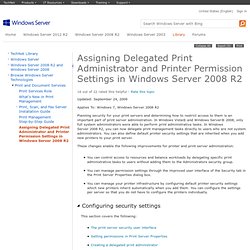 Assigning Delegated Print Administrator and Printer Permission Settings in Windows Server 2008 R2
Controlling Service Security Using Windows Server 2008
Six years ago, Microsoft chairman Bill Gates put security at the top of the agenda with the announcement of the company's Trustworthy Computing initiative. The fruits of this initiative are evident in Microsoft's Windows Server 2008, which is packed with new security features and enhancements straight out of the box. It's rarely wise to state that a new operating system is more secure than its predecessor because security flaws can take months to come to light after the software is released, but in the case of Windows Server 2008, we can say it with some confidence. That's because it shares the same code base as Windows Vista, which was released more than 18 months ago—so in effect the code is already tried and tested, and security patches to Vista have been incorporated into the Windows Server 2008 code. So what are the new security features and enhancements?
Security Enhancements Abound in Windows Server 2008
What is proxy server
Communication between two computers (shown in grey) connected through a third computer (shown in red) acting as a proxy. In computer networks, a proxy server is a server (a computer system or an application) that acts as an intermediary for requests from clients seeking resources from other servers. A client connects to the proxy server, requesting some service, such as a file, connection, web page, or other resource available from a different server and the proxy server evaluates the request as a way to simplify and control its complexity. Proxies were invented to add structure and encapsulation to distributed systems.[1] Today, most proxies are web proxies, facilitating access to content on the World Wide Web. Uses[edit] A proxy server has a variety of potential purposes, including: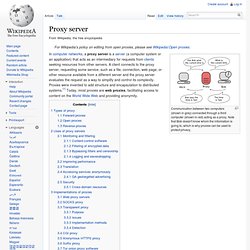 Proxy server