HTML5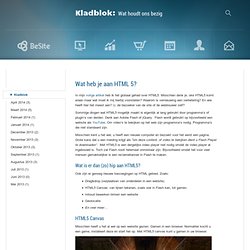 Wat heb je aan HTML 5? - BeSite is de partner voor uw internet ambities
In mijn vorige artikel heb ik het globaal gehad over HTML5. Misschien denk je, oké HTML5 komt eraan maar wat moet ik mij hierbij voorstellen? Waarom is vernieuwing een verbetering? En wie heeft hier het meest aan? U, de bezoeker van de site of de webbouwer zelf? Sommige dingen wat HTML5 mogelijk maakt is eigenlijk al lang gebruikt door programma's of plugin's van derden.
HTML5 Tutorials
5+ Impressive Free HTML5 Games You Can Play In Your Browser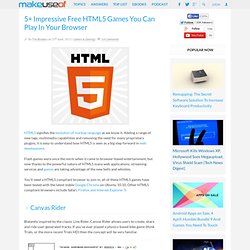 Flash games were once the norm when it came to browser-based entertainment, but now thanks to the powerful nature of HTML5 many web applications, streaming services and games are taking advantage of the new bells and whistles. You'll need a HTML5 compliant browser to join in, all of these HTML5 games have been tested with the latest stable Google Chrome on Ubuntu 10.10. Other HTML5 compliant browsers include Safari, Firefox and I nternet E xplorer 9 . Canvas Rider Blatantly inspired by the classic Line Rider, Canvas Rider allows users to create, share and ride user-generated tracks.