Paintings
Birds of a feather, painted on actual feathers
Giants walk the street of Poland: extraordinary street art by Natalii Rak
Bizarre body art at the World BodyPainting Festival
Impressionistic self-portraits by Nikos Gyftakis
Best street art from April 2013
Mars-1: paintings from outer-space by Mario Martinez
Spiraling metropolises by Fabio Giampietro
Literal band logos: a visual re-cap of new music from May
DALeast does eye-popping street art in London
Abby Diamond | Birds In Water Color
bumbumbum An ad girls blog about art, design, advertising and everything else that tickles my interest. 29 September 2011 Abby Diamond | Birds In Water Color 5 comments... »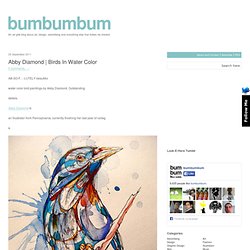 Leonid Afremov is a Belarus born, Israeli modern painter who creates unique landscapes, cityscapes and figures using a palette knife rather than a brush to paint. "I tried different techniques during my career, but I especially fell in love with painting with oil and pallette-knife. Every artwork is the result of long painting process; every canvas is born during the creative search; every painting is full of my inner world.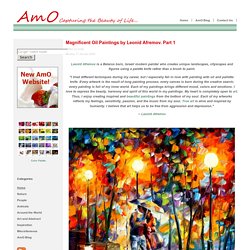 RGB Color est e pluribus unus RGB is a work about the exploration of the "surface's deepness". RGB designs create surfaces that mutate and interact with different chromatic stimulus. RGB's technique consists in the overlapping of three different images, each one in a primary color. The resulting images from this three level's superimposition are unexpected and disorienting.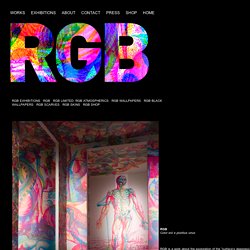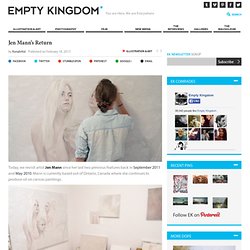 Justin Bower by Konahrtist April 4, 2013
Shaun Ferguson - New Work
From Street to Cardboard
New Non-Photoshopped Body Art by Chooo-san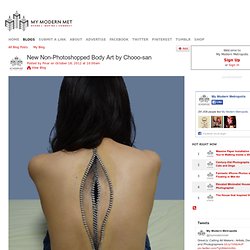 Can you believe that these body modifications are created without using any digital editing software? They are the painted works of a Japanese artist known simply as Chooo-san. We first came across the unusually realistic body art of the 19-year-old Musashino Art University student this past summer and in a matter of months she has completed six new surreal body art pieces that continue to blow our minds. Equipped with some acrylic paints and raw talent, Chooo-san has once again proven she is a master manipulator.
Spectacular Tree Hole Paintings Brighten Up China's Streets
In China, public trees have been transforming into beautiful works of art thanks to 23-year-old art student Wang Yue.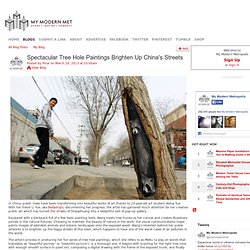 Bryan Cunningham makes art with pop tops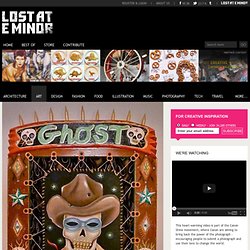 If you're an Aussie, passionate about the art and culture we feature on LAEM, and you have a large online social following, we have a deal for you: become a LAEM-fluencer and help us spread the word about our site. We'll give you free MP3 releases and some pretty cool extra rewards along the way. Think invites to parties, hanging backstage at festivals, spending a day in our office, and more.
Beautiful Japanese-inspired surrealist paintings
Step into these paintings by Anna Kristensen, literally » Lost At E Minor: For creative people
Gummy bear paintings by Jeanne Vadeboncoeur
Alice in Wonderland illustrations by Salvador Dali
New art by Miss Cassie
Death (What's In It For Me?) and more
New art by Berlin's Vermibus
New paintings by Louise Hearman
Mixed-media paintings by Lou Ros
New illustrations by Jack Lee
Oil paintings by Joram Roukes
Photorealistic oil paintings by Philip Barlow
Mindblowing large scale street art by graffiti crew ETAM
Paul Jenkins
Expressionist paintings by Jason Shawn Alexander
Haunted Ground: a new art series by Erika Jane Mallette
Depictions of the Underworld: new art by Casey Diebold
Julia Randall
JR wheatpastes massive portraits on the walls of Havana
Cardboard cityscapes by Berlin-based artist EVOL
Street art by Rome-based Alice Pasquini
Character with a spot of color by Nicky Barkla
Travis Lampe Illustration
Beautiful portrait art created entirely from coffee stains
Eunice San Miguel
Bizarre portraiture of Guim Tió Zarraluki
Greg "Craola" Simkins - Surrealistic Day Dreams