Paintings
Birds of a feather, painted on actual feathers. Giants walk the street of Poland: extraordinary street art by Natalii Rak. Bizarre body art at the World BodyPainting Festival. Impressionistic self-portraits by Nikos Gyftakis. Best street art from April 2013. Mars-1: paintings from outer-space by Mario Martinez. Spiraling metropolises by Fabio Giampietro. Literal band logos: a visual re-cap of new music from May. Suckatlife.com - artwork by lawrence yang. DALeast does eye-popping street art in London. Victor Wang's Paintings. Suckatlife.com - artwork by lawrence yang. Abby Diamond | Birds In Water Color.
- StumbleUpon. Magnificent Oil Paintings by Leonid Afremov. Part 1 - AmO Images - AmO Images. Leonid Afremov is a Belarus born, Israeli modern painter who creates unique landscapes, cityscapes and figures using a palette knife rather than a brush to paint.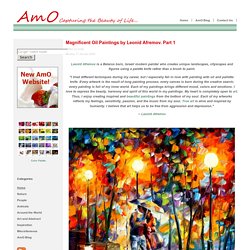 "I tried different techniques during my career, but I especially fell in love with painting with oil and pallette-knife. Every artwork is the result of long painting process; every canvas is born during the creative search; every painting is full of my inner world. Carnovsky. RGB Color est e pluribus unus RGB is a work about the exploration of the "surface's deepness".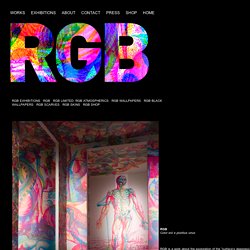 RGB designs create surfaces that mutate and interact with different chromatic stimulus. Carnovsky's RGB is an ongoing project that experiments with the interaction between printed and light colours. The resulting images are unexpected and disorienting. Jen Mann's Return. Architectural Watercolors by Maja Wrońska. Shaun Ferguson - New Work. From Street to Cardboard. New Non-Photoshopped Body Art by Chooo-san. Can you believe that these body modifications are created without using any digital editing software?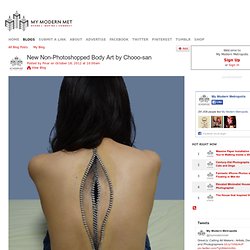 They are the painted works of a Japanese artist known simply as Chooo-san. We first came across the unusually realistic body art of the 19-year-old Musashino Art University student this past summer and in a matter of months she has completed six new surreal body art pieces that continue to blow our minds. Equipped with some acrylic paints and raw talent, Chooo-san has once again proven she is a master manipulator. Spectacular Tree Hole Paintings Brighten Up China's Streets.
In China, public trees have been transforming into beautiful works of art thanks to 23-year-old art student Wang Yue.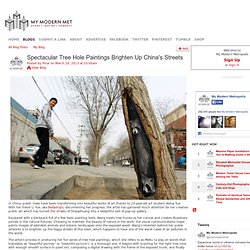 With her friend Li Yue, aka Belladrops, documenting her progress, the artist has garnered much attention for her creative public art which has turned the streets of Shijiazhuang into a delightful sort of pop-up gallery. Equipped with a backpack full of a few basic painting tools, Wang treats tree trunks as her canvas and creates illusionary portals in the natural fixtures. Choosing to maintain the beauty of nature in her work, the visual communications major paints images of adorable animals and botanic landscapes onto the exposed wood. Wang's intention behind her public artworks is to brighten up the foggy streets of this town, which happens to have one of the worst cases of air pollution in the world. Bryan Cunningham makes art with pop tops. Next time you open a can of coke and throw away the pop tops, spare a thought for Bryan Cunningham who collects hundreds of them to make these amazing pieces on canvas that are held on and stretched using them.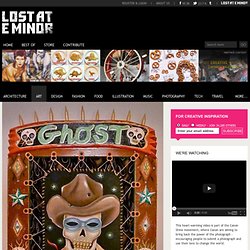 You can see an inspiration drawn from his hometown of New Orleans as he uses his skills in painting, silk screening and wood crafting to create unique mixed media assemblages. Paintings inspired by 'sensational advertising, those ads in the back pages of comic books promising X-ray vision and he-man strength; sideshow banners depicting nature's grotesque mistakes; and the mail order hoodoo spells and powders guaranteed to rid you of your enemies.' Beautiful Japanese-inspired surrealist paintings. Step into these paintings by Anna Kristensen, literally. Gummy bear paintings by Jeanne Vadeboncoeur. Alice in Wonderland illustrations by Salvador Dali. New art by Miss Cassie. Death (What's In It For Me?) and more. New art by Berlin's Vermibus. New paintings by Louise Hearman. Mixed-media paintings by Lou Ros. New illustrations by Jack Lee. Oil paintings by Joram Roukes. Photorealistic oil paintings by Philip Barlow.
Mindblowing large scale street art by graffiti crew ETAM. Paul Jenkins. Expressionist paintings by Jason Shawn Alexander. Haunted Ground: a new art series by Erika Jane Mallette. Depictions of the Underworld: new art by Casey Diebold. Julia Randall. JR wheatpastes massive portraits on the walls of Havana. Cardboard cityscapes by Berlin-based artist EVOL. Street art by Rome-based Alice Pasquini. Character with a spot of color by Nicky Barkla.
Home. Travis Lampe Illustration. Riusuke Fukahori Paints Three-Dimensional Goldfish Embedded in Layers of Resin. Beautiful portrait art created entirely from coffee stains. Eunice San Miguel. Vibrant Knife Painting. The Surreal Paintings of Vladimir Kush | Designerscouch #thecritiquenetwork - StumbleUpon. Bizarre portraiture of Guim Tió Zarraluki. Greg "Craola" Simkins - Surrealistic Day Dreams.
---