Startup Business
Find top finance and consulting jobs on Doostang
Whether you are investing in the stock market or a business project, you need to understand rates of return. Stock gurus talk about things like ROI and IRR, but what do they mean? I'll go through the logic of each method and explain why IRR is my preferred choice.
Calculating stock or investment returns: the difference between ROI and IRR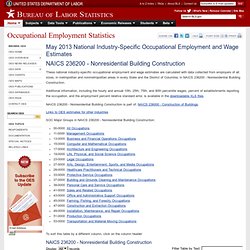 Nonresidential Building Construction - May 2010 OES Industry-Specific Occupational Employment and Wage Estimates
These national industry-specific occupational employment and wage estimates are calculated with data collected from employers of all sizes, in metropolitan and nonmetropolitan areas in every State and the District of Columbia, in NAICS 236200 - Nonresidential Building Construction. Additional information, including the hourly and annual 10th, 25th, 75th, and 90th percentile wages, percent of establishments reporting the occupation, and the employment percent relative standard error, is available in the downloadable XLS files . NAICS 236200 - Nonresidential Building Construction is part of: NAICS 236000 - Construction of Buildings . Links to OES estimates for other industries SOC Major Groups in NAICS 236200 - Nonresidential Building Construction: To sort this table by a different column, click on the column header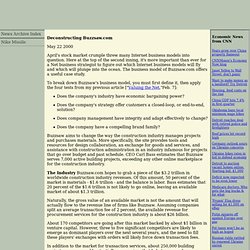 Deconstructing Buzzsaw.com
May 22 2000 April's stock market crumple threw many Internet business models into question. Here at the top of the second inning, it's more important than ever for a Net business strategist to figure out which Internet business models will fly and which will plunge into the ocean. The business model of Buzzsaw.com offers a useful case study.
Startup Resources - Stanford GSB Entrepreneur Club