Twitter
unnamed pearl
Twitter for Teachers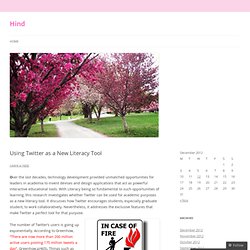 O ver the last decades, technology development provided unmatched opportunities for leaders in academia to invent devises and design applications that act as powerful interactive educational tools. With Literacy being so fundamental to such opportunities of learning, this research investigates whether Twitter can be used for academic purposes as a new literacy tool. It discusses how Twitter encourages students, especially graduate student, to work collaboratively.
Using Twitter as a New Literacy Tool | Hind
5 Great Ways for Teachers to Collaborate on Twitter
Publish Your Book On Kindle - Online Course Finally - the ultimate training to get your book on Amazon, boost your credibility, reach more people and get more sales. Explore this online course at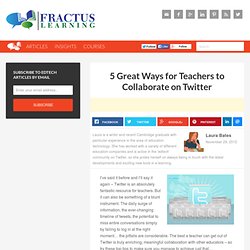 Twitter HOTS & Establishing a Twitter Routine in the Classroom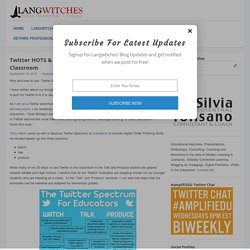 Why and how to use Twitter in the Classroom has been occupying me for a while now. I have written about my thoughts in Twitter Policy and Rational and Guide to Twitter in the K-8 Classroom . A post for Twitter in K-2 is also in the making (stay tuned). As I am on a Twitter adventure with our 4th and 5th graders and their teachers @teitelbaumsteph & @shellyzavon , I am breaking down steps to tweeting and the process of learning during Tweeting as a classroom.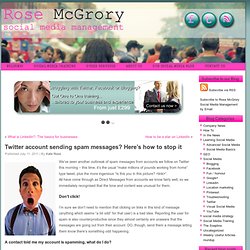 We've seen another outbreak of spam messages from accounts we follow on Twitter this morning – this time, it's the usual "make millions of pounds working from home" type tweet, plus the more ingenious "Is this you in this picture? <link>". All have come through as Direct Messages from accounts we know fairly well, so we immediately recognised that the tone and content was unusual for them.
My twitter account is sending spam messages - what to do?
Teachers Guide to The Use of Twitter in Classroom
Social media offers some great opportunities for learning in the classroom, bringing together the ability to collaborate, access worldwide resources, and find new and interesting ways to communicate in one easily accessible place. Teachers around the world have found innovative ways to use Twitter as a teaching tool ( including TeachThought's favorite ), and we've shared many of these great ideas here with you. Read on, and we'll explore 60 inspiring ways that teachers and students can put Twitter to work in the classroom. Communication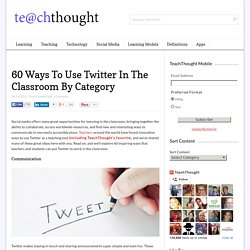 In this post I want to put down a marker as to the role I think Twitter could have within education. When previously presenting on the use of Twitter in education I've always tried to emphasis its not just about a tool for discussion (in fact I try to avoid the word discussion because 140 characters can seriously hamper the depth you can go into), but instead Twitter which can be easily interacted with via its API and 3rd party services has the potential to be used as the building blocks for a service to support teaching and learning. Some examples for you.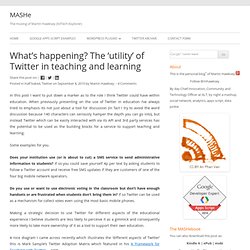 What's happening? The 'utility' of Twitter in teaching and learning JISC CETIS MASHe
Setting up a Google Spreadsheet to capture search from Twitter
How to create Twitter lists and Paper.il publications on Vimeo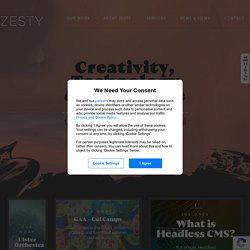 With over 170 million active users and playing a significant role in media consumption, Twitter has turned into the go-to site for real-time updates and gathering snippets of info from those we're interested in. Pretty much everyone knows how to put a tweet together and how to reply to users, but what about more advanced features such as shortcuts, apps and SEO. If you want to improve your knowledge or want to pick up a few tips and tricks to help you get more out of the service, then read on.
50 Innovative Ways To Use Twitter More Effectively
RSC SW (RSCSouthWest) on Twitter
RSC South West Daily Twitter Feeds
Helps you communicate better.
Twitter for Teachers
Twitter Hashtag List - Google Docs
RSC SW Twitter Stats
Jonathan Rick is a social media strategist in Arlington, VA. You can follow him on Twitter @jrick and read his blog at JonathanRick.com . In business, definitions are everywhere. They're your first line of defense in mission statements, job descriptions, expense accounts, statements of work, accounting principles and the like.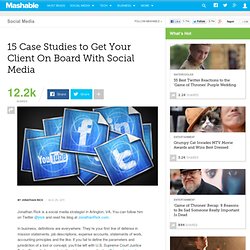 Twitter for teachers by Patrick Allen on Prezi
Why Educators should be using Twitter
uncils open access to Twitter | Guardian Government Computing | Guardian Professional
How to Find Your Twitter RSS Feed Twitter has announced that it no longer supports or displays your Twitter feed on their site in plain view; however, there are many reasons you might want to continue to use it, say in a WordPress blog text widget that displays your latest Tweets. You can still find your Twitter rss feed by using this url: https://api.twitter.com/1/statuses/user_timeline.rss?screen_name=GlenWoodfin Simply substitute your Twitter profile name where my name (glenwoodfin) is.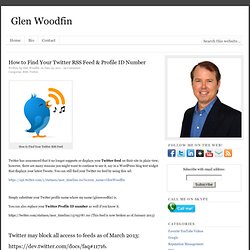 How to Find Your Twitter RSS Feed & Profile ID Number | Online Reputation Management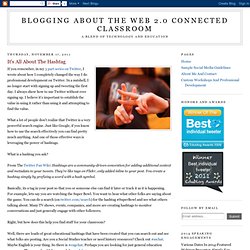 If you remember, in my 3 part series on Twitter , I wrote about how I completely changed the way I do professional development on Twitter. In a nutshell, I no longer start with signing up and tweeting the first day. I always show how to use Twitter without ever signing up. I believe it's important to establish the value in using it rather than using it and attempting to find the value. What a lot of people don't realize that Twitter is a very powerful search engine.
SLTags
Download pdf: SLT/SLP Hashtags Dictionary Download CSV file: SLT/SLP Hashtags Dictionary To help others find relevant content and conversations, please add your hashtags to the SLT/SLP Speech & Language #Hashtags Dictionary Easy Data Entry Form --> http://j.mp/SLTagsForm
Last week I introduced a pedagogical framework for using Twitter in your teaching, organized along two axes: monologic to dialogic and passive to active. These high-falutin terms are fine for a theoretical matrix, but what about the real life implementation of Twitter in and outside of your classroom? How do you actually do it?
Practical Advice for Teaching with Twitter
3 Creative Ways Educators Use Twitter
Visible Tweets – Twitter Visualisations. Now with added prettiness!
20 Terrific Twitter Chats for Every Kind of Educator
How to Sign up for Twitter (How to Create a twitter account new for 2011)
LSE produces new Twitter guide for academics - 10 - 2011 - News archive - News - News and media
Twitter for Teachers: Home - Twitter for Teachers
LSE produces new Twitter guide for academics - 10 - 2011 - News archive - News - News and media
Create a Twitter RSS feed for Tweets, Searches, Hashtags, Lists or Favorites
Twitter Quietly Launches Self-Serve Ads - Peter Kafka
Quick Guide to using Twitter for Educators
Summify - Twitter for Teachers: Discover #hashtag PD!
Summify - Learning To Tweet
Twitter Attempts to Personalize 1.6 Billion Search Queries Per Day
17 Twitter Tips from Mashable Connect Attendees
Top 10 Twitter Tools! | The Tech Update