Resources
40 Open Education Resources You Should Know About. 19Pencils - Quick and Easy Tools for Learning. Quizzes, Games, Websites and More! Risk Management Calculator. Overview This Risk Management Calculator can be used to help understand the types of factors that might determine specific levels of risk.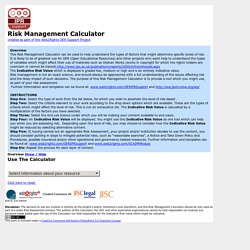 It is likely to be of greatest use for OER (Open Educational Resources) and other projects who want help to understand the types of variables which might affect their use of materials such as Orphan Works (works in copyright for which the rights holders are unknown or cannot be traced) The Indicative Risk Value which is displayed is graded low, medium or high and is an entirely indicative value. Risk management is not an exact science, and should always be approached with a full understanding of the issues affecting risk and the likely impact of such decisions.
Resource_examplesV2.pdf (application/pdf Object) ORIOLEproject. Creating open educational resources - Creating open educational resources. JISC CETIS OER Technical Mini Projects Call. JISC has provided CETIS with funding to commission a series of OER Technical Mini Projects to explore specific technical issues that have been identified by the community during CETIS events such as #cetisrow and #cetiswmd and which have arisen from the JISC / HEA OER Programmes.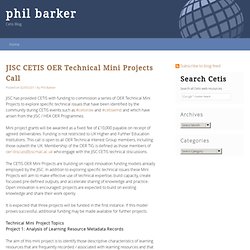 Mini project grants will be awarded as a fixed fee of £10,000 payable on receipt of agreed deliverables. Funding is not restricted to UK Higher and Further Education Institutions. OEP Guide | OPAL. U-NOW: Resource -Open for learning. Related Links Clicking the link below will run a search in the Xpert search engine.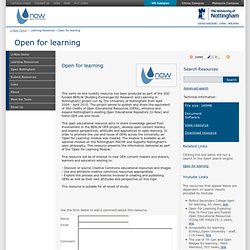 Open for learning. The Learning Object Design Assistant. LODA is a reference tool for designers and writers of online learning and performance support materials, to help them select the right strategy to meet their particular objectives.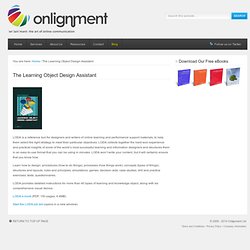 LODA collects together the hard-won experience and practical insights of some of the world's most successful learning and information designers and structures them in an easy-to-use format that you can be using in minutes. LODA won't write your content, but it will certainly ensure that you know how. OER Glue.
---